10.24.10
Gemini version available ♊︎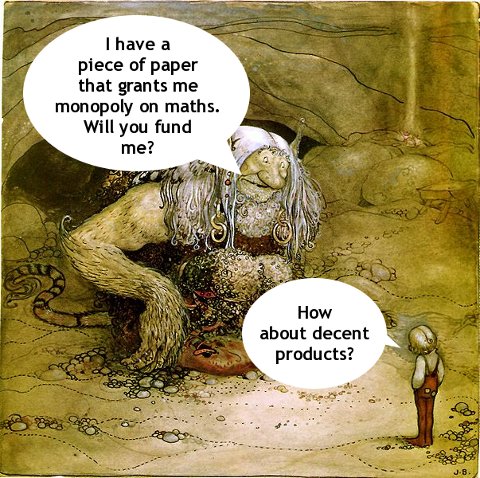 Summary: News about Zynga's new patent application raises questions because the company's funding sources oppose and sometimes actively work against this type of counter-productive monopolies
THIS new piece by Mike Masnick does an excellent job showing the ridiculous software patent monopoly which Zynga is trying to obtain and then connecting it to the funding sources of Zynga, who may be disturbed to learn this:
Back in September, SF Weekly put out an article pointing out that super popular Facebook gamemaker Zynga's strategy has been to copy anyone else's popular game, change the name, market the hell out of it and take over the market. The company has been famous for its somewhat underhanded tactics over the years. That said, I don't think there's anything wrong with copying what's been successful (within the law, obviously) and trying to improve the overall experience. Where things get questionable is when it seeks to stop others from doing the same thing. We've noted in the past that Zynga has tried using copyright and trademark law to block others from the market, which is pretty sleazy given its own style of creating games.

[...]

Now, this is only a patent application, so one can hope that the USPTO comes to its senses and rejects it (though, it's been approving a lot more lately). However, it's still a pretty questionable move — especially given that two of Zynga's investors, Brad Feld and Fred Wilson, are some of the most vocal anti-software patent advocates out there. It would be a shame if their money is being used to create more bad patents.
The FFII's president writes:
Zynga is trying to patent electronic currency, investors are Brad Feld and Fred Wilson, anti-swpat advocates
Are they aware of it? How about Feld, who recently fought to remove software patenting from the USPTO [1, 2]?
There is other news right now about gambling software patents (Ladbrokes should not be allowed software patents in the UK) and another patent on software which may be crucial for saving lives:
India is riding high on the clinical market side while Optra exists in the pre-clinical space and majority of its deliverables account for overseas locations. Optra currently has seven patents filed and pending mostly in the cancer diagnostics area. "One of the important patents we have is content based image retrieval. Our motive is to create a niche in terms of individual value by creating more IPs," Abhijeet added.
Sharing saves lives, it's not "IP" which does this. "Content based image retrieval" sure sounds like a software patent. Does India allow these at all? It does not in principle. █
Permalink

Send this to a friend