10.26.10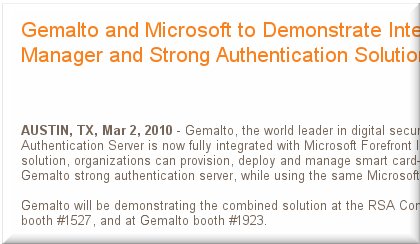 Summary: Report from the trial of Microsoft's co-founder's Traul [sic] Allen versus Google et al.; Microsoft's partner Gemalto sues Google over Android
GOOGLE HAS been having a tough time in Land of the Fee, where lots of patent trolls love to charge a fee using software patents that had been blessed by the USPTO and often changed hands. Fortunately, not the whole world had yet been 'infected' by the same sort of distorted patent law and judging by world economics, it is possible that the USPTO will adapt to the rest of the world, rather than it working the other way around (software patents dying internationally instead of going international).
As we pointed out before, Microsoft is a major breeding ground for patent trolls and Traul Allen is one of its creations/exports. Traul decided to sue Google back in August and Groklaw has early details about the case:
Google et al respond to Paul Allen with Motions to Dismiss, Sever – A Whole Lot of Shakin' Goin' On

[...]

All month there has been a flurry of activity on the part of the defendants in Paul Allen's patent infringement litigation, Interval Licensing v. AOL, et al, against Google, Apple, Yahoo! and pretty much everyone else you can think of — mostly all the companies have been busy getting lawyered up. I see Yahoo! has added Morrison & Foerster's Michael A. Jacobs to its legal team, so I am getting quite excited about what we may get to watch.
The Linux-powered Android has just been sued by yet another company. It is called Gemalto and it's a buddy of Microsoft, based on its own Web site [1, 2] (they recently collaborated around Microsoft Forefront, which died a month later). The Register says:
Security chip maker Gemalto has launched its own attack on Android, claiming to own patents essential to the use of Java as a mobile OS.

The suit, filed in patent-friendly Texas, accuses Google, HTC, Motorola and Samsung of infringing Gemalto's patents which, according to the company, cover techniques essential to the use of a high-level language such as Java on a device with limited resources.
Microsoft and Apple have also sued Google over Android; Oracle sued Google for the Java-like part of Android alone.
It is worth seeing the reaction from mobbyists who use this to spread FUD about Linux/Android. One of them is also linking to stuff like this one tweet from O'Gara (FUD galore) where she summarises with: "freebie operating system is quite a little suit magnet "
For those who do not know O'Gara, read older posts such as:
In short, O'Gara is one of those longtime foes of Linux and people who work with Microsoft PR. O'Gara can be considered one of the mobbyists because she went as far as stalking and harassing Microsoft critics. She is part of the mob. And speaking of mobbyists, do not believe them for a second about the status of software patents around the world. As hinted in the previous post, they seemingly try to spread defeatism among the Free software developers/community by saying that software patents got their way around the world. The matter of fact is, Amazon is still struggling (for many years!) with its controversial 'one-click' patent which it wants to spread to Canada and to Europe. We wrote about this patent last week [1, 2, 3] because it gets a lot of people involved and they protest against software patents. █