Contents
Big Explosion in Blender
Credit: TinyOgg

Contents
About five years ago I was hired by a software company that specialized in database security. Some of our software was used to protect databases in military assets and major banks. But a lot of development was very remote from top-secret weapons or classified information. For example, we wrote a small command line utility for driving virtual machines for integration testing. It helped us eradicate failures during installs and upgrades. Was I going to have to write that again at my next job? How could I share it with my friends working at other organizations?

This month's Computing Now theme compiles a variety of articles that show the many current faces of open source. "Choosing an Open Source Software License in Commercial Context: A Managerial Perspective" provides some useful perspectives on how an enterprise should be aware of and properly use open source licensing (for both the components it might use in developing software and the release of software it produces). "Security in Open Source Web Content Management Systems" is an excellent overview (and reminder) about keeping up with plugging the known exploits in commonly used open source CMS tools. Don't let the title of "Open Source Software Considerations for Law Enforcement" stop you from discovering principles, concepts, constraints, and ultimate uses of open source that are applicable to any organization. "Open Source Data Collection in the Developing World" is a wonderful article about an actual (and very influential) use of the Google Open Data Kit in saving lives in Africa. It might provide inspiration on how to solve data collection challenges you may be facing. If you're looking for a strong overview of open source use outside of the US, "A Comparative Analysis of Open Source Software Usage in Germany, Brazil, and India" will give you a solid perspective on how three leading nations are employing open source in government, business, and education. "Commodification of Industrial Software: A Case for Open Source" provides some interesting theories, concepts, case studies, and visual models on how to properly value and employ open source in various business contexts. Lastly, "A Stage Model of Evolution for Open Source Software" discusses the 3 generations of open source evolution through the maturity curve (IEEE login is required to view the full text of this article). In addition to these articles, we're providing a few links to open source sites to extend your research and learning on open source.

Web Browsers

Mozilla

When Chrome was launched, everybody termed it as Firefox killer (after all, Google used to fund Firefox development). But then, IE turns out to be the biggest loser. I decided to share Pluggd.in's browser usage statistics and compared the current data with last year's data (December 2009).

Recently we posted our annual "State of Mozilla" which describes what we have been working on and plans for the immediate future. I want to make sure that the plans laid out in the State of Mozilla reflect and inspire the people who identify themselves with Mozilla and our mission. I am asking that you help me make sure of this.

Oracle

Tim Peierls, one of two independent Java experts on the Java Community Process (JCP) Executive Committee (EC), has announced his resignation from the standardisation body. His decision to resign was taken shortly after the committee rubber stamped Oracle's plans for the forthcoming Java 6 and Java 7. Peierls' vote was one of three to oppose Oracle's proposal. Google, the Apache Software Foundation and Peierls all voted against, in response to Oracle imposing restrictions on the availability of Test Compatibility Kits (TCKs) for Java.

Education

In 2008 the Linux User Group of Naples had already defined Free Software in the Federico II University "a missed opportunity", because "students are forced to buy expensive proprietary software and… there are online service like the ESIS exam booking website that are only accessible with Microsoft Windows and Internet Explorer… A partial compensation is given by the academic tradition of the CSI (the University ICT service) of adopting Free Software for the main University services" (Note from Marco: that's good, even if in November 2010 the CSI still called "Free Software" what is simply gratis proprietary software from Microsoft, while we all know that Free is about freedom, not price).

In 2010, according to a press release issued on March 13th, 2009 "inside the Federica Campus visitors are free to stroll around the tridimensional spaces of the virtual University".

Maine has been a leader in adopting educational technology in support of its students. In 2002, through the Maine Learning Technology Initiative (MLTI), the state began providing laptops to all students in grades 7-8 in a one-to-one laptop program. In 2009, Maine expanded the project to high school students. The one-to-one laptops paved the way for open education initiatives like Vital Signs, empowering students to conduct their own field research in collaboration with local scientists, and make that research available online. Recently, Maine has been engaged in some interesting and innovative projects around OER as a result of federal grant funds. For this installment of our series on open education and policy, we spoke with Jeff Mao and Bob McIntire from the Maine Department of Education. Jeff is Learning Technology Policy Director at MLTI, and Bob works for the Department's Adult & Community Education team.

Project Releases

While GCC 4.6 is nearing release, Ubuntu 11.04, Fedora 15, and other H1'2011 Linux distributions will continue shipping with GCC 4.5, which was released in April and so far has been succeeded by just one point release. A second point release, GCC 4.5.2, is however being prepared for release shortly.

The next version of the widely used Python programming language will offer greater support for writing multithreaded applications, a challenging duty for an increasing number of programmers in this age of multicore processors.

This week, the developers behind Python have released the first beta version of the 3.2 version of the language. For this version, they have concentrated on bug fixes and general improvements while maintaining the language syntax and semantics defined in Python 3.0.

Official specifications for upcoming releases of Java have been approved by an executive committee of the JCP (Java Committee Process), although the votes were not unanimous.

Programming

Apart from conflating Ruby on Rails the development framework with Ruby the programming language, something which many Ruby developers hate, but which its easy to slip into (so easy i slipped into it yesterday) Benioff was clearly not talking the language of the line of business, but rather of technology.
We all know that the Internet's supply of Ipv4 addresses is running ever lower. What you may not know is that IPv4 exhaustion, when we're completely out of available IPv4 addresses, is approaching even faster than the experts expected.

Verizon's professional services arm has introduced a service to convert networks to IPv6, anticipating that large organizations will soon need help with such projects.

Amazon's Kindle books will soon be readable as content embedded on Web pages and Web page publishers will be able to land affiliate fees for Kindle books they sell to their own audiences, the company announced today.

You too can now pay $9.99 to read text on a Web page, in Amazon's proprietary format, with the graphically limited format of a printed text-only book of yore. Sure, your bookmarks and notes will carry over from the Web pages you're reading on to other devices – but could that possibly be enough to warrant paying for Web-embedded eBooks? I don't think so. Once it hits the Web, premium content is only sellable because of scarcity or a superior user experience. I don't see either of those being true in this case.

EU candidate country Serbia and four other nations on the Union's periphery – Ukraine, Egypt, Tunisia and Morocco – have disappointed the European Commission by deciding to boycott a ceremony awarding the Nobel Peace Prize to imprisoned Chinese dissident Liu Xiaobo.

In "the first-ever survey reading from the Pew Research Center's Internet & American Life Project that exclusively examines Twitter users," the Pew Research Center's Internet & American Life Project has found that 8% of US adults that use the Internet use Twitter.

The survey found that Twitter users are more likely to be young (18-29), African-American or Latino ("twice as likely to use Twitter as are white internet users") and are twice as likely to be urbanites. Women and college-educated are also slightly more likely than average to be using Twitter.

Science

Under the guise of keeping federal spending under control, Republican congressmen have launched yet another attack on the basic scientific research that could lead to useful, potentially job-creating discoveries.

House majority leader Eric Cantor (R-Virginia) announced last week that the YouCut Citizen Review, a crowdsourcing tool for identifying "wasteful spending that should be cut," would make its very first target the National Science Foundation.

One would expect science-targeting politicians to have learned caution from Sarah Palin's fruit-fly debacle, in which the 2008 vice presidential candidate mocked the methodology of research into neurological disorders like Down syndrome and autism, both of which afflict members of her family.

Health/Nutrition

Can you imagine how it feels to cross the finishing line of a marathon race… the smile, the thrill, the excitement, the urge to hug the fellows athletes, and also the exhaustion, the feeling of just sitting down to take several breaths before articulating a word? Well, this is exactly how I feel because we just finished an amazing race to get 1 million people calling for safe food and stopping genetically modified (GM) crops in the EU. But this is not your average petition. For the first time we're using our citizens rights under the EU Lisbon Treaty.

Defence/Police/Aggression

Cablegate

Environment/Energy/Wildlife

The "gigatonne gap" looms large as UN climate talks in Cancún, Mexico, enter their final days without new commitments from big polluters to cut their carbon dioxide emissions. A five to nine-gigatonne gap, to be precise. That is the gap between what has been pledged and what is needed to avoid dangerous global warming.

To keep the world on track to cap global warming at under 2 °C by mid-century, rising CO2 emissions should be kept below 44 gigatonnes a year in 2020, more than a third higher than today. But the UN Environment Programme warned here today that current national pledges would leave 2020 emissions anywhere between 5 and 9 gigatonnes too high.

Finance

Visa's slogan used to be "Everywhere you want to be," but apparently one place it did not want to be was on Wikileaks. We've already covered how both Visa and MasterCard cut off Wikileaks quite quickly, with MasterCard even going so far as to claim that it did so because of illegal activity by Wikileaks — despite no charges or convictions for any actual illegal activity.

Americans outsmart themselves with fancy security measures to the point where their money is committing suicide on the press.

Censorship/Privacy/Civil Rights

"Hyperlinks are vital to the expression and use of the internet," said Harvey Delaney, one of two lawyers representing the respondent in the case, B.C. resident Jon Newton.

As we saw during Obama's election and in others all over Europe, the internet also developed an important role during the 2010 presidential campaign in Brazil, which culminated in the election of President Lula's candidate Dilma Roussef. While most blogs gave support to left-wing candidate Roussef, most TV networks, radios, newspapers and magazines took the side of the José Serra and his strong political-religious-didactic conservative coalition (who ended up losing the election). If there were any questions about the importance of the internet in Brazil, it is undeniable as of November 24th 2009, when Lula gave, to blogs only, the first online interview in the history of the Brazilian presidency, in a demonstration of respect for the important contrast that they had created against the traditional press.

Internet/Net Neutrality/DRM

You would think that the folks over at Google would know by now what a joke DRM is — especially after the company's disastrous foray into server-based DRM on its original Google Video platform that required users to "check in" before they could watch videos they thought they had "purchased."

Intellectual Monopolies
Rooted NOOKcolor with FDroid / FOSS
Credit: TinyOgg

Summary: Matt Asay, Canonical's COO, is moving to a proprietary software company, but a Mono coup continues as the company's HR department makes dubious judgment regarding some developer recruits
Canonical has been hiring from Microsoft and its outgoing COO had also considered working for Microsoft some years ago. What is Canonical thinking? Then there is the Mono issue. Canonical ended up hiring the GNOME-Do (Mono-based) developer, who is now using Vala to create Unity. Yes, it's that divergence from GNOME Shell, which OMG!Ubuntu!, a Mono booster at times, suggests should use the Mono-based Docky. "Holy crap," writes mohanpram in Identica, "Docky is awesome, and I can see where Unity's dock is getting its juice (from Docky's creator of course)!" According to this post:
As an aside, Jason who created Docky now works for Canonical.
Recently, Canonical also ended up adding Novell's Banshee, which is based on Mono. We wrote about it in posts such as:
Here is some new Banshee boosting from OMG!Ubuntu!:
Banshee will be sat on millions of Ubuntu desktops next april as Ubuntu 11.04′s default music player – but some users think it could do with looking a little bit more native.
Microsoft MVP Miguel de Icaza is meanwhile producing more tools for Moonlight (not just Mono) [1, 2] and heckling our Web site over at Twitter (in the most immature of ways). Had he had a rebuttal to facts we publish, he would not have to resort to childish cartoons, which as a 'defence' is pretty telling. It's weak. They attack the messenger.
"As a user of Ubuntu since its very first release, all these recent moves are utterly disappointing and I find myself increasingly installing Fedora for people."In other important news, Canonical's COO is moving to a proprietary software company (dressed up as "open", like Apple) after he almost accepted a job at Microsoft. He sure got some heat from the likes of Bradley Kuhn (FSF) for Canonical's strategy with copyrights, for example. "I miss being in the trenches," he says in his blog, but isn't that where he was while working for Canonical? Jane Silber, the CEO, says goodbye and Mark Shuttleworth, currently based in London, recently bought a house in New York, according to one report. As a user of Ubuntu since its very first release, all these recent moves are utterly disappointing and I find myself increasingly installing Fedora for people. Why can't Canonical at least hire correctly? Are they begging for entryism? Or are the HR people themselves already indifferent or hostile towards the notions of software freedom while not bearing in mind that Microsoft attacks GNU/Linux like no other company does?
Either way, Techrights never thought that Asay becoming Canonical's COO was a good idea (he was a Mac user and GNU/Linux critic at the time). His departure is now covered in:
i. Matt Asay leaving Canonical
Matt Asay has announced that after only ten months he has officially resigned from Canonical. Asay, after leaving Alfresco joined Canonical in February of this year as its Chief Operating Officer (COO). He confirmed that he will be taking a senior business development position at early-stage HTML5 startup Strobe "to focus on building the open web".
ii. Well-known, open-source advocate Matt Asay leaves Canonical/Ubuntu
In an unexpected move, Matt Asay, Chief Operating Officer (COO) for Canonical, the company behind Ubuntu Linux, will be leaving Ubuntu.

In an e-mail to me, Asay, former VP of Business Development at Alfresco, the open-source enterprise Content Management System (CMS), told me that the news of his depature from Canonical would be be announced internally at Canonical today, December 8th.

Asay is leaving Canonical, because "Basically, I needed to get back to a customer-facing role but hadn't realized that until my good friend, Bryce Roberts, pinged me about a company he had invested in (Strobe). I hadn't been looking around but agreed to meet with Charles [Jolley], the founder."
iii. Canonical COO Matt Asay leaves to join web startu
The above are some of the earliest reports. It seems like SJVN broke the news before Canonical even announced this internally. "Matt Assay says goodbye to Canonical," wrote one of our readers in IRC last night. "Perhaps a guy who's constantly defending Microsoft and non free software did not fit in at Canonical. As I said the last time he mouthed off, "You can take the man out of Novell but you can't take the Novell out of the man.""
Here is a new hire of Canonical. In his blog he says: "I am the new "Engineering Manager for the Desktop+ group". What the heck is that? Well, my job is to help a bunch of talented people I like (at least the ones I've known so far
deliver cool software." This developer seems to be Qt oriented and yesterday KDE said that Canonical had donated another server. Are we possibly seeing a change in strategy? Well, Unity and Mono with a GNOME/GTK base seem to suggest it's unlikely, but who knows? I was one of the first people to promote Ubuntu and I am writing this post from Kubuntu, so I hope Canonical will return to its senses. █
Summary: Another "KIN" (just with a lot more marketing) is what Vista Phony 7 [sic] appears to be, implies a tight-lipped Microsoft
WHENEVER Microsoft releases a new product it quickly stuffs the channel and then brags about "sales" (to shops, not to customers). After the "KIN" disaster Microsoft was unable to stuff warehouses, so it never truly bragged about any numbers at all after it had released Vista Phony 7 [sic] to the tune of ~$500,000,000 in advertising. Well, guess what? Vista Phony 7 sales numbers appear to have been internally embargoed because Microsoft is dodging this question to which it certainly knows the answer. Watch the following new video (requires Adobe Trash [sic], sorry):
Here is some coverage about it and a short transcript:
Speaking to journalist Walt Mossberg at the D: Dive Into Mobile conference in San Francisco on Tuesday, Joe Belfiore, director of the Windows Phone program had this to say when it came to sales figures:

"We're not talking about numbers yet. It's just too soon to talk about numbers."
The Inquirer says that:
Mossberg did press Belfiore on when he thought Microsoft would enjoy similar market share as Apple, only to be met with the vague answer of "maybe" when he put forward a two year timeframe.

The only reason Microsoft would be cagey about WP7 sales figures is if they have been poor. By this stage, given the aforementioned availability and marketing factors, anything less than several million would be deeply disappointing. The longer Microsoft skirts the issue, the more speculation will continue to rise.
It was only days ago that we showed Microsoft's intention to use patents — not phones — in the mobile market. Microsoft is turning into a patent troll. █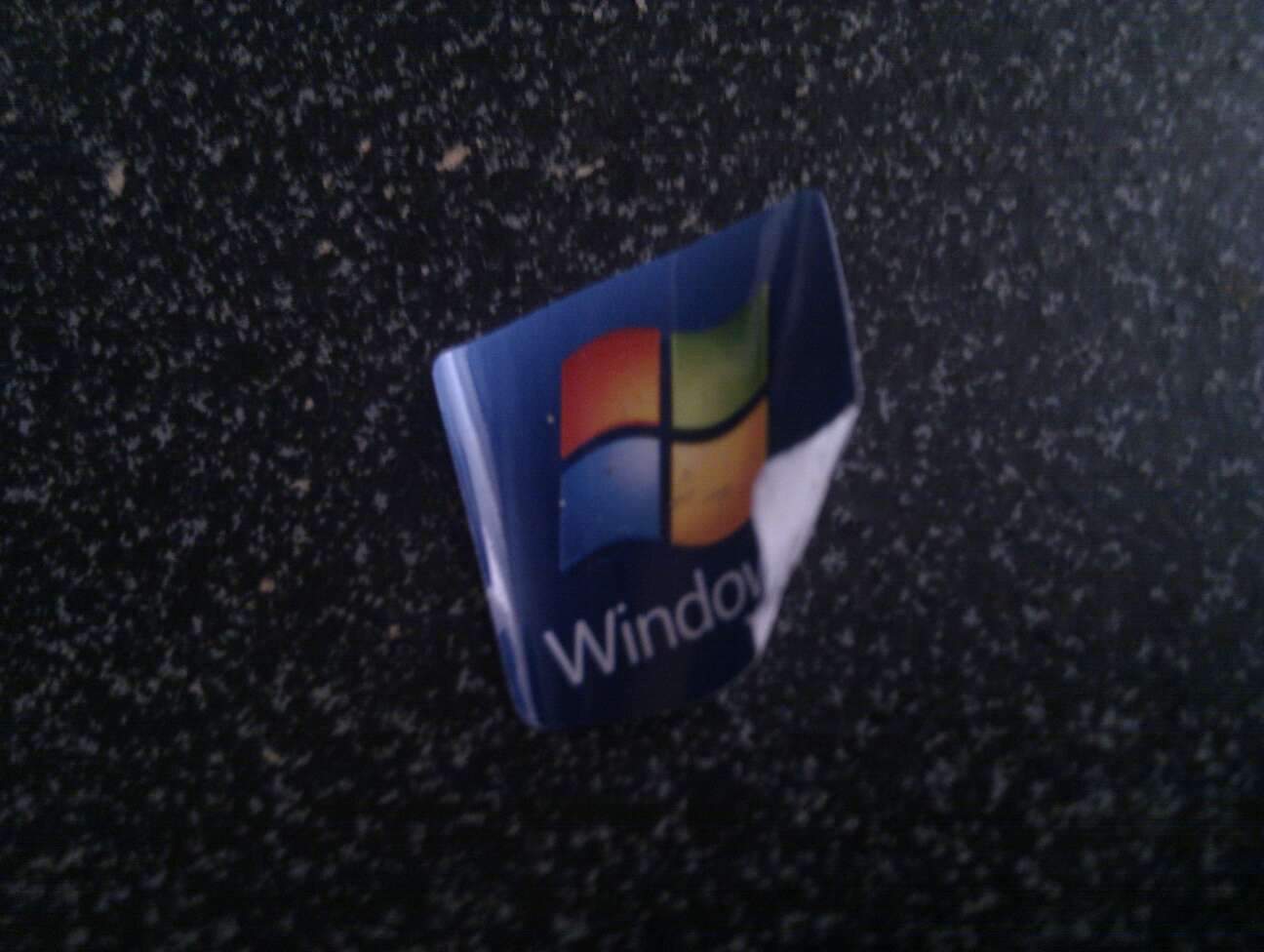 "The hardest thing about replacing Windows 7 with Linux is getting the damn sticker off," Tim from OpenBytes wrote (credit: OpenBytes)
Summary: Portugal is the latest country where an unwanted Vista 7 licence is reported to have been refunded
Microsoft is losing control of its monopoly position and out of misery it is using attack vectors like fake companies (e.g. patent trolls and EU-based complainers) whole sole purpose is to harm Microsoft competitors. Microsoft sees the need for such abusive tactics because it is losing to Google in government, for example, amid a move to Fog Computing (many of the servers powering this are also IBM mainframes running GNU/Linux). Microsoft is not just totally losing control in the back room however. That's just an area where GNU/Linux has enjoyed spectacular (yet immeasurable) growth for well over a decade.
On the desktop too GNU/Linux is gaining. Last night we shared some encouraging statistics from W3schools and given that Chrome OS is coming to shops, there is reason to expect greater adoption of GNU/Linux (albeit with Android-esque lock-down).
A few weeks ago we wrote about a Vista 7 refund given in Brazil and in the UK too it appears to be possible [1, 2] although my co-host Tim says it requires the buyer to go through a long and cumbersome process. Well, following the success story from Brazil (which put Techrights in the news) someone in Portugal has just managed to also get a Vista 7 refund, thus setting a precedence. The person writes:
No dia 8 de Setembro dirigi-me a um espaço comercial da zona da grande Lisboa e adquiri um ASUS 1005PX, após ter feito uma pesquisa e recebido algumas pistas de amigos, porque considerei ser uma máquina "decente"(*) no que toca à relação preço/qualidade.
Apercebi-me de imediato da falta de informação dos trabalhadores dessa loja sobre a forma da compra que estava a fazer (substituir o sistema operativo previamente instalado) mas também fiquei satisfeito por ter sido encorajado a fazê-lo por um deles, optando pelo Ubuntu 10.04 LTS, não tendo sequer visto o arranque "à la" W7!
Or in English (automatic translation):
On September 8 I went to a commercial area of the greater Lisbon area and purchased an ASUS 1005PX, after doing a survey and received some leads from friends, because I considered it a machine "decent" (*) when it comes to value for money.
I noticed immediately the lack of information from that store employees on how the purchase was doing that (replacing the previously installed operating system) but I was pleased to have been encouraged to do so by one of them opting for Ubuntu 10.04 LTS, not having even seen the start-up "à la" W7!
Can any of our readers from Portugal or Brazil offer a better, more accurate translation? The conclusion is translated as follows:
You can buy a machine without Windows in exchange for some patience to face the assembled system.
I fought for the recovery of money (a little) that was payable but not the value at the beginning.
It was painful to watch the way these matters are dealt with in a time and MANAGING EXCELLENCE IN CUSTOMER nothing more than Paragon. Over the messages and responses noted the differing views of which are little abonatórios services to ASUS.
Later I learned that I can not make a memory expansion to 2GB because I lose the warranty … Only in 2 years!
The audio system does not allow me to connect earphones or external speakers because the friendly manual says that this device input / output is managed by Cabinet Software (MS).
Conclusion: I really like the ASUS hardware (got a VW222S monitor, a laptop and now A6JC 1005PX) but I fear I will not buy anything else to this brand after living the violence.
That's why we need to ensure GNU/Linux preinstalls are the standard, hopefully imposed to some degree by EU Commission intervention (to counter Microsoft's market distortion). █

Summary: The Microsoft-groomed Nathan Myhrvold is attacking companies using patents on ideas he did not at all come up with
THE world's largest patent troll, Intellectual Ventures, has been sending out one of its attack dogs each time it needed to make some money or bully some company which did not surrender to racketeering. According to this new report, Intellectual Ventures gave up pretending (or hiding behind 1,000+ proxies) and now it attacks directly:
Intellectual Ventures filed three lawsuits over software security, dynamic random access memory (DRAM) and Flash memory, and field-programmable gate array (FPGA) technologies. The targets of the lawsuits are Check Point Software Technologies, McAfee, Symantec, Trend Micro, Elpida Memory, Hynix Semiconductor, Altera, Lattice Semiconductor, and Microsemi, according to a press release.

The lawsuits are a strategic change of direction for Intellectual Ventures, which for years did not engage in direct patent litigation (though pointedly did not rule out the possibility). The new legal strategy is bound to give fuel to critics who call the firm a giant "patent troll" that uses patents solely to extract payments from companies.
As Simon Phipps put it last night: "A patent troll that's made a few inventors rich is still a patent troll."
Microsoft/clients/lawyers are part of this problem because Intellectual Ventures is funded by Bill Gates and Microsoft. One patent attorney in Seattle, David Sheldon, is citing another while stating:
Have been neglecting Internet, totally missed that #ignitesea was going on. Best of luck to @mypatents on #swpat! Will find video later.
Microsoft is a huge part of the headache known as software patents. It's not a mere scapegoat which is daemonised. █