01.04.11
Gemini version available ♊︎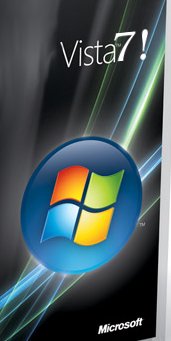 Summary: Bad news for Vista 7 and more new stories that resemble what happened to Windows Vista
THIS IS A SUBJECT THAT Techrights has dedicated nearly 100 posts to. The reality behind Vista 7 was never the same as perceived reality that PR had generated and spread. It was important for this Web site to present the facts rather than the advertisements/guerrilla marketing and also expose the machinations responsible for alteration of public perception.
Vista 7 was named "a year old" a small number of weeks ago. How has it done so far? It depends on who you ask. Microsoft is determined to push its latest version of anything, so to Microsoft it is extremely important that people follow the herd under the assumption that this herd is happy with the latest change. For the first time in many years Windows was advertised heavily on television and the phrase "I'm a PC" was a common one in use.
Based on this report, the Vista 7 "I'm a PC" man has quit Microsoft. Here are the details:
Microsoft's "I'm a PC" bloke is reportedly leaving the software maker.

According to an email, seen by SeattlePI.com, Sean Siler has quit the company for personal reasons, after five years of service.
This was also covered by Microsoft blogs [1, 2] which contain departure messages. It's quite a loss to no longer have somewhat of a mascot amid these Microsoft ads which pretend there are only two sides (Apple and Microsoft) and there's plenty of humour about those ads, too.
What we are seeing here resembles what happened with Vista, which initially sold better than Vista 7 by the way. It took about a year for Vista's top people — including key marketing people (the public figures who defended Vista) — to call it a day and run away from Microsoft. We covered these at the time.
"Sales of Vista 7 have been far from spectacular, but Microsoft keeps boasting some fake numbers…"What's the deal with Vista anyway? Well, in our daily links last night we cited an example of people who got 'burned' by Vista and therefore are moving to GNU/Linux, rather than pay Microsoft again for a fix of Vista. The operating system known as Vista is a key factor in migrations to Vista 7. Many Vista users are migrating to Vista 7, whereas XP refuses to die because Vista 7 hardly has anything superior that's of practical value. Ask any Microsoft booster what new features will be made available for Vista 7 and struggle to get a good answer. Not much has changed. As for Vista, we've looked at heaps of Microsoft news going back to October and amongst about 7,000 headlines from the past 2.5 months only one contained substring "Vista" and it's about "enVista". In other words, Vista is no longer in the news. It's gone, it's finished. But some people bought it at the time, foolishly thinking it would stay relevant and supported.
Sales of Vista 7 have been far from spectacular, but Microsoft keeps boasting some fake numbers (fake for reasons we explained before, including fake numbers at the SEC) and this one analyst says that GNU/Linux in the form of Chrome OS "will bury Windows", to use the headline from The Inquirer which says: "He predicts that the free Chrome OS will displace the Vole's Windows OS on netbooks. This implies that Microsoft will be forced to give away its flagship desktop operating system for free in order to support sales of its other products, like Office."
Microsoft is reportedly engaging in patent racketeering [1, 2, 3, 4, 5, 6, 7] against Chrome OS. It uses threats of litigation against Taiwanese companies that plan to sell it. Hail the 'free' market, eh? The "invisible hand" is invisible because it does not exist. Here is one report about it — one that we have not referenced before:
Microsoft is apparently planning on using royalty fees on smartphone technologies in an attempt to persuade Acer, ASUS and other netbook manufacturers to stick with Windows and bypass Android and Google Chrome OS on netbooks and tablets, according to sources in Taipei. DigiTimes claims that Microsoft is threatening to charge manufacturers for using its patented tech – including email and multimedia systems – as with their agreement with HTC, with fees amounting to around $10-15 per handset.
"Microsoft accused of doing evil in Taiwan" says the headline from a British news site:
The first target for the Imperium is Acer and Asustek and the big idea is to stop them from adopting Android and Chrome OS for their netbook and tablet PCs, Digitimes claims.

So far only HTC has signed for licensed use of Microsoft patents, leaving Acer and Asustek the targets for the royalty charge.
In Korea itself (a neighbour of Taiwan, but much further south) it's a mess for anybody who does not use Windows because of Microsoft ActiveX lock-in which we covered here before. "Microsoft monoculture hurts tablet users" says this headline from the Korea Times. The Inquirer alleges that Microsoft will charge royalty fees in Taiwan while trying to legitimise software patents in Korea, destabilising the region's independence (Samsung and LG, which are based in Korea, already pay Microsoft for Linux, since 2007 in fact. In Japan, software patents are legal). The reports are being denied by ASUS, but there is no word from Acer.
Rumors continue to swirl about behind-the-scenes royalty agreements in the netbook and tablet PC industries that could have adverse effects on future product lineups. The latest: a new DigiTimes article says that Microsoft is planning to charge Taiwan-based vendors Acer and AsusTek royalty fees for devices that don't run a Microsoft-based operating system. So far, AsusTek has already denied the charges.

The DigiTimes report says Microsoft is claiming the fees are for using its various e-mail and multimedia-related patents, but that the effective result would Acer and AsusTek shying away from adopting Google's Android or Chrome OS on netbook and tablet PCs.
This is all relevant to Vista 7 because it's notoriously 'fat' (resources-wise) and this is hurting it a lot in new form factors such as ultralight tablets. The Bangkok Post calls Microsoft "an unfamiliar underdog" in tablets, for example.
We both wanted to like the Windows 7 tablet, to cheer on the underdog and the little guy, even if he is from Redmond. I came away wondering. It was a case where the whole just did not add up to the sum of the parts.
Even CNN mocks/belittles Microsoft's chances in this area. Don't be fooled by CES hype.
Further on this subject, Microsoft's notorious booster Rob Enderle (who is paid by Microsoft) already smears Chrome OS again, in order to advance Microsoft's agenda. In his blog he keeps using the patent FUD, just as he used the SCO FUD for many years. And it turns out that ECT now accepts not just Enderle as a writer but also SCO booster Laura DiDio from the Yankee Group. She writes about Vista 7′s first birthday at times when Microsoft is preparing a fix for it (because it's broken, of course).
"And it turns out that ECT now accepts not just Enderle as a writer but also SCO booster Laura DiDio from the Yankee Group."Going back to the issue of poor Vista 7 adoption, IDG says that enterprises promise to run Windows XP even after its retirement. Yes, poor adoption of Vista 7 in business and in general is a subject that we covered here before and IE6 is part of the problem. "Companies Enslaved to IE6 in No Hurry to Upgrade to Windows 7″ says the headline of that latter article and "Microsoft's 'China problem' means IE6 lives on" is the headline from IDG, which adds: "A Microsoft executive's self-described job of driving Internet Explorer 6 (IE6) into extinction will be difficult unless he can move Chinese users off the aged browser."
The other day we wrote about the "dipping" lawsuit which may questionably enter "class action" status. It's a lawsuit against Vista 7, which has formally entered the courthouse and is now covered by some corporate media sites and tabloids like The Register.
A California woman whose lawsuit against Microsoft was dismissed earlier this year has again sued the company over "downgrade" rights to the nine-year-old Windows XP, according to federal court documents.

The complaint filed by Los Angeles resident Emma Alvarado last week accused Microsoft of breaking California's unfair business practice and restraint of trade laws by requiring customers to purchase a copy of Windows Vista or Windows 7 if they want to downgrade to the older Windows XP.
Mr. Pogson had this to say about the lawsuit:
Emma Alvarado sued M$ in 2009 over the silly and costly XP "downgrades" for people buying PCs that came with Vista. The court disallowed class action and eventually ruled that M$ had not been shown to profit from the practice. Perhaps the dog ate the money but M$ and its partners never do anything without raking in huge amounts of cash.

She is tenacious and is suing again on more limited grounds, California law, which may better protect the consumer.
Finally, let us not be deceived by advertising in the form of press releases. Windows in general is collapsing based on different criteria and another trick for having one sale of Vista 7 count as several reached its end of life about 4 days ago [1, 2, 3], which ought to make it harder for Microsoft to manipulate future figures (expect Microsoft not to say much about it anymore). █
Permalink

Send this to a friend