04.21.11
Gemini version available ♊︎
"I have lost my sleep and peace of mind for last two months over these distasteful activities by Microsoft."
–Deepak Phatak, a highly regarded Indian professor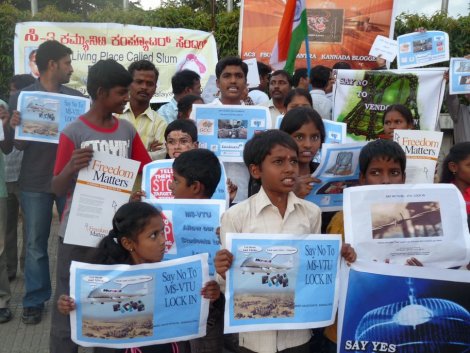 Kids holding up graphics from Techrights (see context)
Summary: Microsoft FUD and other market abuses among the factors leading to anger and prominent action in India
THIS is not the first protest of its kind, but Muktware has announced yet another action which it precedes with: "Another problem with buying proprietary software is that the government agency is locked into that one company. The non-standard and incompatible technologies makes it impossible for governments to migrate to better or more advanced technologies like GNU/Linux."
For those who do not remember, groups that include Groklaw and FFII are calling for people to provide their "Microsoft OEM tax" stories to the European Commission because there is belated action brewing.
Meanwhile, adds another article from Muktware (echoing some of what Groklaw covered the other day), Microsoft was not eligible for government selection as it had lacked certifications. We will write more about security later today. Watch how this article begins:
I can't forget the sentiments within the Indian IT industry when Microsoft, a company which doesn't even disclose finacial results for India, accused one of the most reputed engineers of India – Prof Phatak — to be working against the interest of India. Why? Because he rejected Microsoft's OOXML on technical grounds!

The company whose products cost billions or dollars in losses [read the SJVN link] every year due to uncountable security holes is now accusing Google of selling insecure products to the government.
Lastly, states Muktware (it is a great Indian news site by the way), "The Game Microsoft Plays The Best [is] FUD"
Microsoft is well reputed for spreading FUD and launching proxy wars against free and open source technologies. Instead of competing in the market on the basis of better products Microsoft uses different routes, one of their favorite routes is spreading FUD.

It is well known that Microsoft has failed to mention which patents Linux infringes upon yet the company continues to bully Linux players to pay ransom using its FUD machine.
Microsoft uses against Google (as a services provider) the same tactics it uses against Linux and Android. It is not surprising. Microsoft has always been an empire of distortion and manipulation. It's seen as profitable. Well, sometimes it's time to get up and protest. █
Permalink

Send this to a friend