08.24.11
Time is running out for the USPTO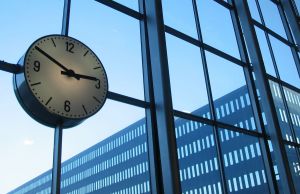 Summary: More mainstream coverage of the problem with the patent system and another report suggesting that Microsoft's mole, Elop, might be going after patents that Google is after
In light of some of the recent developments (e.g. the success of Linux being hinged on the failure of patents), it is clear that patent wars are a present reality. "A rational observer would now predict that a further outbreak of patent wars, and portfolio-bolstering acquisitions, now are likely," says one report. "Some observers also are starting to say that the software patent process is broken, costing jobs and threatening innovation as well, and there also is some growing talk that reforms are necessary. Patent system is broken, read the book and complaints that the patent system is broken,while criticism is growing." These are the words of one of the latest articles on the subject.
Another new article makes a similar point. The author writes about the possibility that many more software patents will become toothless soon. "Court rules 'do it with a computer' doesn't make an idea patentable" says the headline, highlighting last week's milestone that we covered several times. The article adds: "This week seems to be bigger than most for software patent news. Earlier in the week we had Google's announcement they are buying Motorola Mobility to acquire defensive patents. Now we have what could be a landmark ruling against the validity of a software patent on the basis that it describes a mental process. "
Some of the subscribers-only sites which target patent lawyers typically have an opposite interpretation, where basically nothing can stop software patents and those patents are just so wonderful. Watch this claim that software patents are "under attack". Poor them…
In other relevant news, Google is still trying to get more patents on the face of it. It is claimed that InterDigital's patents heap is up for sale and Microsoft's mole that we suspect will use patents against Android is among those bidding for the heap. This further shows that the USPTO is a nightmare which promotes nothing that it promises. As this one site puts it this week:
The Economist blog 'Democracy in America' covers the lamentable state of IP. The problem is particularly bad with software patents because they are both so unnecessary to encourage innovation and also because there are potentially so many software patents – software is such an easy medium in which to embody productive ideas. The recent purchase of Motorola Mobile by Google apparently to get itself a stash of patents is truly alarming, because, having spent $12 odd billion on getting the patents and with only a few parties able to marshall sufficient defensive patents to protect themselves against Dark Lord's like Nathan Myhrvold, Google is then obliged to its shareholders to maximise the value of those patents and to maximise its profit from any mobile phones it makes. And, because of the IP nightmare only a handful of firms will be able to make such products – though only by warding off marauders with threats of counter claims for breaching their own patents.
Here is the update about Google seeking to have patents that are being used offensively reexamined:
Since our last update on the reexaminations of the Oracle (Sun) patents being asserted against Google, two additional first actions on the merits have issued, one [PDF] on patent 6,125,447 and one [PDF] on patent 6,910,205. In each case the examiner has rejected all of the claims for which Google has requested reexamination.

With respect to the '447 patent, the examiner cites to two principal items of prior art as each anticipating all of the claims of the '447 patent. In other words, the examiner has found two separate patents that establish that none of the claims of the '447 patent were novel.

With respect to the '205 patent the examiner found a single item of non-patent literature that anticipates all of the challenged claims of the patent. That is, the non-patent literature establishes that none of those five challenged claims were novel.
Here is an update on Apple's failed attack on Android:
Apple Loses Court Battle In Europe, Samsung Free To Sell Galaxy Tabs

Justice will prevail. The European Courts have once again reinstated the faith in justice. Apple today lost its monopolistic battle against Samsung and Android.

Jan Wilderboer, a FOSS evangelist, writes on his blog, "Apple has LOST all claims wrt the European patent 2098948. The court thinks that the European patent 1964022 is worthless and will be thrown out in reexamination anyway. The only thing that remains is the european patent 2059868. And the claims of that patent can be circumvented in trivial ways."
The Guardian still offers some coverage on this subject this week, mostly critical of software patents (for a change). One Twitter user, Kevin B Unhammer, writes/quotes: "there is one resource patent trolls need: lawyers» (Never do business with firms working for patent trolls)"
Katherine Noyes, writing for PCWorld (IDG) continues her criticism of software patents and so does TechDirt, which writes about something we saw last week:
We recently wrote about a surprising Federal Circuit (CAFC) ruling that might open the door to invalidating a lot of software patents. We received an an interesting comment on the post a few days later from John Pettitt:

So I was thinking – great they invalidated software patents, lets see what crappy patent written by an idiot they picked to do it – then I realized the idiot in question was me

Not sure how I feel about this.

John – inventor of the patent in question.

Pettitt is now running an interesting operation called Free Range Content, which helps companies syndicate content easily. However, a while back, he was the named inventor on patent 6,029,154, describing a "Method and system for detecting fraud in a credit card transaction over the internet." We reached out to Pettitt to ask him a few questions about his views on the patent system and he kindly agreed.
Priceless.
What's notable in all those reports is that there is strong consensus on the need to abolish software patents. If anything, Google validated his inclination after it had complained about anti-competitive aspects of patents, especially ones pertaining to software (although not explicitly so). █