09.18.11
Gemini version available ♊︎
"…Microsoft wished to promote SCO and its pending lawsuit against IBM and the Linux operating system. But Microsoft did not want to be seen as attacking IBM or Linux."
–Larry Goldfarb, BayStar, key investor in SCO approached by Microsoft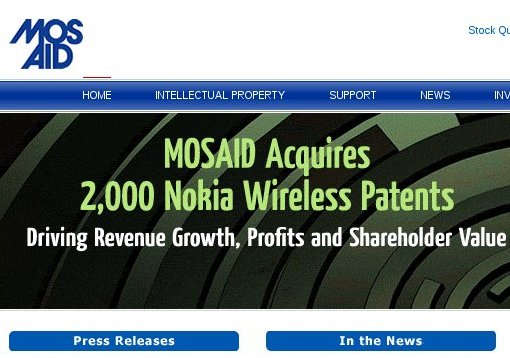 Up-to-date screenshot of the homepage of the patent troll Microsoft is feeding
Summary: Microsoft's Mosaid scheme against Android is reportedly seen by antitrust regulators, who are likely to step in
OVER THE years Microsoft has spawned several patent trolls, including the world's biggest. It also tried to pass patents to patent trolls, but it got caught [1, 2, 3, 4, 5, 6]. Microsoft is still a disgusting company that cannot compete and instead punches below the belt, just as it always has (there is a clearly documented history of it). Having hijacked Nokia (essentially a takeover, according to a Nokia manager), Microsoft now turns Nokia into a trolling powerhouse. Having faced probes over CPTN and Nortel patents, Microsoft may now be dealing with yet another probe for feeding an anti-Android patent troll [1, 2]. Well, it was very clear all along:
Mosaid Technology Inc.'s recent acquisition of key cellular patents could spark antitrust investigations in Canada and the United States, a U.S. newspaper has suggested.

The New York Post said Friday that the Ottawa patentlicensing firm is being used by Nokia Oyj and Microsoft Corp. as a vehicle to launch a deluge of litigation against Google Inc. and its massively popular Android operating system.
Mosaid said Friday it has no knowledge of any probes.

The Post, citing unnamed sources "close to Google," said Mosaid's acquisition of more than 2,000 cellular patents from Nokia earlier this month, with no cash up front and an agreement to make payments through future licensing deals, was a manoeuvre orchestrated by Microsoft and Nokia to attack Android.

"Mosaid can sue Android supporters for patent infringement without being counter-sued as it does not make any products," according to one of the sources. "With Mosaid bringing the lawsuits, Microsoft and Nokia could also be shielded from accusations of anti-competitive behaviour."
"Nokia and Microsoft patents were bundled into a Luxembourg-based holding company called Core Wireless Licensing," notes Benjamin Henrion based on the article above. Another dodgy transaction like Novell's takeover? This is the topic one should speak about on Software Freedom Day, agreed Henrion, who also linked to this new page, "Dyson Says Patent System Flawed, `Trolling' Bad Practice".
James Dyson, founder of Dyson Ltd., talks about the patent system. Dyson also discusses innovation and his approach to design. He speaks with Cory Johnson on Bloomberg Television's "Bloomberg West."
The real problem is software patents, not just patent trolls. This is why Google ought to have chosen a strategy other than deterrence with patents, which is ineffective against patent trolls. Let us see how the antitrust investigation — if any — goes. █
Permalink

Send this to a friend