10.26.11
Gemini version available ♊︎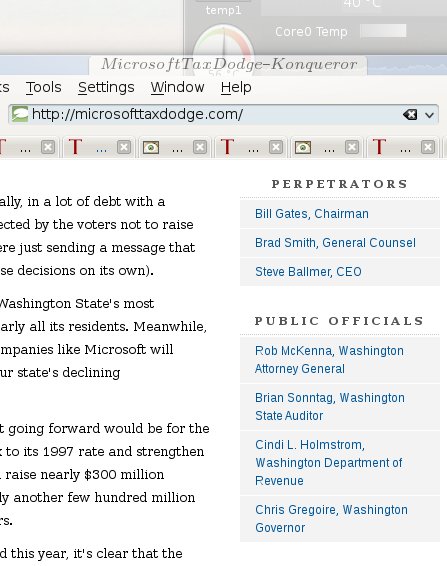 Summary: Microsoft's public looting continues uninterrupted due to government complicity or apathy (e.g. former Microsoft executives in government positions)
THERE IS a large-scale world-wide movement which seeks restoration of financial sanity. In 2009 and 2010 we quite routinely cited a former employee of Microsoft who campaigned against Microsoft's tax dodge, which was further assisted by cronies it had inside the government (former Microsoft executives). Unsurprisingly, the government took no action to rectify this. It had already gotten occupied by friends of Microsoft and we have more evidence and examples of this, which sadly enough Bill Gates-funded newspapers do not cover.
This Microsoft-employee-turned-justice-seeker has not blogged in, which leads us to assume that he gave up even trying to address such injustices. Mr. Pogson is still pressuring for change this week, but he is located in Canada.
I can see why the US tax-men need to audit M$ but I don't see why they are apparently so many years behind. Has the darling of capitalists been getting a free ride at ordinary tax-payers' expense? The quarterly report lists tax contingencies at $7billion+.

Al Capone was an organized criminal, who, in spite of diverse criminal activity even murder was eventually brought to justice by the tax-men. Wouldn't it be sweet if that is eventually M$'s downfall? Paying their fair share for the operation of the government that protected M$ from competition would be some form of justice although just a drop in the bucket of their ill-gotten gains. It would be better if some of their leadership did jail-time for tax evasion.
Microsoft's avoidance of tax affects not only US citizens. Microsoft does the same thing in Europe and it was found guilty of doing this in India. This means that us the public need to make up what the thugs at Microsoft refuse to pay (and get away with it because of their connections in politics). Until people speak about these issues on a daily basis Microsoft will thrive in public ignorance and keep pillaging and plundering. We do not cover it as often as we used to because there is not much news going on there. The injustices carry on and there is no sign of anything being on the verge of reform. Wikileaks has got material on this too. Microsoft is good at collecting tax (e.g. Windows bundling, Office lock-in, Android extortion) but not at paying any. █
Permalink

Send this to a friend