04.02.12
Washington working for the trolls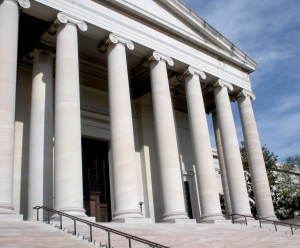 Summary: IBM gives ammunition to Facebook and NASA gives public patents to private companies
THE behaviour of IBM, whose lawyer is now running the USPTO, helps show what a farce the patent system really is. IBM is a proponent of software patents and it makes a profit from this burdensome mechanism of protectionism. A patent aggressor which is partly owned by Microsoft is said to have just been sued again:
Mitel, a provider of business communications and collaboration software, has filed a lawsuit against Facebook, claiming the social network is infringing on two of its patents.
Facebook, in response to such litigation, buys patent ammunition from IBM [1, 2, 3, 4, 5, 6], but what everyone seems to be missing is that Facebook cannot use those patents against patent trolls. The "defensive" nonsense is merely a talking point.
Quoting one article on the subject:
Facebook has bought a portfolio of 750 technology patents from IBM to help it counter allegations of intellectual property infringement, according to a source.
The company's patent aggression has already been demonstrated and those patents cannot be used to squash patent trolls. The Yahoo! case is an exception here and the cost of deterrence is very high. It's a cost that will be passed to the public one way or another.
Speaking of public interests, NASA has been distributing software patents acquired using public money [1, 2] to make a profit. In the process we see press releases for self promotion of private entities, piggybacking what the public was forced to fund [1, 2, 3]. This is an injustice that we wrote about before. It makes NASA look bad.
NASA is now using public money to feed trolls, not even for notable profit. "The market can be cruel," says Wired, "but it doesn't lie: Software development algorithms are worth more than cool nanotechnology swarming technologies.
"That's what the National Aeronautics and Space Administration (NASA) found out this week when it tried to auction three lots of its Goddard Space Flight Center software patents at an event run by the ICAP Patent brokerage.
"It's a cost that will be passed to the public one way or another.""The software development patents sold for $75,000. With a starting price of $50,000, nobody bid on the nanotechnology stuff. And they also steered clear of a bargain-basement $30,000 NASA patent that covered a fancy way of reporting a broken smoke detector."
Here is another article about it. If NASA does not mind becoming a disgraced agency, then it can carry on passing what was public to the private sector, raising the costs of products owing to public support. All those patent lawsuits we keep hearing about are simply making up a tax. NASA is essentially the middleman. █
"Software patents have been nothing but trouble for innovation. We the software engineers know this, yet we actually have full-blown posters in our break-room showcasing the individual engineers who came up with something we were able to push through the USPTO. Individually, we pretty much all consider the software-patent showcase poster to be a colossal joke." —Kelledin, PLI: State Street Overruled… PERIOD