06.27.12
Gemini version available ♊︎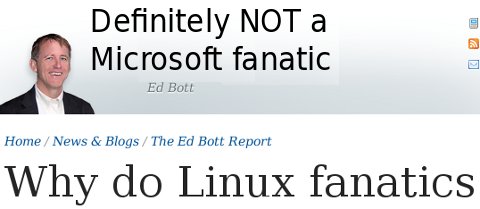 Context
Summary: Microsoft's attack on booting freedom/openness has drawn different workarounds from different players; Microsoft continues bombarding the press with propaganda
THE UEFI debate has quieted down somewhat since the news from GNU/Linux distributors. The resultant controversy was enough for Microsoft to gain from, putting aside the effect on antitrust and GPLv3 (with software patents provisions), as we outlined quite recently. As The H put it, Canonical and Red Hat [1, 2, 3, 4] announced their plans and The Inquirer wrote:
Following Red Hat's Fedora project announcing its plans to ensure that its Linux distribution will not fall afoul of Microsoft's UEFI Secure Boot mechanism, Canonical has detailed how it plans on working with Microsoft's 'security feature'. The company will dispense with Grub 2, a Linux bootloader that it put significant work into, and modify Intel's efilinux bootloader to add a menu interface.
Microsoft has managed to marginalise the GPLv3 using this devious scheme that helps security in no apparent way. As IDG noted, OpenSUSE, which is struggling internally, has not done anything yet:
Now that the Fedora Project and Canonical have proposed their own plans for their respective Fedora and Ubuntu distributions to work with the upcoming Secure Boot provisions in Windows 8-certified machines, it's natural to wonder what openSUSE will be doing about the issue.

The answer for now seems to be unclear, and the reason may be one of openSUSE's greatest strengths may be working against it.
Debian sidles with the FSF on UEFI protest and other distributions have said almost nothing on the subject. It was just the Linux Foundation, Canonical and Red Hat which said they would respond to it a few months ago.
Speaking of OpenSUSE, there are more delays as attendance or submissions might be slow to arrive:
New Deadline for openSUSE Summit papers to coincide with SUSECon's Call for Papers, and more information about the Summit has been released
OpenSUSE is no longer a leading distribution, so we expect not so many people to get involved. SUSE and Microsoft are competing against free Linux and Red Hat, using Microsoft Linux (aka SUSE) as bait, taxing the competition as a whole and standardising this outrageous practice. Watch what Microsoft says about SUSE in the following new piece:
When we speak about partnering with the open source ecosystem, we mean to work a way forward. When we come to competing, we continue to compete with our open source competitors, says Mandar Naik, director, platform strategy, Microsoft India.
The piece if titled "Here Is Why Microsoft Is Warming Up To Open Source!" but it's really about the Microsoft-funded SUSE and Microsoft Ganging Up Against (Gratis) Open Source. This fluff/puff piece is hard to read with a straight face, but the target audience is probably gullible people who could not care less about FOSS. It's just a propaganda placement, portraying an abuser as a friend just like Bill Gates has been doing with a lot of puff pieces. As we shall show in the next post, Microsoft's abuses are clear for some regulators to see. █
Permalink

Send this to a friend