07.10.12
Apple aspires to be the next Microsoft (in the bad sense)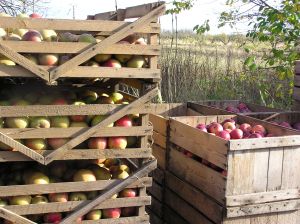 Summary: The apples are rotting after largely failed attempts by Apple to embargo the competition
WE OUGHTN'T lose sight of Apple's attacks on Linux, however indirect or subtle they may be. Some reports say that even Apple followers are fed up with it. To quote: "A new movement has started on the social "networking sites it's called BoycottApple. We noticed that even the hardcore Apple users have come out in protest of what Apple is doing against its competitors."
"A new movement has started on the social "networking sites it's called BoycottApple. We noticed that even the hardcore Apple users have come out in protest of what Apple is doing against its competitors."
–MuktwareSJVN, who is not usually against Apple (his wife uses a Mac), writes about the Koh decision, calling Apple's patent lawsuits "lousy". He wrote: "U.S. District Judge Lucy Koh in San Jose, California, has granted Apple's request to halt the sales of Samsung's Galaxy Tab, which runs Google's Android operating system. The Galaxy Tab's crime? It looks writes a tablet.
"No. I'm not making that up. Judge Koh claims that "Samsung appears to have created a design that is likely to deceive an ordinary observer." True, from a distance of ten feet, it's not easy to tell them apart. It's not easy to tell any tablet apart from any other tablet at that range. Most people I know prefer to use tablets at arm's reach, but that's just me.
"Apple's legal case rests on a single design patent, USD504889. In it, Apple claims "the ornamental design for an electronic device, substantially as shown and described." You can see Apple's patented design for yourself in this story. Looks pretty much like a tablet doesn't it? Do you see anything about it what-so-ever that looks unique?"
The Nexus ban is temporarily lifted, so Apple's strategy is hardly working at all. It's just alienating journalists and/or clients. Oracle's (or Ellison's) attacks on Android failed to impress the now-dead Steve Jobs, who is Ellison's best friend. Oracle lost all cases and Google is now demanding millions from Oracle. To quote Pamela Jones, "Google has filed its Bill of Costs [PDF] in the Oracle v. Google case — $4,030,669 is the whopping total it would like Oracle to have to pay." This is also covered here.
Apple also failed in the UK, where "Colin Birss (sitting as a Judge of the High Court, UK) said that Galaxy Tab does not infringe upon the design of Apple's iPad. The judge said that Galaxy Tab is not identical to the iPad even if there are some similarities but that doesn't account to design infringement. The judge actually criticized Samsung's design by stating that they "do not have the same understated and extreme simplicity which is possessed by the Apple design.""
"The company is being sued by patent trolls for the most part; contrariwise, Apple sues non-troll (i.e. producing) companies."Apple continues to collect multitouch patents in vain. In fact, Apple itself is being sued for patent violations such as this. Back in June Apple got sued for other alleged violations, but do not cry for Apple. The company is being sued by patent trolls for the most part; contrariwise, Apple sues non-troll (i.e. producing) companies. As one writer put it, "When patents protect Apple, are they okay?"
Of course not.
Apple cannot sue troll, so when it sues it will usually be an aggressive display of power. The WSJ published an article titled "'Silly' Apple and Google". To quote: "There were great expectations when technology giants Apple and Google squared off in court, each accusing the other of violating its patents in competing mobile phones. No one expected this case would end in a whimper, with one of the country's most influential judges dismissing the claims as "silly.""
Yes, Apple is a silly company capitalising on some "silly" people who overpay for products that Apple merely brands. Android sites are growing angry at Apple, with headlines like "Judge Who Threw Out Motorola V. Apple Thinks We Don't Even Need Software Patents". To quote: "One of the best things about this ongoing patent war between every mobile phone company in the business, is that it's finally starting to attract attention to how crazy it is all getting. Judge Richard Posner recently threw a case out of his court that involved Motorola and Apple and did so with a little bit of a flair. Luckily for us, Posner is one of the most respected Judges in the States right now, and he has started to put his mind behind this whole patent system.
"Posner recently sat down for an interview after being thrust into the spotlight after his decision on Moto v. Apple. Posner has been seen by many in his field as a visionary rather than following the rules as they state. This outlook is what causes him to think critically about cases and come up with thoughts like "most industries don't need patents." Posner said that in the smartphone industry, patents are "a problem. You just have this proliferation of patents.""
Similiar article with slant against software patents appeared in major news sites [1, 2, 3] and Motorola receives some good publicity. Here is a summary of "The Mobile Tech Patent War: A History Of Nokia vs. Apple vs. Android vs. Microsoft"
"The monopolist continues to amass patents, but it's not just about Microsoft anymore. We must also track Apple."To quote the part about Microsoft: "Microsoft Corp filed an International Trade Commission complaint against Motorola in October 2010 for infringing nine patents. Motorola responded the next month with its own ITC complaint against Microsoft for infringing 16 patents.
"In May, the U.S. trade panel ordered an import ban on 18 infringing Motorola devices, which has not yet taken effect."
In May we saw Microsoft's aggression paying off, leading to blockades like Apple's. This went to trial and the ITC collaborated with Microsoft. In order to drive away Microsoft with its embargo-happy aggression Motorola did offer to settle, but Microsoft did not take it. Some corruptible members of congress took the side of the abusive aggressive monopolist in front of the ITC, showing just how deep Microsoft's influence in the US government is running. It was about the fires-causing gaming box that the Microsoft-funded Obama infamously likes to name a lot (free advertising). The monopolist continues to amass patents, but it's not just about Microsoft anymore. We must also track Apple. █