11.08.12
Gemini version available ♊︎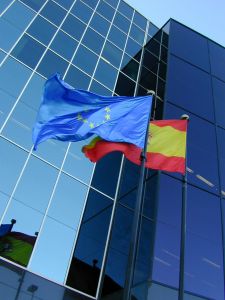 Summary: FRAND wars as fought by politicians and by monopolists with their lobbyists
THE other week in Twitter we saw some claims that Spain had buried FRAND. Some people who can read Spanish said so, but we could not corroborate. Here is just one example:
Open Standard, according to Spanish law http://ur1.ca/atsfv (page 17) Public and freely available, not subject to royalties of any kind
Spain also opposed the unitary patent [1, 2], so for the country to dodge FRAND like the UK did [1, 2] would simply make sense.
The FRAND (e.g. MPEG tax,)lobbyist hired by proprietary software companies is unsurprisingly doing all he can to promote FRAND. After all, he is paid to promote it. Yes, Microsoft Florian, who was hired by patent thugs from Microsoft, is spreading more smears and lies. From a rebuttal:
So far, we are unaware of any credible allegations of 'extortion' having been made against any Korean companies, or of any diplomatic repercussions, or indeed of any impact on the US presidential race now drawing to a conclusion!

However, this week we have come into possession of a full English translation of the Media Report issued by the Seoul Court on 24 August in relation to its ruling on the Samsung patents, and we have to say it makes very interesting reading, with none of the hallmarks you might expect of a document issued by a 'rogue state'.
Nilay Patel, who previously gave a platform to Microsoft Florian, is giving a platform to the patent terrorists at Microsoft — those who pay Florian to plant their spin and lies in the media (they proxify the unethical mass-mailing). To quote Microsoft: "We certainly care. We care a great deal about the ability to have protection on software and software-related patents, and so we certainly see quite a bit of the discussion around software patents. We take that very seriously."
This is why they are lobbying for software patents (or loopholes like FRAND) all around the world and then using these to tax Linux:
Microsoft has begun the long process of phasing out the FAT (File Allocation Table) filesystem and replacing it with exFAT, signing agreements with five hardware vendors to licence the format for use in peripheral devices.

First introduced in 1977 as an eight-bit storage format for Microsoft's BASIC language, the format received its last serious upgrade in 1996 with the launch of FAT32 as part of Windows 95 OEM Service Release 2 (OSR2.) Designed to extend the existing FAT16 format, FAT32 expanded the possible size of a partition on a hard drive from 2GB to 16TB but retained a file size limit that meant no single file could be larger than 4GB. While extensions to the format, including the open FAT+ standard, attempted to extend this to 256GB per file, few gained commercial traction in mainstream operating systems.
Tuxera helps this agenda. It is a loophole for software patents, especially where these patents are not allowed. Hopefully the new British and Spanish policies can push back against it.
It sure seems, based on what Dr. Moody is saying, like FRAND is on its way out.
Last week's big announcement by the UK government was principally about procurement, detailing the new rules that will apply when government departments acquire software. Naturally, then, it concentrated on the details of that approach, and how it would be deployed and enforced. A key part of that was using open standards to create a level playing field for all companies, regardless of whether they offered open source or proprietary code.

As I explained in my post last week, the critical issue then became what exactly "open standards" meant, and, specifically, how standards that might be encumbered by patents would be dealt with. As I've noted many times before, the only way open source can implement general interoperability standards is if any claimed patents are licensed under royalty/restriction-free (RF) terms. Although that's the preferred mode for key Internet organisations like the W3C, it stands in contrast to the older approach, which was based on "fair, reasonable and non-discriminatory" – FRAND.
FRAND is also being used by apple, mainly against Android [1, 2]. We'll focus on Apple tomorrow. 4 articles about Apple are being drafted. █
Permalink

Send this to a friend