12.28.12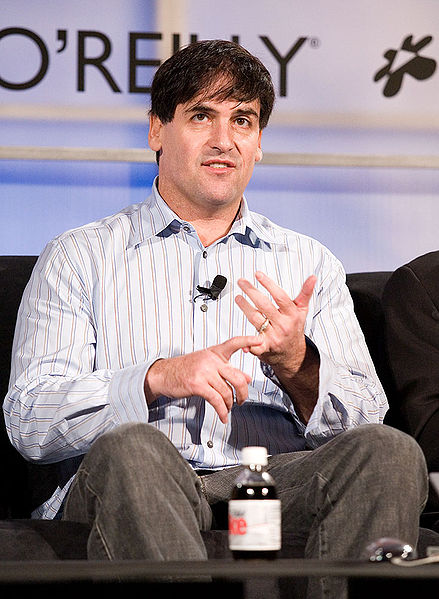 Photo credit: James Duncan Davidson/O'Reilly Media, Inc.
Summary: Markus Persson and the better known billionaire provide cash infusions for the EFF to destroy software patents
MR. Cuban previously protested against software patents. Now he puts his money where his mouth is, as explained by the EFF:
America's broken patent system needs major reform to protect innovators and the public. Today, the Electronic Frontier Foundation (EFF) is announcing a major new boost to its patent work: a half-million dollars in funding from entrepreneur Mark Cuban and game developer Markus "Notch" Persson.

"The current state of patents and patent litigation in this country is shameful," said Cuban, owner of the Dallas Mavericks. "Silly patent lawsuits force prices to go up while competition and innovation suffer. That's bad for consumers and bad for business. It's time to fix our broken system, and EFF can help. So that's why part of my donation funds a new title for EFF Staff Attorney Julie Samuels: 'The Mark Cuban Chair to Eliminate Stupid Patents'."
The EFF's patent busting scheme never got this much support. It is slow and expensive to kill one patent at a time as Samsung is still doing:
A key Apple patent used against Samsung in court is under close scrutiny by the U.S. Patent and Trademark Office after a re-examination.
This is one of several. Apple patents are repeatedly shown to be junk, but it takes time to prove this.
Speaking of Apple, there is this update regarding its biggest case against Android:
Judge Koh has denied Apple's motion for an injunction, ruling that Apple has not proven irreparable harm. She has also denied Samsung's motion for a hearing or a new trial based on its claim of jury misconduct, essentially accepting Apple's theory that Samsung could have discovered the Seagate litigation if it had acted more promptly in ordering the jury foreman's bankruptcy file, hence waiving its claim. I'm sure that will be appealed. For that matter, Apple is likely to appeal as well. I think they'll have to, in that her order rejects essentially their entire design patents theory. I asked our reporter at the hearing on all this what he thought her inclinations were, and he said he thought she was sick of both of the parties and wanted to kick them out and upstairs to the appeals court. And on these two motions, that is what she has done.
Nokia is pressuring Android and suing by proxy, having just signed with RIM a deal similar to what it signed with Apple. One report says:
Nokia Corp. said Friday it has reached a new patent license agreement with Canada's Research In Motion Ltd. that will end all the patent litigation between the two handset makers.

As part of the deal, Nokia said it would receive an undisclosed one-time payment, as well as continuing license payments, from RIM. RIM didn't immediately respond to requests for comment.
The attacks on Android are already happening and Google filed formal complaints against Nokia's (Microsoft's) troll proxies. Nokia's doomed strategy is imposed from above by Microsoft. And to put things in perspective:
And do you really want to cry? Nokia' second best-selling smartphone in mid December online sales in China was.. the N9 running MeeGo.
Why again did Nokia not stay with Linux and instead chose to attack with patents, the antithesis of Linux? Microsoft entryism, or former Microsoft staff infiltrating rivals. █