04.14.13
Gemini version available ♊︎
On Icahn and other moles like Elop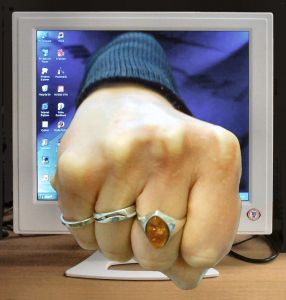 Summary: What lies beneath the strategy of taking control of OEMs without paying to buy them; Steve Ballmer visits Lenovo, which absorbed former Microsoft executives, trying to secure Windows lock-in
Microsoft used a proxy battle via Icahn to abduct Yahoo in pursuit of Google, the #1 rival of Microsoft (in the lucrative enterprise market in particular). In the mobile market, Microsoft abducted Nokia, killing Nokia's Linux pursuits. The same is happening on the desktop/server. Lenovo, for example, was preinstalling Android/GNU/Linux or nothing, based on this article which shows Ballmer getting involved (after a while Lenovo started promoting Ballnux, but not before Microsoft executives had entered the company). The report says: "First, a large percentage of Lenovo's sales are in Asia, where it's very common to find Lenovo PCs with no operating system preinstalled. In fact, in many Asian countries, it's hard to find Lenovo PCs with "genuine" Windows. In spite of the fact that Lenovo has promised for years to preinstall Windows on more PCs, and Steve Ballmer himself visited the Lenovo offices last December, it's still very easy to order Windows-less Lenovo computers from Asian Lenovo sites."
OEMs are walking away from Windows, so Microsoft wants to hijack the leadership of companies like Dell and so far it makes some progress. From the latest news:
TIN BOX FLOGGER Dell has signed a licensing deal with Microsoft to become a worldwide distributor and OEM for devices running the Windows Embedded operating system.

Dell, which is in the midst of a messy leveraged buyout that could see it become a private company, is trying to move away from its low-margin PC business. The firm announced that it has signed a worldwide licensing deal to become an OEM and distributor of Microsoft's Windows Embedded operating system.
According to some news, Icahn steps closer into Dell. Can he help Microsoft abduct Dell without a takeover, just like Yahoo? There is already a hijacking-esque move: "Taking a huge publicly traded company, such as PC maker Dell, back to its origins as a private corporation is a huge effort and now there's word that those plans may be getting more complicated. Billionaire Carl Icahn is rumored to be buying a six percent share of Dell and if that happens, his next move may be to organize an effort to stop Dell from going private."
Microsoft Dell is one to boycott unless the planned deal is revoked. Dell has had some GNU/Linux projects in the pipeline (Alienware too) and Microsoft wants to stop this. Icahn is getting uglier. Icahn Threatens "Proxy Fight" as Dell Buyout Drags On, says one headline. Here is one that says Carl Icahn retaining proxy vote option, rival bid in battle for Dell. To quote:
Corporate raider Carl Icahn is refusing to give up the right to a proxy vote on a large once-off dividend from Dell and is continuing to threaten to launch a rival bid as the battle for ownership of computer giant Dell intensifies.
Now watch the report which says Dell to Reimburse Icahn if He Drops Proxy Fight, Litigation Threats (why is this even legal? It's blackmail).
Dell Inc. (DELL) said it is willing to provide activist investor Carl Icahn with the same expense reimbursement that it has offered to its other two bidders, but only if Mr. Icahn drops his threats to pursue a proxy fight and litigation.
And here is the latest:
Carl Icahn refuses to drop proxy fight option in Dell proposal, WSJ reports

Billionaire investor Carl Icahn is refusing to drop the option of a proxy fight to force Dell Inc to pay a big dividend, in spite of the board committee's request that he drop his threats and launch a formal bid for the company, the Wall Street Journal reported.

Icahn had asked the board's special committee to be reimbursed for the cost of his due diligence on Dell, a benefit the committee has already granted to rival bidders Silver Lake Partners and Blackstone Group LP.
Silver Lake is connected to Microsoft. Dell is just a "pawn in the battle," as Microsoft likes to call it. █
Permalink

Send this to a friend