11.01.13
Gemini version available ♊︎
Brandon Bryant responsible for 1,626 assassinations without trial (many innocent civilians included)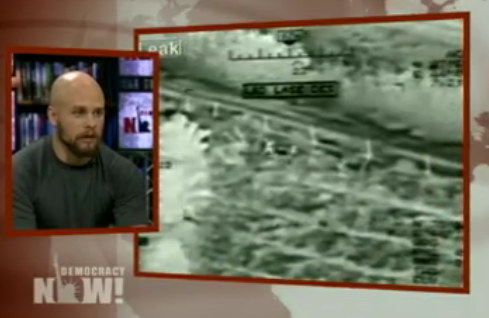 Summary: How we can deal with problems of controversial or even criminal aggression when that aggression depends on Free software
SEVERAL software licences get notably criticised for having terms in them that explicitly ban use which may aid war/murder people. Linux uses the GPL, which has no such terms. The same goes for GNU.
We are increasingly made aware — even by the corporate press — of a previously-secret war waged by Linux-powered CIA-operated drones. This is one of the most disgusting wars in the world. People are being labeled based on electronic communications and then hunted down (without trial, without second assessment) by flying machines that shoot Hellfire missiles at cellphones owned by those people (so-called 'militants', which basically means adult males or old adolescents), never mind who's around them at the time (just call them "human shields" after they're dead). Nothing has increased doubt and hatred towards the United States like these dirty drone wars, which are about eliminating people almost autonomously rather than address the key issues (which may be ideological and thus addressable in other means). In Techrights alone, hundreds of daily links were posted to deal with this subject without delving into it so deeply. Contrariwise, a lot of the corporate press has helped cover up the atrocities (calling all who are killed "militants") and parroted the Pentagon's talking points, barely ever speaking to the people who are most affected by these drone strikes. Even this week — never mind the past few years — CNN tactlessly labels one of the murderers "American drone warrior" [1], even though he says his trainers reinforced the idea that this job was just "video game" (with real living targets).
After the war crimes in Iraq and beyond (Cheney is still not being arrested, let alone trialled [2]) we should know better the correlation between law and life. It's not just about Arabs; the US did similar things to south Americans (see [3,4] in the news) when they had turf wars against the Soviets.
Software licences are a form of law and life is impacted by it to a great extent. One can authorise murdering people — even US citizens — without a trial in the US. That's because laws got rewritten. The government carries out the murders with approval that goes all the way to the top (the White House and the juridical cornerstones). Software licences can be used as a tool against brutes, or at least a deterrent. If Microsoft Windows crashes drones into the ground, as it did before the US Army switched them to Linux, then that's a good thing. It probably saves innocent lives. Let the proprietary software EULAs do the killing; use Free software licences to limit the actions of the cowardly assassins who sit down in air-conditioned offices, with or without a joystick in their hand (running a lethal, weaponised Linux-powered toy via satellite). Don't let any of them portray themselves as victims (e.g. of "trauma"). They should be brave enough to confront families whose loves ones (mostly innocent people) they were blowing to pertinent bodyparts because they were "following orders" from CIA/NSA (they were free to quit this 'job' all along, nobody pointed a drone to their heads). █
Related/contextual items from the news:
Permalink

Send this to a friend