12.18.13
Not a terrorist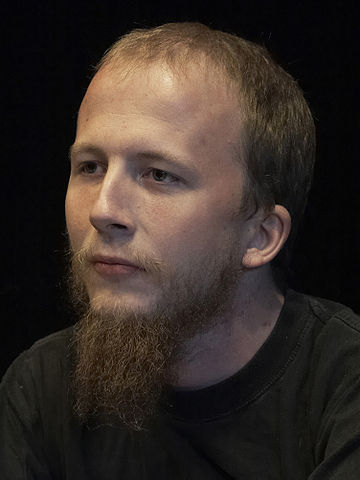 Summary: Police and secret agencies resort to actions which demonstrate that corporate profits — not safety of citizens — is their real priority
WE HAVE seen it all before. Jailing a whole class of people (imprisoned by the millions for free-as-in-no-cost labour and private gain [1]) is wise not just as a warning sign to all and a tool of imposing conformity; it also helps justify hiring a lot of policemen (domestic army for the upper class) and conducting limitless surveillance on almost everyone. An atmosphere of fear and distrust divides and thus weakens popular uprise. Whether the excuse is drugs or disruptive protests, or even — GASP — sharing of files, the corporate media always plays along with the Establishment, demonising whatever the class stereotype du jour happens to be (e.g. the type of drug (alcohol good, pot bad), the type of political opinions (war good, equality for all races bad)).
"It often seems like printers and wires are the new rifles and bullets now that the governments of the West virtually equate sharing with "privacy" and copyright violation with terrorism (in terms of severity of punishment)."In the West, law enforcement now lacks consistency; justice is in a state of disarray. To give some new examples from this month's news, no courts are needed anymore to establish guilt regarding copyrights [2,3,4] and the founder of the Swedish Pirate Party, Rick Falkvinge, thinks that censorship without due process [5] is a symptom of dying business models [6]. In his country, Sweden, the authorities are not going after violent "Nazi" attacks (with stabbings) [7] and instead focus on some people who run Web sites. These authorities show that they don't care about the law (and Julian Assange should know) as they resort to illegal confinement of citizens [8-10]. Even special forces from allies in the West get involved [11] while showing that they are hypocrites [12]. In the East, specifically in New Zealand, "Customs [Got] Asked to Leak Kim Dotcom Secrets to FBI" [13], essentially treating Megaupload like it was some kind of terrorist Web site [14], never mind if many site users were legitimate, law-abiding businesses [15]. Watch what has just happened to Hotfile [16] (Hotfile is in a similar business) and over in Sweden everyone should pay attention to news that a "Torrent Site Uploader [Was] Ordered to Pay $652,000 For Sharing One Movie" [17,18]. The authorities are going after people who download, not just upload [19], so the war on sharing clearly got worse, throwing in the same net almost everyone who surfs the Web (browsers are tools of text and binary downloads, plus rendering). When everyone is at the verge of going to jail or going bankrupt (surveillance contributes to this), a reign of terror solidifies control by the ruling minority (exempted from these abuses).
Copyright law has become a misused mess [20,21] and some people in high positions in the UK acknowledge this [22,23]. There are better ways to arrange attribution [24] and existing copyright law is not just about attribution, it is also about physical use of devices [25]. It often seems like printers and wires are the new rifles and bullets now that the governments of the West virtually equate sharing with "privacy" and copyright violation with terrorism (in terms of severity of punishment). █
Related/contextual items from the news:
The United States has about five percent of the world's population and houses around 25 percent of its prisoners. In large part, that's the result of the "war on drugs" and long mandatory minimum sentences, but it also reflects America's tendency to criminalize acts that other countries view as civil violations.

As part of their ongoing effort to disrupt the activities of sites said to offering unauthorized access to copyrighted content, this morning UK police claimed successes on two key fronts. Operation Creative, the initiative backed by the Federation Against Copyright Theft and the BPI, is said to have secured the suspension of 40 'pirate' domains in addition to a reduction in major brands advertising on the sites.

Measures proposed by Italy's independent Electronic Communications Authority to tackle 'pirate' sites and their owners have passed with unanimous approval. The new system, which mandates the speedy removal of copyrighted content by hosts and the blocking of file-sharing sites by ISPs, will come into force on March 31 2014. Uploaders of infringing content and service providers who fail to take action face penalties of up to 250,000 euros.

Yet once more, The Pirate Bay has switched domain names, this time to Peru. In its promise to make DNS restrictions obsolete, The Pirate Bay creates a greater promise against all censorship.

ONE OF THE FOUNDERS of The Pirate Bay website is being held by Denmark under harsh conditions in solitary confinement without a warrant, and has no access to comforts like books to read or telephone privileges.

Since his arrival in Denmark to face hacking charges Gottfrid Svartholm has sat in solitary confinement, denied free access to mail and denied access to his books. The situation has outraged Wikileaks' Julian Assange who says Gottfrid is now a political prisoner. Meanwhile Gottfrid's mother Kristina has written to Amnesty hoping that they will take notice of her son's plight.

WikiLeaks founder Julian Assange has slammed Sweden over Gottfrid Svartholm's case. Since his transfer to a Danish prison, the Pirate Bay founder has been kept in solitary confinement and denied access to mail and reading material.

In Germany legal threats against file-sharers have been put on the radar of the U.S. Military. In a letter of advice prepared by the Army Judge Advocate General's Corps, soldiers and civilians stationed in Germany are warned about the consequences of unauthorized file-sharing. The corps advises those who are affected not to ignore the threat but to seek further legal assistance.

For years the U.S. military operated pirated copies of logistics software that was used to protect soldiers and shipments in critical missions. Apptricity, the makers of the software, accused the military of willful copyright infringement and sued the Government for nearly a quarter of a billion dollars in unpaid licenses. In a settlement just announced, the Obama administration has agreed to pay $50 million to settle the dispute.

The ongoing case against Kim Dotcom and Megaupload continues to reveal unusual levels of surveillance. This week an email released after a freedom of information request reveals that a customs official offered "brownie points" for leaking sensitive information about Kim Dotcom to the FBI. The scandal follows on from last week's news that Dotcom is still being spied on.

To address the rights of victimized copyright holders, the U.S. Government has recently obtained a secret court order. The sealed order allows it to share Megaupload evidence with industry trade groups who may want to take legal action. At the same time, however, the Government refuses to assist former Megaupload users. In a letter to the court the Electronic Frontier foundation is now pointing out that these users are victims too.

A few hours after news broke that Hotfile had signed a $80 million settlement agreement with the MPAA, the file-hosting service has completely shut down. The drastic decision to deny access to millions of files without warning will come as a shock to the countless individuals who used Hotfile to store their personal and business documents. Hotfile has yet to comment on the controversial move which does nothing to help the image of cloud hosting providers.

A moderator and uploader of one of Sweden's oldest but now defunct private torrent sites has been hit with a huge damages award. For uploading a single pre-release movie the 28-year-old is now required to pay $652,000, the equivalent amount the studio would have charged for a license to distribute the movie for free. For sharing more than 500 others he received a suspended jail sentence plus 160 hours community service.

A Swedish man has been sentenced to the highest damages ever in Sweden, and possibly in the entire world, for sharing culture: 4.3 million SEK (€475,000) for sharing ONE movie. The movie Beck – Buried Alive, a typical Swedish taxpayer-subsidized B-movie, was uploaded to the culture-sharing hub Swebits. This represents a heavy escalation in the war over sharing knowledge and culture.

We've had a few posts about plagiarism here on Techdirt, and how it differs from copyright infringement. One important question that needs to be considered is: what's the correct way to acknowledge and correct plagiarism when it is discovered? Probably not like this…

The Princess Bride remains quite the iconic book and movie for tons of people who grew up in the 1970s and 1980s (and, hopefully, other ages as well… but I can only speak from experience). A huge number of lines have lived on from that movie and become mainstays in popular culture. And like all sorts of great culture, it has inspired plenty of additional creativity around the original as well.

We received a reply from Lord Younger today, who is the minister responsible for copyright reform. He says that the government plans to legislate for all the copyright changes in the New Year, including parody.

A case that went before the Supreme Court yesterday has a very long history. Lexmark sued Static Control Components (SCC) in 2002, arguing that SCC shouldn't be allowed to reverse-engineer its printers to help others create replacement toner cartridges, because of copyright law. In 2004, an appeals court ruled in favor of SCC, and that ruling has become a cornerstone of DMCA-era copyright law.