10.25.15
Gemini version available ♊︎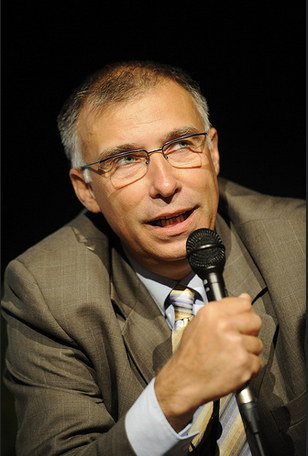 Photo credit (CC): Groupe LINAGORA
Summary: René Kraft, the EPO's Chief Information Officer, is criticised for improper use of public money (65 million euros)
OVER a week ago we publicly invited readers to provide information about the hardware, networking (not just at hardware level but packet management/switching too), and software used both at the server and desktop/client ends at the EPO. We are trying to better establish a potential for conflicting interests, as shall become more apparent in future write-ups.
René Kraft, the Chief Information Officer of the EPO, Techrights previously mentioned in relation to his connection to Battistelli. Currently, we definitely need more information but we recently learned that the EPO's IT roadmap is a "bottomless pit" (for obscenely huge spendings and a high budget, partly provided by European taxpayers to go into private hands). To quote one knowledgeable source:
When Mr Battistelli joined the EPO in mid 2010, he trumpeted proudly that with him, all would be better, much better than under his predecessors. He recruited a Chief Information Officer who had worked before for a company providing IT services to the French Patent Office (INPI) and gave him more power than any other PD or even VP2, nominally in charge of IT.

Twenty-four months and some 65 million EUR later, the results are conspicuous for their inconspicuousness. With the exception of a few improvements here and there – that can hardly qualify as IT investments – no major result worth the money spent is in sight. The current IT governance is becoming a place where in-house competence and knowledge are abandoned, leaving the playing field to expensive external bounty-hunters who come and go before having reached concrete results.

The lack of progress calls for an audit of IT. But then, if anything is to be learned from the past, Mr Battistelli will likely succeed in entrusting the Audit to yet another "trusted consultant", who will surely find that all is compliant with… the EPO's own unpublished rules.

If the above occurred in a EU institution, there would be a public debate and heads would likely roll. Not so at the EPO.
Kraft's former employer, "Informatique CDC" (where he was Directeur General Delegue for 7 years), has a Windows Web site (quite a rarity these days, but historically it has been the case) and it is "a subsidiary of Caisse des Dépôts et Consignations," according to Bloomberg. It is a financial organisation. Kraft previously spoke about migrations to OpenOffice, but given the lavish expenditure (as detailed above) we doubt Free/libre software was used in this case, otherwise the EPO would probably announce it. If someone can anonymously provide us with information about the computer systems at the EPO, that would be enormously helpful, especially for future articles which are work in process. █
Permalink

Send this to a friend