12.16.15
Totally drunk on power, Battistelli is now trying to ban more people from speaking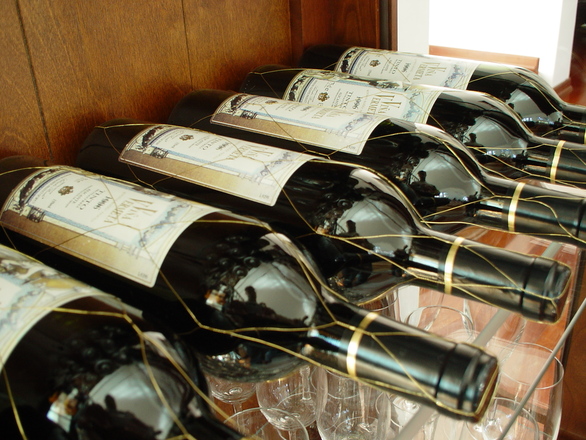 Battistelli's alleged infatuation with the French wine industry (to be covered at a later date) gone too far?
Summary: Benoît Battistelli's globalist/internationalist ambitions (in practice a servitude to large multinational corporations) defended or shielded using the widely-discredited roadmap in CA/98/15
THE MANAGEMENT of the EPO — and Benoît Battistelli in particular — loses faith even among its 'customers', or representatives such as AIPPI and EPI. It means that the management is left with almost no allies, only foes or perceived enemies (a consequence of the management trying to brutally crush its critics, even reporters).
A reader who is intimately familiar with the EPO sent us a detailed explanation of the current situation. This relates to what we previously showed (with very extensive proof) about suppression of free speech or diversity of opinions inside the EPO. "Some observations about CA/98/15″ is what our reader called it, alluding to the document responded to by AIPPI and EPI (we posted their letters earlier this evening). Here is what our reader wrote:
The document CA/98/15 has been discussed a lot recently in IP circles.

For example:

http://ipkitten.blogspot.com/2015/12/boards-of-appeal-tell-ac-we-were-never.html

A copy of the document itself can be found here:

http://eplaw.org/document/epo-ca9815/

It's Battistelli's proposed "roadmap" for the planned reform of the Boards of Appeal.

Section IV.C deals with the topic of "conflict of interest" situations and refers to "the need to avoid real or apparent conflict of interest situations, including in post-service employment".

Amongst other things, it contains a proposal for a "cooling-off period" with restrictions in post-service employment for staff who leave the EPO.

Paragraphs 38 and 39 deal with "prohibited activities".

According to paragraph 38 "the scope of prohibited activities should be so defined as to ensure that knowledge gained while in service may not be used to the advantage of private interests, considering notably the risk of impairing equality among users of the public service rendered by the Office".

Paragraph 39 states that "the activities covered by the cooling-off period would be thus primarily those closely related to the Organisation's core mandate, e.g. patent granting activities or lobbying in the field of European and Unitary Patent".

This is very interesting because here the President is basically telling the Administrative Council that "the Organisation's core mandate" includes not only patent granting activities but also "lobbying in the field of European and Unitary Patent".

This seems to be complete nonsense because Article 4(3) of the European Patent Convention states the following:

"The task of the Organisation shall be to grant European patents. This shall be carried out by the European Patent Office supervised by the Administrative Council."

http://www.epo.org/law-practice/legal-texts/html/epc/2013/e/ar4.html

The "core mandate" of the EPO is the granting of European patents – full stop.

There is nothing in Article 4 or anywhere else in the EPC about "lobbying in the field of European and Unitary Patent".

So – apart from perhaps unintentionally revealing Battistelli's own internal mindset about these matters – what is the rationale behind the attempt to present "lobbying in the field of European and Unitary Patent" as part of the "core mandate" of the EPO?

I did some research and found out the following:

A former Vice-President of the EPO was a gentleman by the name of Manuel Desantes Real who is a Spanish professor of law at the University of Alicante:

http://www.ir-facility.org/manuel-desantes

http://www.asipicartagena2015.com/en/users/manuel-desantes

Prof. Desantes was the Vice-President of Directorate-General 5 (Legal and International Affairs) of the EPO between 2001 and 2008.

Since leaving the EPO in 2008, Prof. Desantes has been quite active lecturing and publishing articles and commentaries about Intellectual Property matters.

One of his favorite topics is the Unitary Patent.

http://conflictuslegum.blogspot.com.es/2013/04/manuel-desantes-el-tribunal-de-justicia.html

https://www2.uni-hamburg.de/fachbereiche-einrichtungen/fg_ta_med//aktuell_is/esf/desantes_manuel_esf_hh2014.pdf

http://ipkitten.blogspot.com/2015/03/the-eu-patent-package-dangerous.html

http://sms.cam.ac.uk/media/1906853

Not only has he lectured and published on this topic, he was also involved in the legal challenges mounted by Spain before the CJEU.

"Professor Manuel Desantes (University of Alicante, Spain) presented Spain's second legal challenge before the CJEU after the Opinion of the Advocate General Mr. Ives Bot in Case C-146/13 Spain v Parliament and Council. Professor Desantes underlined the inconsistency of the Opinion and noted that, although both a Unified Patent Court (UPC) and a European patent with unitary effect are certainly needed, it should be done on the foundations of a robust system. The unitary patent protection system is not robust enough in its current state, Desantes argued.

"In his view, the shortcomings are: the mix of EU and International Law procedures, the vague concept of "enhanced cooperation" in the Unitary Patent Regulation and the presupposition of economical aspects."

https://qmjip.wordpress.com/2015/01/20/preparing-for-the-unitary-patent-package-event-review/

Now, as can be seen from the above, Prof. Desantes is not an opponent of the general idea of a Unitary Patent. He takes the position that "a Unified Patent Court (UPC) and a European patent with unitary effect are certainly needed" but he sees some shortcomings in the current proposals.

So he takes what could reasonably be called "a critical stance" and tries to stimulate an informed public debate about what he sees as the defects in the current proposals. That sounds reasonable enough and it's hard to see how anybody could object to that.

However, from what I have heard, it seems that Prof. Desantes' "post-service" activities since leaving the EPO have greatly irritated Battistelli.

He seems to consider such activities as trespassing on what he incorrectly claims to be a "core mandate" of the EPO: "lobbying in the field of European and Unitary Patent".

It seems that Battistelli is keen to claim his own personal monopoly on such activities and would like to find a way to muzzle critical "insiders" like Desantes when they leave the EPO. He apparently objects to anybody who makes efforts to express "critical views" and/or stimulate informed public debate about these matters.

As far as I can work out, this seems to be one of the key motivating factors behind the proposed restrictions in post-service employment which are discussed in CA/98/15.
We hope that more of our sceptics may, in due course, realise why we have been worried about the Unitary Patent all along (even in previous incarnations when it was given other catchy titles). Its only big fan is Battistelli and Battistelli has virtually no fans; there are only many people who are afraid of Battistelli, who now acts like a lunatic dictator and throws a fit at any opposing view. We will continue to write about the Unitary Patent/UP/UPC in conjunction with coverage about systematic gagging of Battistelli's critics. There is a class war going on at the EPO and it's clear whose class Battistelli belongs to (it's certainly not the European SMEs' class). █