02.25.16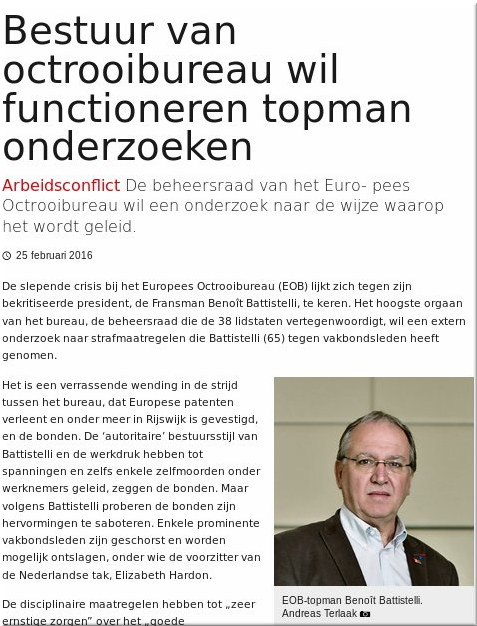 Summary: The first among several translations of Dutch media reports about Benoît Battistelli's demise
HAVING asked for translations of Dutch media reports about the EPO scandals, we finally got the first such translation and it's worth highlighting the facts below (reasonably new):
Board of patent office wants to investigate the functioning of chief

Labour dispute. The management board of the European Patent Office wants an investigation of the manner it's being governed.

The ongoing crisis at the European Patent Office (EPO) appears to turn against its criticized president, the Frenchman Benoît Battistelli. The highest body of the office, the management board representing the 38 member states, wants an external investigation in to the punitive measures that Battistelli (65) imposed on union members.

It is an unexpected twist in the battle between the office, that's granting European patents and has one of its bases in the Dutch municipality of Rijswijk, and the unions. The 'authoritarian' style of governance and the work pressure induced tensions and even several suicides among employees, according to the unions. Battistelli however claims the unions are trying to sabotage his reforms. A number of leading union members have been suspended and will possibly be fired, one of them is the chairwoman of the Dutch branch, Elizabeth Hardon.

The chairman of the management board, the Dane Jesper Kongstad now writes in a letter that the disciplinary measures have led to "very serious concerns" about the "proper functioning" of the office. The regulators unfortunately weren't able to have a "meaningful dialogue" about this with Battistelli. Despite of protest by the president, the board wants to have the punitive measures investigated as well as suspended. Next month the member states will vote on the proposal. The letter is noteworthy because only last year Battistelli was reappointed until 2018 by the management board.

Yesterday Battistelli has invited the unions for a talk on "any topic" concerning working conditions. Last month the Supreme Court also commended the office and the unions for mediation.
Towards the end one can see the propaganda which we have just written about. Will Elizabeth Hardon and others be back to work soon? █
"Those who deny freedom to others deserve it not for themselves."
–Abraham Lincoln