04.07.16
Gemini version available ♊︎
Billion-dollar handshakes: A 1% kind of meeting for the advancement of elite interests…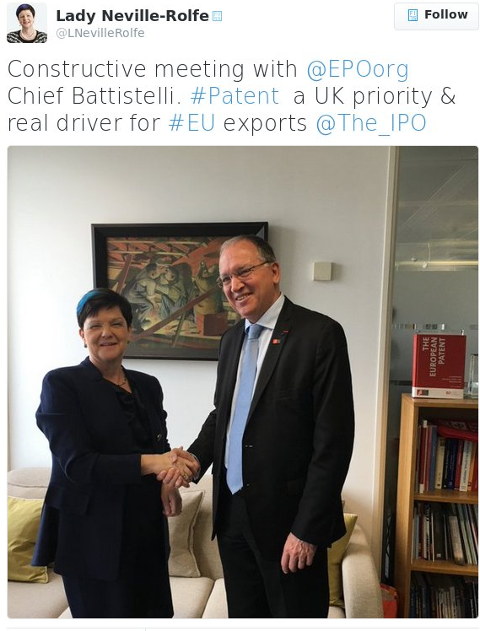 Summary: With trillions of dollars at stake (over the long run) the rich and the powerful, many of whom evade tax, continue to work behind closed doors (through agents or middlemen) in an effort to change the law in their favour while ordinary people are either uninformed or furious
THE EPO became an instrument of the rich and the powerful (perpetuating their wealth and power), which definitely isn't what its creators foresaw or had in mind (way back in the EPC days).
Battistelli's expected trip to London is starting to bear fruit (see this morning's tweet from Neville-Rolfe) and maybe he can also pay a visit to his London lawyers who are threatening me (two legal firms in London).
"Battistelli's expected trip to London is starting to bear fruit (see this morning's tweet from Neville-Rolfe) and maybe he can also pay a visit to his London lawyers who are threatening me (two legal firms in London)."Techrights is quite frankly disgusted by Battistelli's visit to the UK. He is not British, yet he is bending British law, and at the EPO he makes a mockery of British law while stomping on an Irish judge. To deport or extradite Battistelli would require him to be poor and less well-connected [1, 2, 3, 4, 5, 6]. These people, just like in Croatia, can seemingly get away anything. It's all about one's status; that's why people like Julian Assange have an arrest warrant against them (also in London, where he continues to expose/publish rich people's secrets) and Battistelli is treated like some kind of celebrity.
As we showed several weeks ago, Battistelli is expected to do some UPC lobbying over here. Now we have Bristows LLP staff (Annsley) doing an 'article' on Brian Cordery (Bristows LLP). The London-based IP Kat did what seems more like an ad, including UPC PR from Bristows LLP. What gives? Sites outside the UK do the same thing [via] because few people who work for very affluent people stand to gain from it.
"Techrights is quite frankly disgusted by Battistelli's visit to the UK. He is not British, yet he is bending British law, and at the EPO he makes a mockery of British law while stomping on an Irish judge."The other day we saw a legal firm citing Jane Lambert [1, 2], a loud proponent of the UPC. Lambert is used to spreading around the impression that irrespective of UK membership in the EU the UPC is inevitable, or some nonsense along those lines. Here we have lawyers quoting other lawyers for 'support': "Hopefully the United Kingdom won't jeopardize the Unitary Patent project with a vote to withdraw the European Union, says Jane Lambert, barrister from 4-5 Gray's Inn Square in London. 'However, it could still continue without us', Lambert told Kluwer IP Law in an interview."
This 'interview' is more like PR or lobbying. It's designed for perception-setting. Greedy patent lawyers in the UK lick their lips over the UPC, but at whose expense? They don't mind crushing democracy (the public is not consulted at all) because it's all about serving themselves and their very affluent clients. Many doubts about the UPC persist, even from people who are within this system. To quote this one new comment:
Final thought – is the Baroness' interpretation of "European patent" (e.g. meaning just an EP(UK), and not the whole bundle) consistent with the prevailing interpretation of the opt-out scheme?

That is, if "European patent" in Article 83(3) UPCA is interpreted to mean the whole bundle, then how on earth is it that the same term is interpreted to mean something different in the context of Article 26 UPCA?
Another comment says: "The U.K. implementation is nonsense on stilts, but that is what is to be expected when you get a politically driven compromise that resulted in a UPC Agreement and UP Regulation that was not understood by those agreeing it. Let's see what the courts make of it. It will be particular fun when someone is found infringing by the UPC for acts that a national court would not find infringing. This is the inevitable result of how the UK is proposing to implement the UPC and UP. The fundamental tenets are fundamental. The mental implementation will be fun and mental."
These are the words of people who actually work in this field. Another comment says:
As far as I can figure, implementation of the UPP will mean that, instead of one (national) law applying to one patent in any given country, there will instead be at least three different laws of infringement to choose from.

For cases brought before the UPC, there will be two possible laws of infringement, namely: (1) for EPUEs, the national law applicable to EPUEs in the Contracting Member State identified under Articles 5(3) and 7 of the UP Regulation; and (2) for not opted-out EPs, Articles 24 to 29 of the UPCA, plus (if necessary) provisions from laws specified in Article 24 of the UPCA.

If we accept the view of the Preparatory Committee (as set out in their interpretative note on Article 83 UPCA), the national courts will, for both opted-out and not opted-out EPs, apply a different (third) law of infringement – i.e. the national law applicable to opted-out EPs.

There are plenty of EP applications that, at present, could qualify for unitary effect. For those applications, therefore, the applicable law will depend upon all of the following factors:
- whether a request for unitary effect is filed (possible up to 3 months after grant); and, for non-unitary (parts) of patents in Contracting Member States of the UPCA
- whether an opt-out is filed, whether the patent is effectively opted out via the commencement of a national court action during the transitional period and whether an opt-out, once filed, is later withdrawn.

Thus, for such patents, all three different laws of infringement are current possibilities. Further, there are many situations in which the law that will actually be applied will not be known unless and until a court action is commenced. This could even affect patents for which unitary effect is requested – as there remains a possibility for that unitary effect to be cancelled and for a national court action to commence.

As such, this situation reminds me of Schrödinger's famous thought experiment – as we will not know what the result is (i.e. applicable law of infringement) until we "open the box" (i.e. litigate) and find out what the court decides. For such "Schrödinger's patents", the possibilities for clever tactics and forum-shopping abound!

The situation could be particularly confusing for those MSs (such as Germany and France) where there is no distinct national law applicable to EPUEs. Whilst the UK's implementation clearly has its (arguable) flaws, you have to give the IPO credit for attempting to improve matters by providing specific laws for EPUEs and opted-out EPs.

Nevertheless, I have to laugh when I look at recital 25 of the UP Regulation – which appears to assume that introduction of the UPP will improve legal certainty. Much like what happened with the "Bolar" provision, the Commission clearly underestimated the ability of the Member States to create chaos from order!
Right now, as we pointed out before, the EPO's foreign PR agency (FTI Consulting with a huge budget) is sponsoring UPC propaganda events.
Based on the following E-mail sent around Brussels a few hours ago, over here in Europe this US-based firm (FTI Consulting) promotes similar agenda using events:
From: "Utta Tuttlies [EACD]" [redacted]
Date: 7 Apr 2016 12:13
Subject: Invitation: EACD meets the EU – Expert panel discussion – 28th April 2016
To: [redacted]
Cc:

Dear [redacted],

The EACD cordially invites you to the second edition of EACD meets the EU which will take place on April 28th from 18.00 to 20.30 at FTI Consulting in Brussels. The expert panel discussion will focus on "How can communication help with boosting investment in Europe?".

Boosting jobs, growth and investment is the no.1 priority of the Juncker Commission. With the Investment Plan for Europe, concrete steps have been taken at EU level to bridge the investment gap that emerged as a result of the economic crisis. How can communication help these efforts? How can investment projects and investors find each other? What can be done to improve business confidence? How can the role of different stakeholders such as the EU institutions, national and local governments as well as banks, companies and investors be communicated?

We hope to welcome you to this event! We also invite you to stay up-to-date and engage with us on LinkedIn, Twitter and Facebook with the hashtag #EACDmeetsEU!

With best regards,

Utta Tuttlies
Board Member
European Association of Communication Directors

Head of Press & Communications
S&D Group, European Parliament

Meet Our Panelists

We are delighted to announce our panelists who will come together to share their thoughts about how to promote investment in Europe. Bela Dajka, Head of Corporate Communication at the European Commission will moderate the session.

Luc Van den Brande, Member of the Committee of the Regions, Adviser to European Commission President Juncker for the outreach towards citizens
Miguel Gil Tertre, Member of the Cabinet of Vice-President Katainen, European Commission
Matteo Maggiore, Director of Communications, European Investment Bank
Ezio Fantuzzi, International Relations and Media, Asset Management and Real Estate, Generali Group

Venue & Registration

The event will take place at FTI Consulting, 23 Avenue Marnix, 1000 Brussels, Belgium and will be free of charge, compliments of the EACD and our partner, FTI Consulting.

To register, please go to:http://www.eacd-online.eu/activities/calendar/eacd-meets-eu-how-can-communication-help-boosting-investment-europe

Should you have any questions or concerns, please don't hesitate to contact us via email at info@eacd-online.eu.

About Our Partner

FTI Consulting, Inc. is a global business advisory firm dedicated to helping organizations protect and enhance enterprise value in an increasingly complex legal, regulatory and economic environment. With more than 4,400 employees located in 26 countries, FTI Consulting professionals work closely with clients to anticipate, illuminate and overcome complex business challenges in areas such as investigations, litigation, mergers and acquisitions, regulatory issues, reputation management, strategic communications and restructuring. The Company generated .76 billion in revenues during fiscal year 2014. For more information, visit www.fticonsulting.com and connect with us on Twitter (@FTIConsulting), Facebook and LinkedIn.

Your Contact

Dear [redacted],

We hope to welcome you in Brussels for this event. Should you have questions or comments, please feel free to contact us at info@eacd-online.eu.

With best regards,

Stefanie Schwerdtfeger
EACD Coordination Team
37, Square de Meeûs
B-1000 Brussels
Tel +32 (0)2 219 22 90
stefanie.schwerdtfeger@eacd-online.eu
With more than 2,300 members from 42 countries, the European Association of Communication Directors is the leading European network for in-house communicators. In addition to central events such as the European Communication Summit, the EACD hosts Regional Debates and Coaching Days across the European continent, where participants have the chance to meet with their peers from the region and share communications-related experience and ideas with colleagues who also work on an international level.
If you wish to not receive further information on the EACD please unsubscribe here: http://reply.wm13.de/www.eacd-online.eu/unsubscribe/204617
FTI Consulting only pretends to be European (just like many corporations and lobbyists with offices in Brussels or London); it's actually based in the US. That's where a lot or European patent law (including, potentially, the UPC if it ever becomes a reality) seems to be discussed these days. Talk about loss of sovereignty.
There are very powerful forces that engaged in law laundering (e.g. secrecy laws to indirectly help hide tax evasion) and UPC is one of those things. ISDS in TPP/TTIP is beyond our scope of coverage. Battistelli's trip to the UK is a disgrace. It happens to coincide with culmination of anger at his Office. People don't show up at work. There's a strike. █
Permalink

Send this to a friend