06.01.16
Gemini version available ♊︎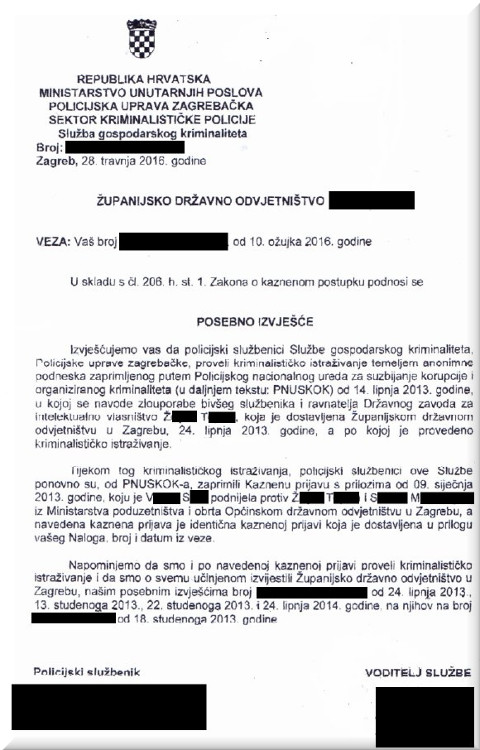 Summary: The latest developments in Zagreb, where Battistelli's 'bulldog' faces many criminal charges for the chaos he had caused (resulting//culminating even in suicide)
New documents from Croatia have begun reaching us and sources in Zagreb suggest some big things are about to happen (we mentioned or alluded to these before).
A copy of a "Special Report" dated the 28th April 2016 (i.e. one month ago) from the Zagreb Police Authority is shown above (plus translation at the bottom). Quoting our source: "This document indicates that the police have already compiled around five investigation reports in response to a number of complaints against Željko Topić," who now viciously attacks EPO staff. He's like Battistelli's 'bulldog' and rumours suggest that Battistelli will soon ask for extension of his term. Reports (police investigations) already compiled include (but may not be limited to):
24th of June 2013
13th of November 2013
18th of November 2013
22nd of November 2013
24th of June 2014
"It seems that there was no follow-up on these police reports by the State Attorney's Office," our source told us. "It is suspected that this was due to some kind of political interference during the Presidency of Ivo Josipovic who was voted out of office in January 2015.
"The justice system in Croatia now seems to be slowly gathering momentum so there could be some interesting developments on this front over the coming weeks."
Some other sources of ours (in Zagreb) suggest so as well. Below is the full English translation. █
---
REPUBLIC OF CROATIA
MINISTRY OF INTERNAL AFFAIRS
ZAGREB POLICE AUTHORITY
CRIMINAL POLICE DEPARTMENT
Economic Crime Unit
Number: XXXXXXXXX
Zagreb, 28 April 2016
DISTRICT ATTORNEY'S OFFICE
Reference: Your number XXXXXXXXX of 10 March 2016
Pursuant to Art. 206 h. no. 1 of the Code of Criminal Procedure the following is submitted:
SPECIAL REPORT
We note that the police officers of the Economic Crime Unit, Zagreb Police Authority, carried out a criminal investigation based on an anonymous submission received by the National Police Office for Suppression of Corruption and Organized Crime (hereinafter: PNUSKOK) on 14 June 2013, alleging abuse on the part of a former official and director of the State Intellectual Property Office, Z . T., which was submitted to District Attorney's Office in Zagreb on 24 June 2013 and on which a criminal investigation was carried out.
During this criminal investigation, the police officers of this unit again received from the PNUSKOK a criminal complaint with submissions dated 09 January 2013 filed by V. S. against Z. T. and S. M. of the Ministry of Business and Trade with the Office of the District Attorney in Zagreb, the listed criminal charges being identical to the criminal complaint attached to your order, number and date as referred to above.
Please note that we conducted an investigation into the said criminal charges and that everything which we have done was reported to the Municipal State Attorney of Zagreb in our special report number XXXXXXXXX of 24 June 2013, 13 November 2013, 22 November 2013 and 24 June 2014, their number XXXXXXXXX of 18 November 2013.
Police officer
[Signature]
HEAD OF UNIT
[Signature]
Permalink

Send this to a friend