06.18.16
Gemini version available ♊︎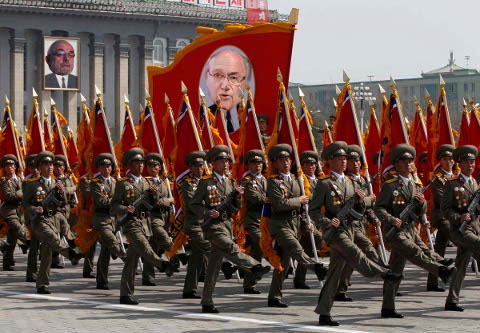 Summary: A look at some of the latest assaults on Staff Representatives at the EPO and what was done to 'deserve' them
THE vicious personal attacks on EPO Staff Representatives are quite frankly reprehensible. People in Munich get fired for the 'offense' of helping people join the staff union (we showed documents about this before) and in The Hague they come under severe attacks for allegedly helping to conduct a staff survey. It's clear that Battistelli just wants to crush SUEPO once and for all; but he won't stop there as he wants to also control the minds with his version of the 'truth' — the one he pays so-called 'consultants' to essentially manufacture (we showed the contracts earlier this month). By North Korean standards, Battistelli is a Supreme Leader. Dissent is extremely risky but very much necessary. The world at large needs to defend such dissent and intervention from the outside is risky (Battistelli goes ballistic/nuclear when politely challenged) if not impossible.
"By North Korean standards, Battistelli is a Supreme Leader."Having already scared Staff Representatives in Munich, Battistelli now proceeds to The Hague, where he and his goons proudly proclaim that they don't need to obey the law and can just ignore the highest court. Earlier this month we wrote about Team Battistelli's attack on Mr. Prunier. As SUEPO is gradually catching up with some of the latest news in several different languages it also found time to produce another version of a report about it — one that we translated earlier this month with help from Petra Kramer. Here is SUEPO's own English translation [PDF] that comes in various other languages as well. It's from the mainstream Dutch media.
"In the meantime," we learned from one person, "it has been reported that further disciplinary procedures/investigations are proceeding in the Hague and that the situation of Laurent Prunier, who is since January sick at home without salary, is becoming increasingly difficult."
"Truth-telling is its own right is an extreme offense, even if one is a judge trying to uphold justice or illuminate criminal charges."There was an error in the Dutch article (which we corrected in our translation after some feedback from The Hague). Prunier is not receiving any money, despite the fact that he wasn't found guilty of anything. Such is 'justice' at the EPO under Battistelli's regime.
In the rest of the weekend we shall delve deeper into the state of lawlessness and injustice under the Supreme Leader, Benoît Battistelli. Truth-telling is its own right is an extreme offense, even if one is a judge trying to uphold justice or illuminate criminal charges. █
Permalink

Send this to a friend