08.22.16
Gemini version available ♊︎
"In a time of universal deceit, telling the truth is a revolutionary act"
"Truth is treason in the empire of lies" (attribution note)
Summary: Evidence serving to show that EPO Vice-Presidents are still intentionally misrepresenting EPO staff representatives and misleading everyone in order to defend Battistelli
THE previous post about Battistelli's lies would not be complete without showing that his loyal goons (those who have historically been like his lapdogs) also distort the facts and blatantly lie.
Here is a document regarding the above-the-law Vice-President: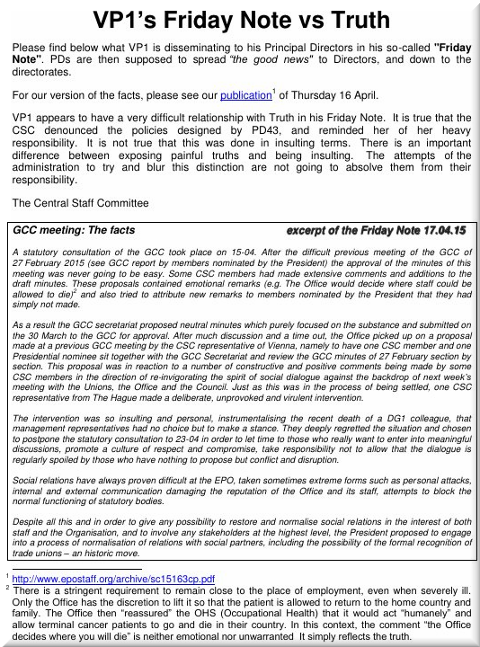 Here is a document regarding the EPO Vice-President who faces many criminal charges (and arrogantly believes he is above the law, so he refuses to even attend court hearings he's summoned to attend):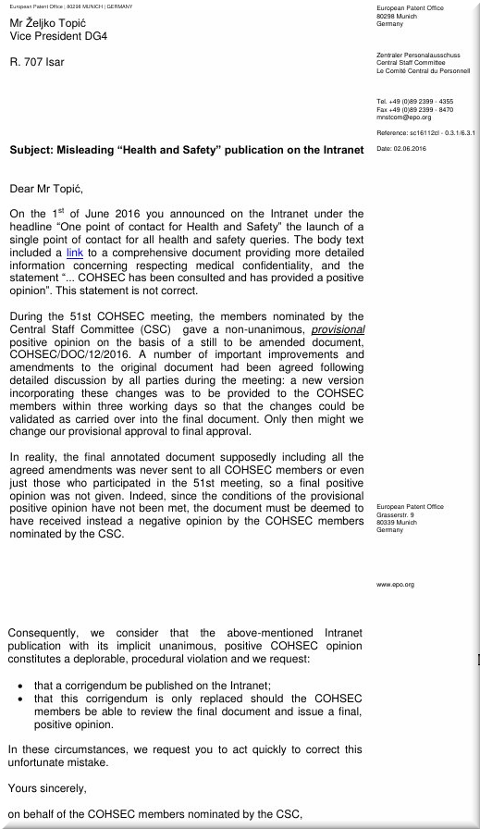 The moral and ethical erosion at the EPO's top-level management isn't too hard to see. It is sad if not depressing to see what was once a reputable institution. Witness what it has sunk to because of misguided and highly abusive men (yes, men) in suits. When even flagrant disregard for the truth has become so banal/mundane how are patent applicants expected to come to the EPO for (patent) justice?
Misleading publications that are published only in the Intranet or passed internally (personally) between managers are hard to get a hold of and we receive legal threats for publishing them. Without these, showing the rot inside the EPO is a lot harder (there are virtually no whistleblower protections in the land of Eponia, which serves to hide serious abuse). █
Permalink

Send this to a friend