12.05.16
Early Certainty from ILO (serving Battistelli the news)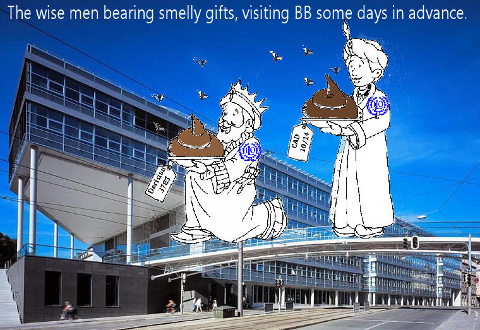 Summary: Months after we learned that a former staff representative in Berlin had been dismissed we come across an anonymous claim that Berlin's 'branch' of the EPO will be folded onto Munich's
EARLIER THIS year, at around the beginning of September, we repeatedly wrote about claims that Battistelli's union-busting actions (with bogus accusations and fake trials) had struck Berlin, not just Munich (and thereafter The Hague). It ought to be pretty clear by now, based on the ruling from judges as well, that 'justice' does not exist at the EPO; it's about as legitimate as Turkish courts in 2016 (after a lot of perfectly-legitimate judges were toppled). We've carefully read again all the articles about the latest two ILO-AT decisions (it probably takes a lawyer otherwise, in order to understand the ramification for other cases) and we have just noticed that WIPR wrote an article about this almost a week later, following The Register, IP Watch, and Techrights (which was first to report on this).
To quote the article's first few paragraphs:
The Administrative Tribunal of the International Labour Organization, a UN agency, has set aside two decisions made by the European Patent Office (EPO) and criticised the Administrative Council in the process.

On Wednesday, November 30, the tribunal dismissed the rulings, which had rejected employee challenges to internal rules.

The first decision, judgment number 3785, stemmed from a practice and procedure notice, which concerned the documents that make up European patent applications, issued by the EPO in 2013.
Now that Battistelli shuffles people around in alleged attempts to retaliate (collective punishment), e.g. moving the boards to Vienna, then Haar (not absolutely confirmed yet, except the budget), one should recall what we wrote about Berlin on the first of September, in light of this rumour which says "heard from the Isar building last week that this is exactly what Battistelli has in mind once the "haar-cut" is done: Berlin should be (des)integrated into Munich."

Can someone confirm? On the right by the way is a photo of EPO staff in Berlin protesting in support of the dismissed staff representatives from Munich, urging Maas to offer support (he never did).
"Officially (usual lullabies) this is to increase efficiency (in reality this is to retaliate on the Berlin sub-office which has refused to submit since the beginning)," the same comment continues.
As we noted here several times before, such relocations can discourage people from staying in their job; some of them have spouses and kids in some job and/or school/kindergarten, respectively. It would be a convenient way to get rid of highly-paid staff without announcing any layoffs. See what happened in the now-understaffed boards. █