12.19.16
Total surveillance and stop-and-frisk-like regime, even extending to visitors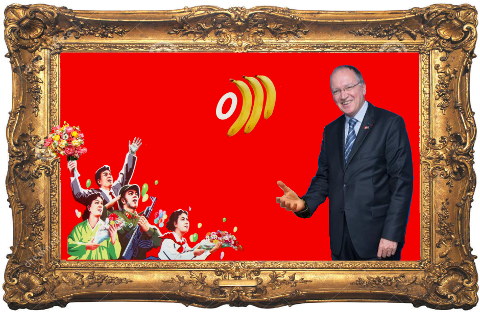 Summary: EPO becomes another North Korea and depression rates soar to the point where people take their own lives
With potential culpability for deaths of employees, Benoît Battistelli is in hot legal water, but there is nobody to actually enforce the law against him at Eponia. Recognising the agonising working conditions at the EPO, CERN recently weighed in on numerous occasions. These are world-leading scientists who blasted Battistelli and SUEPO has just published yet another letter (this time in French) from CERN.
Will CERN's concern be enough to compel Battistelli to resign before the next death? His regime has already cost many people (and families) their lives and it cannot go on like this. Well, technically it can because Battistelli feels elated and above the law. In fact, judging by this tweet (linking to this "news" item at epo.org), the EPO is now becoming more like North Korea, with Battistelli as its "Dear Leader". Congratulations to Battistelli for turning Europe's finest institution into Europe's shame and the subject of scorn from all across the world. He has killed EPO's reputation, which took almost half a century to earn. Soon there won't be applicants and renewals either. The EPO and its staff now live in borrowed time, exploiting what's left of the inertia and the backlog. Mass layoffs are already a growing concern, hence job insecurity (it's hard for former EPO staff to find a job in their discipline after a long EPO career).
"A range of measures are now being implemented to help ensure our safety," the EPO said the other night. "Additional security measures are now in place for all visitors."
Well, will they add safety (suicide) nets maybe? Just like in China? Would they help mask the issue?
"The safeguarding of staff, visitors and business is of paramount importance to the EPO," the EPO wrote. Is that why EPO management drove people to suicide, having legally bullied them and did them extreme injustice? Words cannot express how disgusting that "news" item from the EPO truly is. What next? Will they build something like a Berlin wall around the Isar facilities, in order to prevent people from getting out?
Remember that the EPO does not obey the law; it doesn't feel like it needs to, especially under Battistelli the arrogant bully with inferiority complex. Here is something which Florian Müller published yesterday, recalling his days as an activist against software patents:
In 2002, the EC proposed a "directive on the patentability of computer-implemented inventions." It claimed back then and throughout the years of the legislative process (which ended when the bill got thrown out by the European Parliament in 2005, which is exactly what I had been campaigning for) that patents on "computer-implemented inventions" weren't software patents. The examples that the supporters of the proposal gave all the time were about computer-controlled washing machines, automated braking systems, and airplanes. They said that the whole plan was only to ensure that innovations in those fields could be patented but software patents? No, they said that our movement was totally wrong since software "as such" was going to be excluded.

It was nothing but a damn lie. A damn lie propagated by the Commission, by the equally-mendacious national governments of the EU member states, large corporations (also including their industry bodies, of course), the European Patent Office (with respect to its credibility, let me just refer you to Dr. Roy Schestowitz's great work concerning what is going on there), and patent attorneys in private practice.

What frustrated us the most was not even that those who directly or indirectly stood to gain from software patents were dishonest. That was very bad for sure, but the worst part was that news agencies and the general press kept propagating those lies–not merely in the form of quotes but in ways that portrayed the Commission position as the truth and our position as an opposing view by "open source" people. And when we talked to them, they often just referred us to what the European Commission was saying–no matter how much of a lie it was.

[...]

Unitary patent propaganda: first published, then taken down

Last year, the IPKat blog dismantled the Commission's ridiculous propaganda for its unitary patent package (including the Unified Patent Court). Then the Commission pulled its statement, almost certainly due to the IPKat's competent criticism.
The FFII's Benjamin Henrion asked, "was it the FAQ of The EP saying unipat [UPC] is not about swpat […] https://media.ffii.org/Fosdem2016/ffii-fosdem2016-unitary-software-patents.pdf … slide 9."
"I believe the IPKat article was about a different document but not sure," Müller responded.
We wrote a great deal about the EPO lying regarding the UPC and also doing things that are legally dubious in order to advance the UPC. That's part of the expected behaviour when one deals with a North Korea-inspired regime. Expect a lot of brainwash, lies, and retribution against anyone who dares even politely questioning these lies (as some SUEPO representatives occasionally did). █