12.20.16
Gemini version available ♊︎
Just like Microsoft's modus operandi, being a malicious company whose phone business simply became "tax the Hell out of Android/Linux"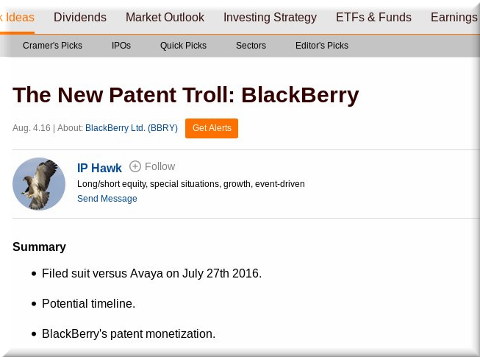 Summary: Large companies, once their importance and leadership fade away, turn into nothing but a pile of patent lawsuits, as BlackBerry serves to show
THE USPTO or the US patent system as a whole (including courts) is quickly becoming more hostile towards patent trolls, but even a company as large as BlackBerry acts like a patent troll now, having just filed lawsuits once again in Texas (BlackBerry is Canadian). The company now doubles down on this misguided strategy. It should alienate a lot of BlackBerry loyalists.
Today, what the troll's mouthpiece (IAM) calls "monetising its patents" (euphemism for shakedown and litigation; like Mafia "monetising" its firearms) is actually bad news for all. BlackBerry recently said it would stop making phones (just license the brand instead; see our daily links for press coverage about it) and it is now officially a patent troll (once the sales come to an end). Here is the spin from IAM:
BlackBerry has effectively completed its transition to a technology services and licensing-focused business model after signing a global brand and software deal with TCL. At the same time, BlackBerry patents are at the centre of a new litigation campaign that is kicking off in the United States.

Under the terms of an agreement announced last week, Canada's BlackBerry will license its wireless device-relevant "security software and service suite, as well as related brand assets" to Huizhou-based TCL, which will "design, manufacture, sell and provide customer support for BlackBerry-branded mobile devices".
The Finnish phones guru put it like this: "The Smartphone Bloodbath still continues its consolidation. Blackberry has just ended its run as a handset maker. They've signed their hardware rights to TCL of China. It covers all countries except India and a few neighbors like Bangladesh, where Blackberry had already sold those rights to local suppliers. And TCL, we know the brand as 'Alcatel' but the company is TCL and a couple of years ago they became the proud latest owner of Palm via HP."
BlackBerry loves patents and also wants to participate in Android (while attacking it), much like Sony did. It is going after leading companies that sell Android, not just directly but also indirectly. "2 New patent cases filed in EDTX [Eastern District of Texas]," IP Hawk writes. "$BBRY BlackBerry patents. TnT IP looks like the entity asserting patents. Defendants are Huawei & LG…"
Huawei is the world's largest Android OEM now, at least by some criteria. Not too long aso IP Hawk called BlackBerry "patent troll". And that's coming from somewhat of a patents maximalist…
Benjamin Henrion told me about BlackBerry that "ironically, they were one of the first to be attacked with NTP back in 2006 […] and not even a mention of the term "troll" in the IAM article, no surprise here." Well, they almost never say "troll" (except in scare quotes).
We actually foresaw this lethal strategy from BlackBerry several years back and wrote almost a dozen articles about it. The end result or the outcome for ordinary people would be more expensive phones everywhere and slightly richer patent lawyers in Texas. █
Permalink

Send this to a friend