12.21.16
Gemini version available ♊︎
Scare tactics and vengefulness from the Patent Maximalists' Lobby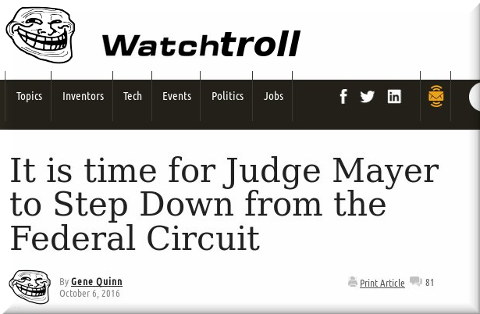 Summary: The growing embrace of "China" as the convenient bogeyman for those who oppose patent reform and wish to see a resurgence of patent chaos, from which they personally profit at victims' expense
THE USPTO may be in self-perpetuating denial about it, but software patents are a dying breed in the US as courts don't tolerate them. The EPO, in the mean time, moves in the opposite direction, but we'll leave the EPO out of this post's scope.
Unhappy With Insufficient Number of Lawsuits and Collateral Damage
Paul Morinville, a prominent opposer of patent reform in the US (and part of Watchtroll's ilk), whines that "PTAB procedures are now invalidating nearly 90% of all patents they evaluate." Yes, so what? Alice and other cases are pretty clear about it and PTAB, unlike patent examiners, is not being pressured to just bless every patent in the name of "production" or "success" (again, a growing problem at today's EPO).
Morinville picks on Google (large company as his latest scapegoat) and some of his online friends already heckle me for pointing that out. To quote his article: "Over the next decade, the Supreme Court would eliminate injunctive relief and then for all intents and purposes, invalidate their patents first under Bilski and then under Alice. The courts also changed the way claims were written, thus invalidating thousands of patents retroactively. The America Invents Act's PTAB procedures are now invalidating nearly 90% of all patents they evaluate. The courts also radically reduced damages for patent infringement."
That's good. But wait until Morinville brings up the bogeyman again — the same bogeyman that David Kappos has been summoning recently.
Let's Envy China
"With China strengthening its patent system," Morinville says, in probably the most ludicrous part of the whole article. China is actually weakening patents by granting almost everything that comes through SIPO's doors, causing a patent hyper-inflation and an epidemic of trolling. How is that desirable to anyone but the patent microcosm? These anti-AIA think tanks and lobbyists (like Morinville), who want more lawsuits and more litigation, continue to infest the Web and a lot of them congregate around Watchtroll these days. This pattern of China-blaming or China-shaming mirrors what the Democratic Party in the US has been doing with Russia as of late.
Watchtroll wants the USPTO and the courts to start another race to the bottom and give/approve patents on everything, just like SIPO in China. One might call it "the litigation lobby" — for all it want is more and more lawsuits (which the lobby profits from). Watch another new Watchtroll article, this time by Steve Brachmann, the henchman of Quinn. So people who don't even develop anything insist that "China" is the threat and that "Chinese patent guidelines" are a threat to the US rather than to China itself.
What kind of post-truth nonsense have we sunk to here?
Watchtroll, in another new article, says "Keep it Cordial" while Quinn attacks everyone who does not agree with him, even judges (see the image at the top).
What a nasty Web site this is. For IBM's patent chief to occasionally link to it probably takes some guts because it says a lot about IBM, which has gone rogue (even IBM employees now protest/object to the management over that infamous Trump fawning).
China's Growing Trolls Epidemic
China's situation with regards to patents is not good. As we have been pointing out since the summer, SIPO grants far too many patents, including software patents. "This is especially true for software patents where the scope of patent protection is rather vague," says this new article from China, which also mentions Xiaomi, a company that got trolled through India, as we noted before. To quote the relevant part:
As Chinese smartphone brands work to carve out a spot in the major-league global smartphone industry, they are increasingly being dragged into an international patent war with foreign tech firms.

The latest case saw San Francisco-based audio tech firm Dolby Laboratories lodge a lawsuit against Chinese smartphone companies Oppo and Vivo in India, accusing them of infringing on its patented technology. Back in 2014, Chinese tech firm Xiaomi was barred from selling phones in India after Sweden-based Ericsson filed a complaint with an India court alleging patent infringement.
The Ericsson-Microsoft patent trolls strategy (using trolls as proxies) was mentioned here twice this month [1, 2] and Xiaomi is again being mentioned by the Microsoft Windows-powered IAM (with other Microsoft connections). It is again embellishing Microsoft's patent extortion against Linux as follows:
The May agreement between Microsoft and Xiaomi was undoubtedly the IP deal of the year and it was also an excellent example of how patents can play a role in broader commercial agreements. Under the terms of the deal, Xiaomi undertook to pre-load Microsoft products on to more of its mobile devices, the two sides agreed to a cross-licence and the US software giant transferred 1,500 patent assets to the Chinese company. The transaction provides an excellent foundation for Xiaomi as it looks to grow its business in the US and for Microsoft as it continues its penetration of the Chinese market.
This is misleading. All we have here is patent extortion by Microsoft against Linux, even in China where the government of China took a strong stance against it (even leaking a list of Microsoft patents that are secretly being sued to blackmail Chinese companies like ZTE). We believe that Huawei, the world's leading Android OEM these days, is still able to resist Microsoft's Mafia-like tactics. Microsoft repeatedly failed to sign a patent deal.
The bottom line is, China has become a dangerous place patents-wise. Is that desirable to anyone but the patent microcosm? Of course not. █
Permalink

Send this to a friend