02.22.17
It's driving the patent maximalists nuts!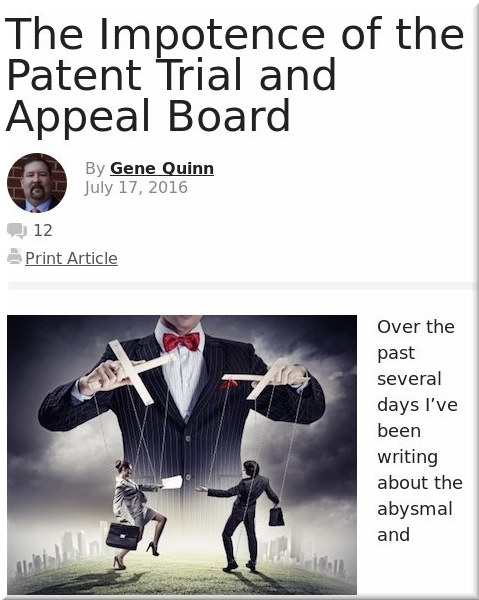 Summary: The Court of Appeals for the Federal Circuit (CAFC) continues to accept about 4 out of 5 decisions of the Patent Trial and Appeal Board (PTAB) and the US Supreme Court (SCOTUS) refuses to intervene
WE are very gratified to see the USPTO improving patent quality by means of appeals, or by revisiting and reassessing already-granted patents. There has been a lot of news about that this past week and below is an outline.
CSIRO/CRISPR
We previously wrote a number of articles about CSIRO and CRISPR, which served to demonstrate unjust patents that went against public interests, sometimes at the expense of the public. Well, PTAB, based on this new blog post, finally — one might say belatedly — takes on CRISPR and the patent parasite, CSIRO (Commonwealth Scientific and Industrial Research Organisation), which earned a lot of disdain/notoriety for its patent strategy. "The gene-editing tool CRISPR," IAM wrote, "is in the process of transforming the life sciences industry."
"We certainly hope that PTAB will somehow take public interests into account, but that's not how PTAB works."IAM means privatising and monopolising, even by means of lawsuits. The promotional and defensive language carried on as follows: "Perhaps not surprisingly with such a revolutionary technology still in its relative infancy, a dispute over patents between universities and research institutes that have been at the forefront of its development, erupted over just who owns some of the foundational IP."
Maybe nobody? Especially given that money for this work came from the public?
We certainly hope that PTAB will somehow take public interests into account, but that's not how PTAB works. It assesses patents not on ethical grounds but based on the guidelines/laws/rules.
Watchtroll Still at It… Denying Facts
Watchtroll's PTAB bashing is nothing new (see screenshot at the top). The site continued with this bashing today (factually-flawed and structurally-incoherent drivel that's akin to fake news). According to this new article, which is based on statistics from the first day of the month, "Federal Circuit PTAB Appeal Statistics" suggest that in addition to the all-time high for PTAB in January, CAFC agrees with PTAB ~80% of the time. It means that PTAB is doing its job capably and correctly. To quote from Lexology: "Through February 1, 2017, the Federal Circuit decided 161 PTAB appeals from IPRs and CBMs. The Federal Circuit affirmed the PTAB on every issue in 125 (77.64%) of the cases, and reversed or vacated the PTAB on every issue in 13 (8.07%) of the cases. A mixed outcome on appeal, where at least one issue was affirmed and at least one issue was vacated or reversed, occurred in 14 (8.70%) of the cases."
"Put in simple terms, PTAB maintains its ability to crush bad patents and CAFC generally agrees with PTAB in 77.64% of the cases it looks at. "The statistics for 2016 were very similar, as we noted here before (the exact number was 77.4% rather than 77.64%, so the increase is marginal). Put in simple terms, PTAB maintains its ability to crush bad patents and CAFC generally agrees with PTAB in 77.64% of the cases it looks at.
ImmunoGen Case
Based on more news, PTAB continues to smash patents to pieces, and CAFC agrees, as usual. To quote:
After the Patent Trial and Appeal Board found claims of ImmunoGen Inc.'s U.S. Patent No. 8,337,856 nonobvious, non-practicing entity Phigenix, Inc. appea​led to the U.S. Court of Appeals for the Federal Circuit. The Federal Circuit dismissed the appeal, finding that Phigenix lacked standing to appeal because it had not established it had suffered an injury in fact.

Prior to filing its inter partes review petition, Phigenix was engaged in litigation with a third company, Genentech, Inc., over a Phigenix patent, U.S. Patent No. 8,080,534. Phigenix asserted that the '534 patent covered Genentech's manufacture and sale of a drug, Kadycla. Genentech produces the drug under a "worldwide exclusive license" from ImmunoGen for the '856 patent. As part of its efforts to commercialize its own patent portfolio, Phigenix filed the petition for inter partes review of the '856 patent, alleging claims 1–8 were invalid as obvious over various prior art references.
Depomed Case
CAFC is again (as usual) agreeing with PTAB that Depomed's patent should be invalidated, based on this new report:
The Federal Circuit on Tuesday affirmed the U.S. Patent and Trial Appeal Board's decision in an America Invents Act inter partes review that Depomed's patent on extended-release drug technology is invalid as obvious, saying the board's conclusion is backed by substantial evidence.
Novartis Case
There is another high-profile 'case' (petition rather) in the pipeline. Here are the details from the news:
Days after rejecting a challenge from Roxane Laboratories to a patent related to Novartis' blockbuster cancer drug Afinitor, the Patent Trial and Appeal Board agreed recently to review the patent based on a challenge from another generic drugmaker, Par Pharmaceutical.

In a Feb. 15 decision, the PTAB found that Par Pharmaceutical Inc. had shown the patent was likely invalid as obvious. Par, which was previously sued for infringement, filed a petition seeking inter partes review last summer.
TradeStation Case
Justice does not seem plausible and is not perceived as legitimate when the outcome is always the same (like FISA rubber-stamping), so there are also exceptions. Here, for a change, "PTAB Follows Fed. Circ. Lead, Upholds Trading Patent" and to quote:
A split Patent Trial and Appeal Board on Friday followed the lead of the Federal Circuit and upheld a Trading Technologies International Inc. electronic trading patent, finding it was not invalid under the U.S. Supreme Court's Alice ruling.

In a 2-1 decision, the PTAB said TradeStation Group Inc. and IBG LLC had not shown why it should break from the appellate court's Jan. 18 decision, when the court ruled that a judge correctly found this and another Trading Technologies patent covered technological improvements, not abstract ideas…
PTAB Scares the Patent Microcosm
It's no secret that patent maximalists, unlike actual companies that make things, hate PTAB. In general, PTAB can help save/defend practicing companies, to whom patents are still a two-edged sword. Here we have a law firm asking (seeking attention from potential clients), "Can Your Patent Be Invalidated Without a Trial?"
"As there is no foreseeable case at the SCOTUS which involves software patents, we are pretty certain that there will be no challenge to Alice any time soon."Well, yes, and many software patents are already as valuable as nothing at all. They are toothless. Trying to litigate with them would benefit nobody except lawyers at both sides. In that sense, such patents may be even worse than none at all. But to quote the above: "Patent owners should be keeping a close eye on a case that may come before the Federal Circuit Court of Appeals that could potentially block challenges to patent validity outside of the courtroom. Cascades Projection v. Epson and Sony 1 asks the court to decide whether the rights granted by a patent are public or private and, in turn, if those rights are capable of being revoked without access to a jury trial."
We wrote about it earlier in the month. These are edge cases or rare exceptions; thus, promoting these to prospective clients is rather disingenuous and misleading. Or as one might call it — marketing!
SCOTUS Defends CAFC and by Extension PTAB
One interesting case that we spotted today in the news involves a company called Big Baboon (real company name!) and its unusual attempts to challenge patent scope etc. at the US Supreme Court (SCOTUS). Software patents are still dead/dying after Alice, so Big Baboon attempted another angle and failed. To quote:
The U.S. Supreme Court on Monday declined to hear a petition by a Silicon Valley software company asserting that the Federal Circuit has routinely imputed patent law claims into lawsuits that challenge the U.S. Patent and Trademark Office's procedures in order to exert jurisdiction over the cases.

The high court declined to hear Big Baboon Inc.'s Oct. 10 petition for writ of certiorari, which argued that it was in the public's interest that the justices stop the appellate court from the "ongoing and palpable" harm it…
This is good news. As there is no foreseeable case at the SCOTUS which involves software patents, we are pretty certain that there will be no challenge to Alice any time soon. There is also no indication from the Trump administration that AIA (which brought PTAB) will be in any sense revoked/undone. █