03.02.17
This seems to be the only thing that this 'group' is bragging about, even months down the line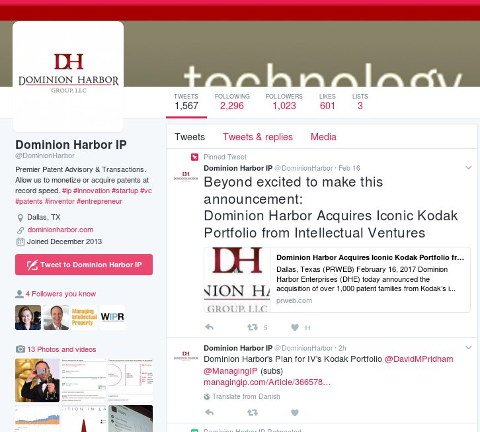 Screenshot taken minutes ago
Summary: Dominion Harbor touches and plays with fire when it gets patents from a patent troll with thousands of satellite firms, but that's what it's all about anyway (a patent "monetization firm," by its very own description)
THE patent troll Intellectual Ventures (IV) was covered here earlier this evening and last night we found this new article from Michael Loney, dressed up as an interview and sheltered behind a paywall. Dominion Harbor took patents from the world's biggest troll (and Microsoft's biggest troll) with the apparent intention is to become a troll, based on the following text:
Dominion Harbor has acquired Intellectual Ventures' portfolio of Kodak patents. Its CEO, David Pridham, tells Michael Loney his plans for the portfolio and how he views the patent monetisation market

Intellectual property transaction and advisory firm Dominion Harbor has high hopes for its new purchase from Intellectual Ventures. In February it acquired more than 1,000 patent families in Kodak's portfolio of patented technologies for an undisclosed sum.
This press release suggests that it happened just a few months ago, calling the buyer "an affiliate of Dominion Harbor Group, an integrated patent advisory and monetization firm." That's just a euphemism for patent troll. Expect a lot of 'action' from this troll. █