07.20.17
Gemini version available ♊︎
But extremists like Watchtroll (who systematically bullied/smeared Michelle Lee) keep blaming "Google" for everything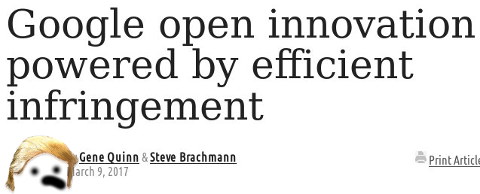 Summary: Although lobbying by large corporations has served to change the patent landscape in the US, a lot of the big changes become possible because Justices with no vested interests (in patents and patent lawsuits) overturn decisions from the Court of Appeals for the Federal Circuit
THE USPTO, especially since David Kappos, strives to make money and make itself relevant by granting a lot of patents. The same is true, to some degree, at the Court of Appeals for the Federal Circuit (CAFC), a "top patent court" according to this new Reuters report about the Supreme Court's rulings regarding patents. To quote:
The U.S. Supreme Court's unanimous backing on Monday of a ruling by the country's top patent court was a rare instance of agreement with a body whose decisions in that specialized area it regularly overturns.

Tellingly, Monday's decision related to trademarks, not patents. Since its term began last October, the Supreme Court has thrown out all six patent-related decisions by the U.S. Court of Appeals for the Federal Circuit, which was set up to handle such cases.

Since 2014, the high court has upheld the patent court in only two of 16 patent cases, a Reuters review showed.

The lack of agreement between the high court and the patent court reflects a basic conflict at the top of the U.S. legal system over intellectual property rights, which are critical to many industries.
What this serves to demonstrate is that those who are in the business of patent maximalism are out of tune and out of touch with the law. Currently, the Supreme Court is what's changing the US patent landscape, e.g. with Alice (2014) that invalidated many/most software patents. It's actually this court that's driving progress, not Google et al (or Michelle Lee) as patent extremists such as Watchtroll try to tell us. Here is another new article, which deals with the same subject:
A Sign of the Times? A Brief Look at the Trend of Patent Cases Before the US Supreme Court

[...]

Since Tyler v. Tuel in 1810 the US Supreme Court has played a large role in interpreting patent law and defining the role patents play in our society. In the last few years the number of patent cases decided by the Supreme Court has greatly increased. Historically, there has typically been just one or two patent cases per year heard by the Supreme Court, and sometimes years when with no patent cases. Now the Supreme Court is hearing 3-4 or more patent cases per year, every year.
Patent maximalists' sites may not like it, but the US Supreme Court actually does its job on these matters without financial conflicts of interest. Recently, as per this report, there was a Supreme Court remand in relation to Stryker and the $248.7 million penalty over patents. It's not true to say that the US Supreme Court is a problem. It's simply doing what any court was supposed to do but as Gilstrap and Rader served to show simply isn't happening. Many of these courts have been taken over by special interests. Justices are harder to accomplish such a coup with.
At the moment, patent extremists try to install patent maximalists at the USPTO, having driven Lee out of her job. These people (IAM, Watchtroll etc.) are about as aggressive as patent trolls. █
Permalink

Send this to a friend