08.09.17
Gemini version available ♊︎

Summary: The allegedly rigged process at DZIV (then run by today's EPO Vice-President Željko Topić) as illustrated by letters from 2009
THE series has two parts remaining after this part (see part 1, part 2, part 3, part 4, part 5, part 6 and part 7). In the previous part we explained the value of Željko Topić's EPO contract and the special value of the immunity which comes with it.
---

This is also supported by the fact that certain EU bodies based in Brussels have taken an interest in this international corruption scandal. In passing it should be mentioned that the lawyer representing the injured party of the actual trademark owner Air Plus, Constantin Mascher, is in possession of a letter dated 24.07.2009 from the German representatives of Lufthansa Air Plus Servicekarten GmbH, the law firm W & W which clearly states that the Croatian trademark owner Air Plus will lose the proceedings at the DZIV in Zagreb, a claim which was made six months before the DZIV took its decision against the trademark owner. (annexed documents #11 & #12, letter from W & W and authorization from Lufthansa Airplus Servicenkarten GmbH). The German representatives of the Lufthansa subsidiary from the law firm W & W thus seem to have known in advance the result of the legal dispute which was being conducted by the DZIV.
The original documents were submitted to the DORH (the Croatian Public Prosecutor's Office) and USKOK (the Office for the Suppression of Corruption and Organized Crime) and to the Office of the Croatian Attorney General. They were systematically ignored and an official investigation was obstructed for nine years. It is also apparent from the attached letter from W & W that in a subtle way they are threatening the lawyer, Constantin Mascher, not to contact Lufthansa Airplus Servicekarten GmbH directly but to deal exclusively with them as legal representatives.
In our estimation, we consider that further comments on the described and documented criminal activity are superfluous. On the contrary, it is now up to the EU bodies to investigate the obvious incident of corruption and sanction those involved.
---
Dafür spricht auch die Tatsache, daß gewisse Gremien der EU mit Sitz in Brüssel an diesem Korruptionsskandal mit internationalem Ausmaß interessiert sind. Ergänzend ist zu erwähnen, daß der Rechtsanwalt der geschädigten Seite des tatsächlichen Markeninhabers Air Plus, Constantin Mascher das Schreiben der deutschen Vertreter von Lufthansa Air Plus Servicekarten GmbH, der Rechtsanwaltskanzlei W&W vom 24.07.2009 besitzt und worin eindeutig erwähnt wird, daß der kroatische Markenzeichenträger Air Plus, das Verfahren bei DZIV in Zagreb verlieren wird und zwar sechs Monate bevor DZIV RH zu Lasten des Inhabers entschieden hat. (#11 & #12. Schreiben von W&W und Vollmacht der Lufthansa Airplus Servicenkarten GmbH, siehe Anlage). Die deutschen Vertreter der Lufhansa von der Kanzlei W&W haben also im Voraus das Ergebnis der juristischen Auseinandersetzung, welche bei DZIV RH durchgeführt wurde, gekannt.
Die genannten Originalunterlagen wurden der DORH, USKOK (Staatsanwaltschaft der Republik Kroatien und Kanzlei zur Bekämpfung von organisierter Kriminalität) und der General – Staatsanwalschaft der Republik Kroatien vorgelegt. Sie haben sie systematisch ignoriert und eine Untersuchung unter staatlicher Obhut ganze neun Jahre lang verhindert. Aus dem beigefügten Schreiben der Kanzlei W&W geht auch hervor, daß sie auf subtille Art und Weise dem Rechtsanwalt Constantin Mascher drohen, sich künftig nicht mehr direkt an die Lufthansa Airplus Servicekarten GmbH, sondern ausschließlich an sie als juristische Vertreter zu wenden.
Nach unserem Ermessen halten wir weitere Kommentare zur dargestellten und dokumentierten Kriminalität für überflüssig. Vielmher sind die EU – Gremien gefragt, die offensichtliche Korruptionsaffäre und die Involvierten zu sanktionieren. █
---
Document #11 (click images to open separately)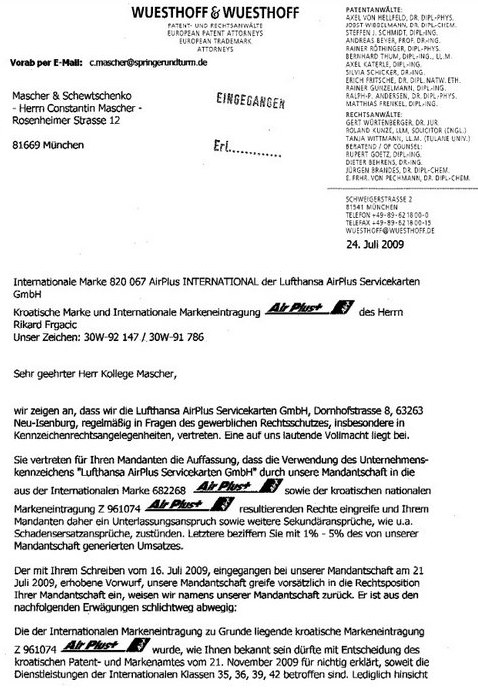 Document #12
Permalink

Send this to a friend