10.02.17
Who wants predatory law firms to steer policy anyway?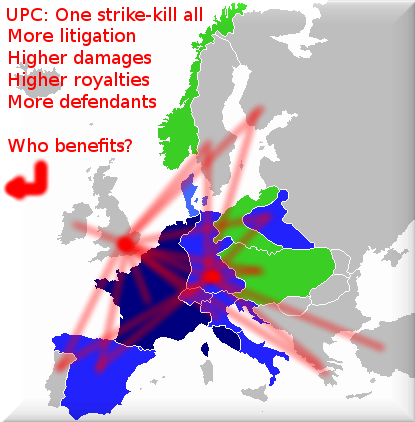 Summary: A bogus litigation 'industry' which merely destroys the software (i.e. real) industry is being scuttled by the Supreme Court; China foolishly enough takes this 'crown', essentially creating its own 'Eastern District of Texas' in Beijing
TECHRIGHTS typically focuses on the USPTO in the weekends. As we noted yesterday afternoon (Sunday), the USPTO bubble continues to grow like it's a race towards zero patent quality. Sure, the courts say "No!" to such patents, but once granted it's expensive to prove that these patents are invalid (especially barring petitions to PTAB).
This USPTO bubble worries us. It's like examiners aren't paying attention to what their Supreme Court keeps saying. They're granting patents on almost everything, even software. Their managers try to tell us that a higher number of patents means more innovation, but everyone with a clue knows that it's a lie. Yesterday, Patently-O showed the design patents bubble — a bubble which may very soon burst because of the Supreme Court. On the same day an Apple fan site bragged about such patents, but there's no innovation there , it's just a sort of 'insurance' for when Apple is a patent predator with no actual products.
What also worries us are reports like this one from this morning. Nigeria seems to think that it needs lots of patents because "[m]ost of the technology transfer agreements handled by NOTAP are mainly on software licensing with a huge sum of money being paid to the foreign software owners in order to encourage local software development."
Well, software patents are not valid and many of these deals are to do with copyrights, not patents. It doesn't look the writer is familiar enough with this topic.
In other news, this Watchtroll rant from yesterday was rather revealing. It certainly sounds as though patent parasites are going out of business and moan about it. After Alice and other such decisions they no longer see demand for litigation. To quote:
Today, I no longer receive these calls. There could be a few reasons why. One certainly could be that my practice has evolved over the years to concentrate more on contentious matters. I've spent less time on the front lines of patent prosecution as a result.

But I suspect the main reason is that inventors are giving up an expectation that patent protection is even worthwhile. And I get it. If I were to get a call these days, I could no longer paint a rosy picture for would-be patentees.
Good. I hope these people go out of business very fast. All they do is cause agony to many people and small companies. Patent lawsuits (or threats thereof) aren't productive, yet this is the kind of thing Watchtroll keeps lobbying for.
This morning we also saw this self-promotional 'article' (if that can be called an article at all) about patent parasites who are trying to leverage software patents for personal gain, at the expense of actual developers. "The Halcyon strategy," it says, "is really based around small niche plays like software patents. It's a David-vs.-Goliath type of story. It nicely aligns with our view of helping the little guy to fight the big software providers."
What they mean to say is, they'll take money from poor people to initiate pointless litigation which would likely go nowhere because of Alice. But what do they care…? They get paid even if the cases are lost. It's important to remind people not to be misled by these opportunistic law firms; software patents are neither worth the time nor justify the expense. Save the money for something else like research and development.
As noted the other day (Sunday), the EFF finally takes on so-called "AI" patents. They're just software patents disguised as "AI". These patents must be rejected, not granted at all. It turns out that the patents-savvy reporters have begun reporting on this:
Each month, the patent lawyers at the Electronic Frontier Foundation shine a spotlight on one particular patent they believe is a drag on innovation. This month, they're looking at one of the fastest-growing sectors of technology: machine learning and artificial intelligence.

EFF lawyer Daniel Nazer has picked out an artificial intelligence patent belonging to Hampton Creek, a San Francisco food-tech company that markets products under the brand name "just." US Patent No. 9,760,834 describes what the company calls its "machine-learning enabled discovery platform" and ways of discovering new ingredients.
Let's face it. The US is no longer a place for software patents. Even if such patents get granted (which happens a lot, especially when assessed by the USPTO) they are very unlikely to endure scrutiny at PTAB and/or the courts. China, however, is another matter. As we argued yesterday, China is now granting lots of terrible patents and also advertises friendliness towards plaintiffs (same as in the Eastern District of Texas). IAM has in fact just published this overview in which there's the following section about software and business methods:
To what extent can inventions covering software or computer-implemented inventions be patented?

Software, computer programs and program instructions per se are categorised as 'rules and methods for metal activities' and are not patentable subject matter. Nevertheless, inventions that are implemented wholly or partially through software can be patentable if they involve a technical character.

The conventional method for drafting a product claim relating to a computer program is to present a claim defining more than one functional component, each of which corresponds to a step in a computer-implemented method. This approach may be unfavourable when it comes to litigation, due to the difficulty in identifying counterparts of the software components in the relevant product.

In April 2017 the revised Guidelines for Patent Examination came into effect and the means for drafting software-related or computer-implemented claims have since become relaxed. According to the revised guidelines, computer-readable media carrying program instructions – which were previously excluded from patent protection – have become patent eligible. In addition, claims seeking to protect an apparatus comprising a memory in which computer-executable instructions are stored and a processor configured to perform actions on execution of the instructions are now acceptable.

To what extent can inventions covering business methods be patented?

Inventions covering business methods are not excluded from patent protection, provided that they involve a technical character. If a claim relating to a business model contains not only business rules and methods, but also a technical feature, it will be eligible for patent protection. However, business methods implemented with general computer and internet technology and with no improvement in terms of technical aspects may still be rejected – usually on the grounds of lack of inventiveness, rather than patent-ineligibility.
When the patent microcosm moans about "China!" (it's happening more and more this year) it basically means to say that the litigation and trolling 'business' moves there. Good riddance. Nobody needs that yoke in his/her own country. It's just self-harming and self-defeating.
With the UPC, Battistelli hopes to create his own Eastern District of Texas-like network of courts, with one based in Paris. He doesn't care if that completely dooms the EPO and the European economy. Battistelli certainly acts like a stooge of the litigation 'industry' and he surrounds himself by cronies who are not scientists and are barely qualified for their job. Many of them are French. █