01.20.18
Related: Blockstream Has No Patents, But Pledges Not to Sue Using Patents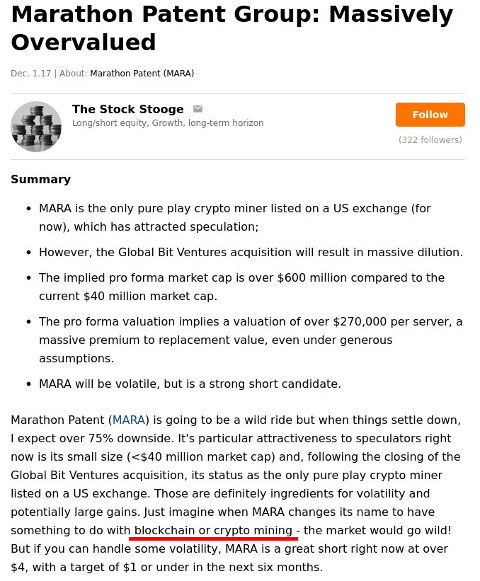 Reference: Marathon Patent Group: Massively Overvalued
Summary: As patents pertaining to blockchains continue to be granted — even in defiance of Alice/Section 101 — it seems likely that patent wars will sooner or later erupt, involving some large banks, IBM, and patent trolls associated with the notorious Erich Spangenberg
THE emergence of digital currencies (also known as cryptocurrencies) brought rise to blockchains — a concept whose explanation ought to quickly reveal to anyone that it boils down to software and is thus not eligible for patents (except maybe in China).
There is a growing threat now; that threat isn't FUD or "hacks" or "collapse" or whatever; patent parasites are like hawks waiting to attack digital currencies. See "Patent Strategies for Cryptocurrencies and Blockchain Technology" [PDF] and all sorts of articles from media of patent maximalists. They're waiting to initiate something similar to and barely distinguishable from patent wars in mobile phones. Jon Calvert of ClearViewIP, for example, is quoted alongside a bunch of patent law firms. They all defend the 'screwing' of blockchains with a vast thicket of software patents. To quote:
The bigger tech companies, the IBMs of this world, are trying to create blockchain infrastructure that can be used by corporate enterprises or financial institutions. They want to charge for software as a service. By having patent protected technology, they can argue that theirs is the best, the most valuable, or the most valid, which makes them more credible. These are also the people who are more likely to use their patents aggressively later, when they've got a strong portfolio. If you look at Microsoft, they were probably filing blockchain patents almost a decade ago.
IBM's role was noted here many times before; don't be misled by the reformed IBM of Samuel J. Palmisano. The company has become not only a patent bully (again) but also the leading lobbyist for software patents worldwide. The other day the corporate media published an article (puff piece) titled "IBM Fueling 2018 Cloud Growth With 1900 Cloud Patents Plus Blazingly Fast AI-Optimized Chip" (emphasis on patents, which are basically software patents disguised as "cloud"). Such patents PR (and dumb new headline from Forbes) helps reveal what IBM has in its field of vision. IBM isn't eager to transition the whole world to Bitcoin or anything remotely like that. Blockchain patents are a looming storm which trolls too wish to participate in. It was mentioned the other day by IBM and even the Linux Foundation speaks about it:
IBM and A.P. Moeller-Maersk on Tuesday announced a joint venture to create a platform based on Hyperledger Fabric 1.0, with the goal of creating huge efficiencies in the global supply chain. IBM and Maersk have teamed up to provide a more efficient method of standardizing shipping logistics using blockchain technology. "Adoption of Hyperledger Fabric by Maersk and … IBM has the potential to remake the shipping sector landscape and its use of information technology," said Brian Behlendorf, executive director of The Linux Foundation.
In Bloomberg, on Tuesday, a less Linux-centric article was published and iophk, our reader, said that "this guarantees that blockchain advancements will occur outside the US" (that's the effect of overpatenting). To quote Bloomberg:
Bank of America Corp. may not be willing to help customers invest in Bitcoin, but that doesn't mean it isn't plowing into the technology underlying the cryptocurrency.

The Charlotte, North Carolina-based lender has applied for or received at least 43 patents for blockchain, the ledger technology used for verifying and recording transactions that's at the heart of virtual currencies. It is the largest number among major banks and technology companies, according to a study by EnvisionIP, a New York-based law firm that specializes in analyses of intellectual property.
It's all about patents; The Linux Foundation plays along because its initiative, Hyperledger, is IBM-led. It always was, right from the start. The Linux Foundation merely acts as a sort of incubator pulling together contributions and helping the openwash.
As it turns out, based on another announcement, another patent aggressor (connected to Erich Spangenberg) positions itself to attack blockchains with patents. To quote:
Marathon Patent Group, Inc. (MARA), today announced that it has entered into a purchase agreement to acquire four patents related to the transmission and exchange of cryptocurrencies between buyers and sellers.
This might be another front for the likes of Spangenberg, whose latest venture was advertised a couple of times in corporate media (CNBC).
The details above may seem vague; that is because those who apply for or harvest blockchain patents (stockpiling) intentionally thrive in mystique/ambiguities. Patents like these don't exist for 'defensive' purposes; someone is planning to at least try to make a lot of money using these patents alone (without an actual implementation of anything). █