09.03.18
Gemini version available ♊︎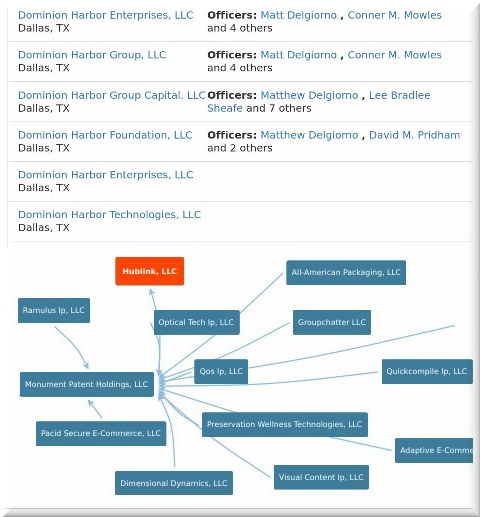 Summary: A quick look at misguided sites which celebrate new patents of infamous patent bullies and the latest actions from patent trolls, including Microsoft's own (Intellectual Ventures)
The connections between Dominion Harbor and Microsoft aren't as blurry as Microsoft might have hoped. It's not hard to see where this patent troll is receiving the lion's share of its patents from. Microsoft uses trolls such as this to sell its 'protection' racket [1, 2, 3, 4, 5, 6, 7, 8, 9, 10, 11, 12, 13, 14, 15, 16, 17, 18, 19, 20]. We offered a new example of it only several days ago.
Microsoft's new patents are being celebrated in Apple and Microsoft advocacy sites [1, 2, 3], where people like Christian de Looper and Apple fans (that celebrate Apple patents) take note of new Apple patents and/or patent applications [1, 2] never mind if Microsoft and Apple are both notorious for their patent aggression. Brand loyalty can blind some people.
To be fair to both, they are also on the receiving end of troll lawsuits. We hope that many such lawsuits can eventually compel them to rethink their stance on patents and their patent strategy.
As the mainstream media noted a few days ago, Apple might need to pay over half a billion dollars to just one patent troll. The Eastern District of Texas supports this particularly notorious patent troll, VirnetX, which targets large companies. Time to appeal for the Federal Circuit (or even SCOTUS perhaps) to step in?
There has been lots of media coverage such as "VirnetX +35.6% after judge denies Apple a new trial", "VirnetX Receives District Court's Final Judgment Affirming Jury's Verdict of $502.6 Million", and "VirnetX Holding Corporation: VirnetX Receives District Court's Final Judgment Affirming Jury's Verdict of $502.6 Million". Here's a portion from "Court Sides With VirnetX, Affirms $506 Million Judgment Against Apple" (there's so much more about this news because it's about Apple, which means the media can get 'hits'):
VirnetX Holding Corp. (NYSEAMERICAN: VHC) announced Friday morning that the U.S. District Court for the Eastern District of Texas has affirmed an April 2018 jury verdict granting the company a $506.2 million award in a patent infringement case against Apple Inc. (NASDAQ: AAPL). The court denied Apple's request for a new trial in the case, and it also includes supplemental damages, a sunset royalty (paid when infringing products are phased out) and interest and costs.
What the media failed to pay as much attention to is a case that does not involve 'famous' Apple. It's about fairly new patent which is abstract and was also asserted in the Eastern District of Texas. As Watchtroll put it:
The '748 patent itself is titled "System and Method for Data Management" and, according to the complaints, it "addresses the need to collect location-specific information on a variety of hardware and software platforms without the need to create separate and individualized software for each of the numerous manufacturers of remote computing devices."

[...]

Additionally, the complaints preemptively make certain allegations regarding the patentability of the '748 patent, apparently assuming a validity challenge in this wonderful world of Alice in which we are all forced to live. The patentability allegations list technical problems ostensibly addressed by the '748 patent, possibly to frame the '748 patent as an improvement to computer functionality for future reliance on the Federal Circuit's guidance in Enfish, LLC v. Microsoft Corp., 822 F.3d 1327 (Fed. Cir. 2016) that such improvements may be found non-abstract at step one of the U.S. Supreme Court's two-step Alice framework for determining patent eligibility. The allegations regarding patentability found in Fall Line's complaints also include statements that certain claim elements are not well-understood, routine, or conventional, apparently in case the '748 patent is held to be abstract and thus necessitating reliance on step two of the two-step Alice framework.

[...]

It's also worth noting that even though the terminal disclaimer issue might be a fatal blow to Fall Line's ability to enforce the '748 patent, Fall Line's problems do not end there. The '748 patent has also had an inter partes review (IPR) instituted against it as of April 5, 2018, though the IPR was not instituted against Claim 1. Furthermore, petitioner Unified Patents did not challenge the validity of Claim 1 and so even after the U.S. Supreme Court's decision in SAS Institute v. Iancu back in April that the Patent Trial and Appeal Board does not have the authority to partially institute a petition for IPR against some but not all requested claims, Claim 1 looks like it will survive. But that's not to say any of the defendants accused of infringement by Fall Line will refrain from filing their own IPRs to challenge Claim 1.
The inter partes review (IPR) would likely put this lawsuit to rest, but how much money will have been spent on lawyers by then?
It is meanwhile being reported in an article by Arthur W. Coviello, Richard Goldenberg and William G. McElwain from WilmerHale that Microsoft's largest patent troll, Intellectual Ventures, suffers yet another CAFC setback:
Reyna, J. Vacating and remanding the PTAB's IPR decision because the PTAB erred in not considering portions of the petitioner's reply brief. Specifically, the PTAB erred in determining that certain reply arguments were improper new arguments under 37 C.F.R. § 42.23(b). The Court held that the petitioner's reply arguments should have been considered because they cited "no new evidence and merely expand[ed] on a previously argued rationale as to why the prior art disclosures are insubstantially distinct from the challenged claims."
Intellectual Ventures was also mentioned by Watchtroll's Steve Brachmann a few days ago because CAFC was "remanding the case to the PTAB for further proceedings." It happened last week, but the media mostly ignored it:
On Monday, August 27th, the Court of Appeals for the Federal Circuit issued a precedential opinion in Ericsson Inc. v. Intellectual Ventures I which vacated a previous decision by the Patent Trial and Appeal Board (PTAB) to uphold patent claims owned by Intellectual Ventures in light of an obviousness challenge from Ericsson.
The case (Ericsson Inc. v Intellectual Ventures) isn't a new one; we've covered it before. It does show that Microsoft's patent troll is still very much active; it's a shame that almost no investigative journalists are left out there to properly cover it. All they seem to care about is traffic, so they focus on companies such as Apple. █
Permalink

Send this to a friend