12.24.18
The EPO saw change of President, but patent examination continues to exacerbate in Europe (and it's not examiners' fault)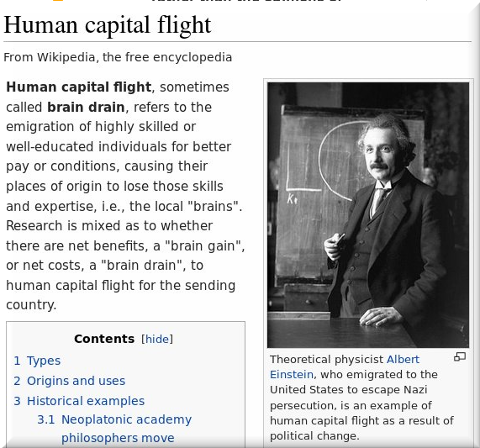 Reference (Wikipedia): Human capital flight
Summary: Bad leadership and loss of talent are dooming the European patent system, where the sole goal right now seems to be granting as many patents as possible, irrespective of underlying rules and economic analyses
THE American patent system (especially the courts) seems to have improved in the sense that it becomes a lot stricter; patents on software, for example, are harder to get/enforce in the US, but the system in Europe is all backwards. The European Patent Office (EPO) changed a lot — obviously for the worse — after 8 years of Battistelli; we aren't even talking about all the abuses and corruption but about purely technical things. Examiners and stakeholders both complain — something that has not happened at any moment in history. The EPO makes the US Patent and Trademark Office (USPTO) look like a model organisation.
"The EPO makes the US Patent and Trademark Office (USPTO) look like a model organisation."The year is about to end and we want to minimise writing while we migrate to another datacentre (data synchronisation being of concern); but before Christmas kicks in (marking about a month since SUEPO last said anything) let's quickly look at what the patent trolls' lobby wrote some days ago. Adam Houldsworth, promoter of patents on life, spoke about the EPO's opening to patents on life again:
EPO announcement signals prohibited plant patents may be back on the cards – The EPO's Technical Board of Appeal stated that a recently adopted rule of not granting rights for plants produced exclusively by an essentially biological process contradicts the European Patent Convention, suggesting that the office will now begin to grant patents for such inventions again. Following years of uncertainty about the patentability of the products of essentially biological processes under Article 53(b) of the EPC, the EPO Administrative Council provided clarification in 2017 by amending the Implementing Regulations to include Rule 28(2): "Under Article 53(b) European patents shall not be granted in respect of plants or animals exclusively obtained by means of an essentially biological process." However, in early December the Technical Board of Appeal issued a notice saying that: "At the oral proceedings, which took place on 5 December 2018, Technical Board of Appeal 3304, in an enlarged composition consisting of three technically and two legally qualified members, held that Rule 28(2) EPC (see OJ 2017, A56) is in conflict with Article 53(b) EPC as interpreted by the Enlarged Board of Appeal in decisions G 2/12 and G 2/13. The Board referred to Article 164(2) EPC, according to which the provisions of the Convention prevail in case of conflict with the Implementing Regulations, and decided to set the decision under appeal aside and to remit the case to the examining division for further prosecution."
Cooley LLP's Colm Murphy and Steve Cuss [1, 2] and HGF Ltd's Ellie Purnell also wrote about it some days ago. The latter was titled "EPO Technical Board Of Appeal Considers Plants Produced By Essentially Biological Process Are In Fact Patentable," but it's likely far from over. The management of the EPO is acting in violation of directives and the EPC, i.e. both the authorities and its founding 'constitution'. There's likely parliamentary (or public interests' groups) opposition on the way, but it's too near to Christmas, so none has been waged yet. Wolters Kluwer has meanwhile announced this new (2018) edition of "Visser's Annotated European Patent Convention" [1, 2, 3]. Those are paid press releases (or copies thereof). Does the EPC even matter anymore? It certainly isn't being respected.
As always, what worries us most is software patenting in Europe; seeing that the EPO is willing to even grant patents on life/nature is a very bad sign. Consider this new article (Dentons' Sara Massalongo and Giangiacomo Olivi) that says "Artificial intelligence mainly consists of software—that is why it is also referred to as "super software"—which is typically protected by copyright."
So stop right there. Stop promoting "AI" patents or calling it "IP" (even in the headline). Here's the part about the EPO:
Programs for computers and mathematical methods as such are excluded from patentability; however, it is possible to patent the so-called "computer-implemented inventions" (CII), i.e. the inventions that have features realized wholly or in part by means of a computer program and which provide a technical effect.

Therefore core-AI, e.g. the algorithm as such, is not patentable, whereas only AI-related inventions which have a technical character are eligible for patent protection.

The European Patent Office has recently issued guidelines on the patentability of AI-related inventions, moving from the discussions carried out during the EPO conference on "Patenting Artificial Intelligence" held on May 30, 2018.
The EPO just ignores the EPC. It is violating basic rules in order to fake 'growth' and this inspires some others. DANIEL Legal & IP Strategy's Gustavo Sartori Guimarães and Rana Gosain, for example, have just published this article about Brazil and it mentions EPO programmes like PACE, Early Certainty, PPH and other accelerators. They may be missing the point that speed must never be the goal of patent offices but accuracy or validity only. "Despite a reputation for being slow to grant patents, Brazil's IP office has introduced a number of programmes to expedite examination," they said. Even the EPO's applicants have complained about too fast a process, seeing this was sometimes done hastily, sloppily, and shoddily. Speeding up the process and then conflating speed with "quality" is a hallmark of the EPO's deception. The price for this will be paid over the years (the long run) as the certainty associated with European Patents is diminishing, defeating the purpose of examination. █