02.28.19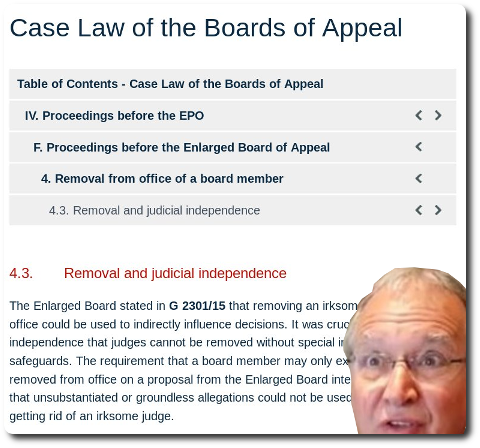 Summary: Another upcoming opportunity for the EPO's Boards of Appeal to say "no" to software patents; sadly, however, the judges lack the independence they need
THE U.S. Patent and Trademark Office (USPTO) is still coming to grips with courts' consistent rejection of software patents. We're still seeing new reports of yet more US patents (granted by the USPTO) that the Federal Circuit rejects based on 35 U.S.C. § 101. So does the Patent Trial and Appeal Board (PTAB), where inter partes reviews (IPRs) are growing in number. Anticipat has been trying to spin it all by selective (cherry-picked) statistics, but the trend is rather clear and we shall say more about it in our next post.
Yesterday afternoon Scott King and Matthew Hoyles at Kluwer Patent Blog wrote to say that "Computer implemented simulations referred to the Enlarged Board of Appeal" (the term "computer implemented" means algorithms).
Today, in the decision T 0489/14 the EPO's Boards of Appeal published their referral of three questions relating to computer implemented simulations to the Enlarged Board of Appeal. Referrals to the EPO's Enlarged Board of Appeal do not come around often, referrals in the area of computer technology even less so.

The purpose of referrals to the Enlarged Board of Appeal is to prevent divergence and/or provide clarity on the implementation of the law.
The Enlarged Board of Appeal of the European Patent Organisation (EPO) has another chance to thwart European software patents, but it's tightly controlled by Team Battistelli/Campinos, so don't expect that to happen.
"It shouldn't be assumed that "Remain" means UPC is suddenly alright; quite the contrary at this stage as that merely raises yet more questions and causes a lot more delays (for years to come)."Yesterday the 'geniuses' at the PR department were still promoting software patents while calling these "CII" because they're banned. "The next study visit taking place in The Hague will focus on peculiarities of CII-related patent applications and the challenges they pose in search and examination," they wrote. Hours apart (earlier on and for the second time in one day) the EPO pretended to itself that it can grant such patents just by framing/describing these as "CII" (because they're banned/verboten without such buzzwords). The EPO wrote: "Which computer-implemented inventions in #medtech can be protected by patents and how?"
They're using "medical" and "SMEs" to distract from the fact that these are algorithms.
Proponents of software patents try to bypass the courts or create new ones that are questionable because of the way they operate. The UPC's chances got even slimmer/prospects worse, as we explained a day ago; there's growing uncertainty about what will happen (if anything at all) to Brexit. Nevertheless, Aurélia Marie (Cabinet Beau de Loménie) and Phil Burns (Wrays) continue to pretend that the UK already left the EU. Never mind if there's no Brexit, at least not yet (if ever). Lexology published this: "The UK can decide to halt the process without consent from the other 27 EU States and stay in the EU at any time up to Brexit Day."
It shouldn't be assumed that "Remain" means UPC is suddenly alright; quite the contrary at this stage as that merely raises yet more questions and causes a lot more delays (for years to come). The UPC's collapse means that the Enlarged Board of Appeal is here to stay; its decision on T 0489/14 will matter. █