09.28.19
Gemini version available ♊︎
Yes and no.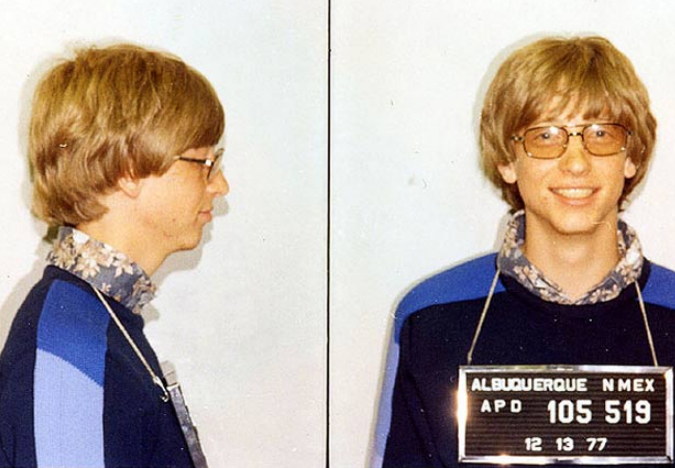 Bill Gates arrested before he had sufficient connections. Now people are given strategic awards (for corporate agenda of GMO, Microsoft etc.) named after a famous criminal glorified by press that he buys.
Summary: The reckless and likely illegal behaviour of Bill Gates (he was arrested in the past) continues to demonstrate that some people — especially those who bribe officials, media and so on — can get away with virtually anything
THE Stallman 'scandals' (whatever they are; mostly quote-mining very old posts of his), as we've just noted, ended his career; moreover, they've helped distract from Gates' Epstein affairs, which are the vastly bigger scandal (we wrote about this several times this past month). It certainly seems to boil down to connections, not deeds.
A reader has meanwhile asked us: "You following the Gates Foundation stuff in Kashmir?" He referred to Gates Foundation 'gifts' to the most powerful man in India, traditionally a growth area of Free/libre software. Cablegate (or CableGates) showed us what the Gates Foundation did in Tunisia in order to undermine GNU/Linux (OLPC). Bribing officials and heads of state through the Gates Foundation is habitual. Usually it's not visible. It's disguised (or laundered) as charity, children, social justice etc.
"It certainly seems to boil down to connections, not deeds."The media has mostly ignored the aspect or angle of bribery, instead focusing on Kashmir. As the article "problem with the Gates Foundation's award to Narendra Modi" put it: "Modi campaigned on a populist platform and was elected with a strong majority. He took that mandate and rescinded the special status of Kashmir, a mostly Muslim semi-autonomous region split between India and Pakistan. Modi then sent in police to make mass arrests. He's also cut off mobile and internet service. At the same time, India is building mass detention camps in the northeastern state of Assam to hold what it considers "illegal immigrants," mostly Muslim inhabitants who don't have the paperwork to prove their citizenship. Modi's rhetoric, meanwhile, has both incited Hindu violence around the country and inflamed tensions with Pakistan, a mostly Muslim country and India's neighbor."
"Isn't it curious that the Microsoft Board can just bribe world leaders through a fake 'charity' and the sole scandal the press can see is something to do with Kashmir? And somehow child porn being found in Bill Gates' home as well as strong ties to Epstein have led to not a single call to "remove Gates"?"Sabah Hamid has meanwhile published (3 days ago in the New York Times) "Why I Resigned From the Gates Foundation" and her reasons are politics, not the bribery. To quote: "Along with other staff at the India office of the Gates Foundation, I first heard about Mr. Modi being considered for the award a few months ago. I did not realize that the decision had already been made. It took me until early August to raise my questions, but I saw very quickly that the foundation had taken the decision and considered it irrevocable. That this endorsement of Mr. Modi would not do the Gates Foundation any good did not seem to be up for discussion."
Isn't it curious that the Microsoft Board can just bribe world leaders through a fake 'charity' and the sole scandal the press can see is something to do with Kashmir? And somehow child porn being found in Bill Gates' home as well as strong ties to Epstein have led to not a single call to "remove Gates"? █
Permalink

Send this to a friend