11.14.19
Gemini version available ♊︎
2015: Battistelli's Furious Love Affair With French Power: Part V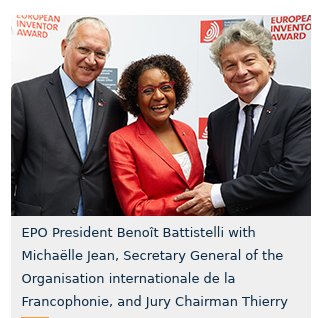 EPO and Thierry Breton: "Outstanding inventors from France, Germany, Ireland, Netherlands, Switzerland and the US honoured with European Inventor Award 2018″ (warning: epo.org link)
Summary: EPO scoundrels such as Battistelli are closer to Breton than most people care to realise; Breton is hiding part of his career ahead of today's grilling
FRENCHMEN in charge of the European Patent Office (EPO) cannot escape the connection to Mr. Breton, whose employment history exposes many overlaps (patent trolls, the largest and most controversial French telecom and so on). Frenchmen António Campinos and Battistelli are very much familiar with Breton. They're from the same "elite club" for lack of a better analogy…
EPO workers tell us "About the EPO and Thierry Breton…"
They certainly seem to be well aware! Remember the many scandals associated with the event shown above (we wrote dozens of posts about these). "EPO President Benoît Battistelli with Michaëlle Jean, Secretary General of the Organisation internationale de la Francophonie, and Jury Chairman Thierry Breton," says the caption. Thierry Breton is clearly shown in the picture, but he is not mentioned in the text except this caption. This is one of those Battistelli photo ops which may prove costly in the future (like Benalla) because we have an ongoing series which will highlight the Breton-Battistelli relationship.
"Update to the Thierry Breton story" has meanwhile been sent to us by authors of the Breton series. It's proving to be very timely.
---
Recent events are increasing the relevance of the exposé.
Yesterday, Tuesday 12 November 2019, Breton scraped through a preliminary examination of his financial and business affairs in the European Parliament, in a tight vote that sets the stage for a tough confirmation hearing on Thursday.
According to the Financial Times, the European Parliament's legal affairs committee approved Mr Breton's financial declarations on Tuesday with 12 votes in favour and 11 against — narrowly clearing him for a confirmation hearing with MEPs in order to become Brussels' new single market and industry commissioner.
Breton's affairs have been under sharp scrutiny from MEPs. He most recently served as the chief executive of software giant Atos and resigned from all his corporate jobs to take up the Brussels role.
Despite having cleared one of his toughest hurdles on Tuesday, MEPs warned that Mr Breton would be subject to an intense grilling from left and green parties over his financial ties to the tech sector, which he would be in charge of regulating if he is confirmed in the commission job.
The next hearing takes place on Thursday, 14 November 2019, when the three new Commissioners-designate Olivér Várhelyi, Adina-Ioana Vălean and Thierry Breton will face three-hour hearings in the EU Parliament.
Details can be found here:
Hearings of new Commissioners-designate
Commissioner hearings: Várhelyi, Breton, Vălean to face MEPs' questions
The Breton hearing can be followed live here:
Hearing of Thierry Breton, Commissioner-designate, Internal Market, 14 November 2014, 13:00 – 16:00 CET.
Hearing of Thierry Breton, Commissioner-designate, Internal Market
The following documents are available on the EU Parliament website:
One curious detail here is that in his CV Breton has omitted any mention of the fact that directly after leaving his position as Minister for the Economy in June 2007 he took a job as a "senior advisor" at Rothschild & Cie Banque for about a year before he moved to Atos.
His stint at the Rothschild bank is no secret as it was widely reported on in the French press at the time:
Thierry Breton devient « senior advisor » chez Rothschild | Les Echos
Thierry Breton rejoint la banque d'affaires Rothschild
His involvement with Rothschild & Cie has also been mentioned in recent media coverage of his nomination as EU Commissioner.
UE : Macron avance le nouveau pion Breton
Thierry Breton, Emmanuel Macron et les patrons
"This would not be Breton's first spin through the revolving door between private and public, between regulated and regulator. He had already previously been plucked from France Telecom (now Orange) in 2005 to become France's Finance Minister. He stayed in this role for two years. Directly after leaving he took a job at the Rothschild Bank as a senior advisor and within one year he was appointed CEO of Atos."
Thierry Breton, the corporate commissioner? | Corporate Europe Observatory
"In 2010, when Atos announced it would acquire Siemens' IT unit, it was a 32-year-old Macron at Rothschild who advised Breton on the deal. Before Breton joined Atos in 2008, he too worked part-time for Rothschild, where he was part of a team of three senior advisers that included the chairman of Rothschild's German branch, Klaus Mangold, who sat on the board of directors of Alstom from 2007 to 2019."
Macron strikes back with his champion of champions – POLITICO
So it's a bit of a mystery as to why Thierry hasn't seen fit to mention this in the CV he submitted to the EU Commission.
Is he trying to hide something? █
Permalink

Send this to a friend