11.17.19
Gemini version available ♊︎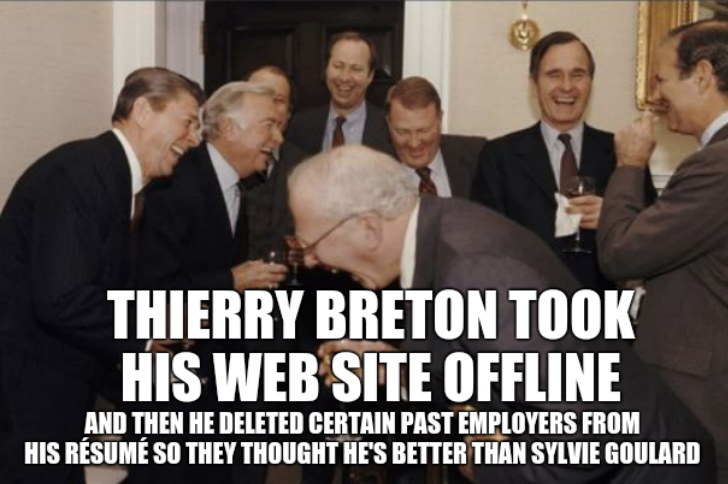 Summary: Nobody is particularly impressed by Thierry Breton except those who know little about him (and he contributes to this lack of knowledge by obstructing, omitting, and misleading)
THE Breton series is ongoing and can be published in full by month's end. No matter if he's put in power or not (it seems likely), we need to know just what we're dealing with. There are two many problematic connections and people are noticing these.
"Commissioner-designate Thierry Breton is not fit for office," said this account in Twitter on behalf of Left MEPs, as "Breton failed to assuage MEP fears about conflicts of interest. We won't support him for the Commission." Here is their full statement:
Commissioner-designate Thierry Breton is not fit for office, Left MEPs conclude after a disappointing hearing today.
The former CEO of Atos, and France's second nominee after Parliament rejected Sylvie Goulard, will be in charge of a portfolio that largely overlaps with the areas of operation of his previous job.
Breton failed to assuage MEP fears about conflicts of interest.
The Commission's Code of Conduct requires a two-year "cooling off" period when Commissioners leave their post yet no such requirement is being asked of Breton in reverse, fuelling accusations of revolving doors.
MEP Manuel Bompard (France Insoumise, France) spelled out what a Breton Commission would mean if the rules were followed:
"Atos received EU money and is a dominant player in the digital market, so Breton should recuse himself entirely from decisions related to digital issues.
"Atos has helped set up a highly questionable tobacco traceability system for the benefit of tobacco companies, so Breton should recuse himself from the revision of the tobacco directive.
"Atos manages access to the data of the EU's Copernicus programme, so Breton should recuse himself from decisions related to the space programme.
"In sum, his conflicts of interest would prevent him from delivering on his own portfolio. Unless he wants a fictitious job as France's Commissioner, he should not become one."
MEP Kateřina Konečná (KSČM, Czech Republic) echoed these concerns:
"The biggest problem with Mr. Breton is his obvious conflicts of interest.
"Someone who has worked for a company that is a direct beneficiary of numerous EU programmes should not be responsible for decisions about the allocation of these resources. Especially not in the field of EU defence and security," she concluded.
"Breton is the subject of a complaint by @anticor_org for favoritism," they added. "He and his chief of staff would have weighed in awarding Atos huge public contracts in connection with the management of speed cameras. The two men then became No. 1 and No. 3 in the group."
Atos also killed a lot of people. We'll cover this soon. Thierry Breton is hugely problematic for so many reasons; he has blood on his hands and putting him in charge (inside the EU) would merely cause or instigate more 'exits'. He's a symptom of what people dislike about the EU.
Another group of politicians (EPP Group) wrote: "State-owned economies like China, which buy strategic EU industries and technologies, need to be tackled. Will Thierry #Breton pursue 'EU champions' policy' in that regard?"
"Very clear that Breton is going through," Dave Keating wrote. "The contrast between his hearing and Goulard's is striking. Everyone, including S&D, has held their fire. Only tough questions came from far left. Once again showing these confirmation hearings are all about theater, not about substance."
Don't mind the corpses around this man. Don't mind the scandals. Breton is facing "tough questions [...] from far left" (whatever that means, sounds like "far right" with a slant).
"On a Greens' question related to personal data protection," a 'Pirate' wrote, "Commissioner-designate Thierry Breton implied today that citizens should be able to sell their data. No indication that personal data protection is crucial in the digital era. That is a confusing answer at best, isn't it?"
Breton promoted Google's 'surveillance capitalism' in Europe; it's in his personal site/blog, which he took offline. We've made a copy of some titles of text. Had he kept his site online, people would see that Breton promoted Google.
"Hearing with Thierry Breton," wrote another person. "Will EU digital policy be credible in spite of Breton's revolving door issue? Are we giving grounds to the US and China to cast doubts about the commissioner favouring his former company and potential European champion #Atos?"
"When I mention the conflict of interests it is not to attack you. It is about democracy," one question is quoted.
Breton is, according to his personal site, a fan of Milton Friedman, i.e. against democracy and for that concept of "corporate globalism" (the market will just 'take care of itself').
Breton's conflict of interest goes way beyond just Atos and according to this Greens' MEP "seeks clarity about how #Breton will manage conflict of interest on digital matters with @Atos. "I am not taking a step away from the sector as a whole", TB. He says he has no "vested interests". Can you really erase years as CEO of a multinational just like that?"
This is a quote from Corporate Europe, which recently wrote:
Breton, head lobbyist

As the CEO of Atos, Breton himself was often at the forefront of its activities to influence EU policy-making. He has twice met with President Juncker to advocate Atos' positions – quite a privilege as President Juncker logged a relatively low number of meetings in his whole mandate. Breton's social media also shows that he met with then Vice-President for the Digital Single Market Andrus Ansip and Digital Economy and Society Commissioner Mariya Gabriel.
Benjamin Henrion has taken note of Yann Dietrich, head of patents at Atos, who 2 days ago appeared with the state-backed patent troll "France Brevets". To quote him (French): "[BCF Global] « Il faut se défaire de cette idée reçue selon laquelle la #propriétéintellectuelle est un centre de coût. Chez OVHcloud, nous avons pris le sujet très au sérieux et déposé plus de 50 #brevets en 18 mois pour sécuriser notre croissance » Audrey Plantureux d'OVHcloud, Guillaume Ménage de France Brevets, Philippe Therias et Yann Dietrich d'Atos discutent des perspectives de d'entreprises en #croissance lors de l'événement #BCFGlobal à Paris. #PI #startups"
"Independency is crucial for making the European Union fit for the digital age," wrote another person. "It would be better to give the digital portfolio to an other commissioner."
The unfortunate thing about Breton's record is, most tweets about it are in French and the same goes for articles (such as this one). So many people in the EU do not and cannot know what's wrong with this candidate. He has large ego. "We need large companies" he said. It's all about money.
Taking stock of the Rothschild bank stint, Henrion also mentioned [1, 2, 3]: "Macron did the deal for Breton's company to acquire Siemens division #breton #macron #revolvingdoors [...] Siemens: Macron did the merger deal for Breton when he was at Rothschild [...] Rothschild and Macron did the merger deal for Breton's company Atos to acquire Siemens division #breton #macron #revolvingdoors #rothschild"
Breton and Macron worked for the same bank and people. Now Macron recommends Breton, yet only Breton removed that from his CV, as we noted the other day. He did this ahead of the hearing and people have noticed. His site is offline. The omission from the CV is deliberate deception; he should be disqualified for lying. Breton is a longtime liar. He also lied as a politician when asked about the scandals under his watch (and Techrights will publish more about this throughout the weekend and next week). As Henrion noted: "Breton says he does not like to the term 'champion', that is not consistent with his article that vanished from his website: https://web.archive.org/web/20191024093705/https://thierry-breton.com/en/lets-build-european-internet-champions/ …"
There's some more in his site, as Henrion noted [1, 2, 3, 4, 5]: "Breton wants to create Internet Champions https://web.archive.org/web/20191024093705/https://thierry-breton.com/en/lets-build-european-internet-champions/ […] Breton wants to create European Google sized companies, probably lots of public money will be wasted "we prioritise the emergence of European Google-style companies" https://web.archive.org/web/20191024093705/https://thierry-breton.com/en/lets-build-european-internet-champions/ […] Breton Big Companies Delirium is here: https://thierry-breton.com/en/lets-build-european-internet-champions/ … Website under maintenance (hmm the day of the EP hearing), but http://archive.org has only one copy dated of 24 oct 2019: https://web.archive.org/web/20191024093705/https://thierry-breton.com/en/lets-build-european-internet-champions/ […] https://thierry-breton.com/ is down for maintenance #breton What does not want to hide? That's a bad start for a "data" leader [...] http://Archive.org has a backup of Breton website: https://web.archive.org/web/20181210015724/https://thierry-breton.com/fr/ …"
So he's good at making information vanish and contrariwise putting online what ought not be there. One person recalls: "In a set of 30 pages, Thierry #Breton answered MEPs' written questions (a good evening reading). But his first answer sounds somewhat ludicrous if put in parallel with @NikolajNielsen's recent investigation on #Atos (an even better reading actually): https://euobserver.com/justice/146476 pic.twitter.com/5lbwvBZp4A" (also via)
It's an older article entitled "Breton's firm hosted unlawful copy of EU police data" and to quote from it:
Atos, the company recently led by France's choice candidate for European Commissioner, hosted unlawful partial copies of EU police data on behalf of the United Kingdom.

The firm's now former chief executive, Thierry Breton, is slated to head Europe's industrial policy following his nomination to the commissioner post, a move recently approved by European Commission president-elect Ursula von der Leyen.

A confidential document obtained by EUobserver lists years of abuse by UK authorities in the way they handle the Schengen Information System (SIS), an EU-run database used by police to track down undocumented migrants, missing people, stolen property, or suspected criminals.
Although not a member of the passport-free Schengen area, the UK has been granted restricted access since 2015 on the premise it would respect the rules.

Despite this restricted access, the UK carried out over 514 million SIS queries in 2016, the second-highest among all EU states.
"Regardless of the outcome of Thierry Breton's hearing today," one person remarked, "the EU confirmation process for Commissioners is flawed and must be rethought #breton #vonderleyen #ThierryBreton https://twitter.com/alemannoEU/status/1194315993574780929 …"
Another one said: "Commissioner-designate @ThierryBreton committing not to touch the intermediary liability exemption in the forthcoming #DSA #EPhearings2019
"Breton does not mention the term of 'European champion'," said this third person, "but mentions the need to support the industry in strategic sectors… everything is about semantic after all."
He has meanwhile taken his site offline to hide all the terrible things he said and did; "obstruction" is what they call it in the US when Trump and his enablers do the same.
We will separately deal with patent aspects. █
Permalink

Send this to a friend