11.19.19
Gemini version available ♊︎
Overview
Understanding Thierry Breton
Part 1: In the Beginning...
Part 5: Chirac's Entrepreneurial "Joker"
You are here ☞ Part 8: Insider-Trading Scandal at EADS
Part 9: Noël Forgeard and His "Golden Parachute"
Part 10: What Thierry Did Next…
Part 11: Atos Healthcare – "The Ugly Face of Business"
Part 12: Thierry and the $100 Billion Man
Part 13: Socialising With the Elite
Part 14: More Influential Friends in High Places
Further parts pending review and research
---

EADS insider-trading scandal – Thierry Breton appears before a Senate Committee (October 2007)
Summary: Although Breton was not directly implicated in the insider trading scandal itself he did come under fire in 2007 for the role he played in a side-show to the main story, namely the payment of a generous € 8.5m severance package to Noël Forgeard when the EADS co-CEO was compelled to resign in June 2006.
The European Aeronautic Defence and Space Company (EADS) NV (now Airbus SE) is a European industrial conglomerate created through the merger of Daimler Chrysler Aerospace AG, Aérospatiale Matra, and Construcciones Aeronáuticas SA (CASA).
The new Netherlands-registered company, EADS N.V., came into existence in July 2000. It had two sets of CEOs and chairmen to represent France and Germany, as well as head offices in Paris, Munich, and Madrid. The company's official language was English.
EADS had about 90,000 employees at the time of the merger. EADS was the third largest aerospace company behind Boeing and Lockheed Martin. The company was a market leader in helicopters, missile systems, and space launchers and a showcase example of European industrial co-operation.
In June 2006, a major political scandal erupted over allegations of insider trading at EADS.
According to media reports, the French joint CEO Noël Forgeard sold 162,000 EADS shares in March 2006, shortly before the official announcement that delivery of the A 380 superjumbo aircraft manufactured by EADS subsidiary Airbus would be delayed causing the share price to nosedive by 26%. Forgeard was reported to have made a profit of some € 2.5 million on the sale. In addition, his children sold 128,000 EADS shares several days after he did, and made more than € 4.2 million profit.
An EADS spokesman said that the share trading by company executives was "fully in line with EADS regulations" and Forgeard insisted he had no "privileged information" before the sales, describing the timing as an "unfortunate coincidence".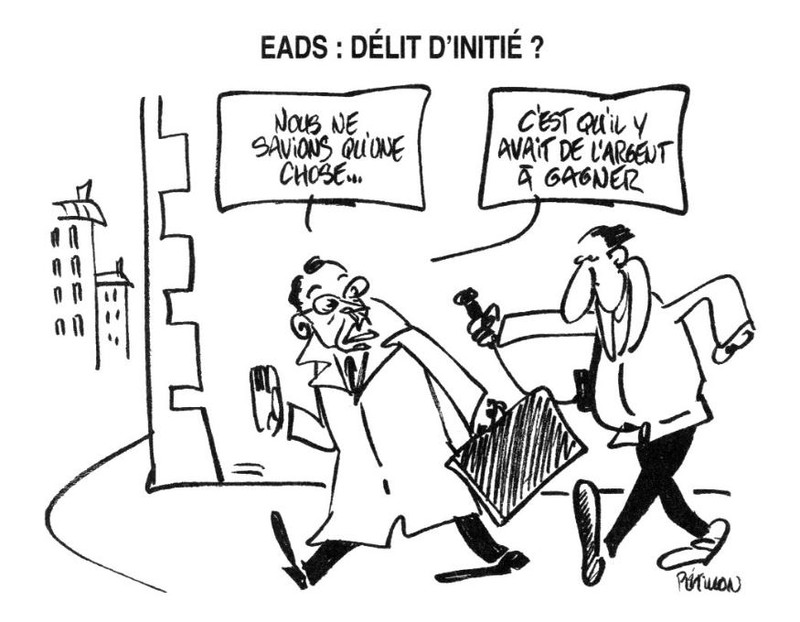 Insider trading at EADS? According to Noël Forgeard:
"We only knew one thing … that there was money to be made!"
The scandal grew as it emerged that EADS' main shareholders, Germany's Daimler AG and France's Lagardère SCA, had sold shares worth 7.5 % of the EADS total unexpectedly early in April 2006. It was alleged that Daimler and Lagardère executives had known about the A380 problems from the time of the decisive executive board meeting on 7 March 2006.
After the affair became public, the French financial markets regulator Autorité des Marchés Financiers (AMF) opened an investigation into 17 executives at EADS as well as EADS itself and the main shareholders Daimler AG and Lagardère.
Forgeard resigned as joint CEO of EADS on 2 July 2006 due to criticism over the alleged insider trading and after it had become apparent that delays in the Airbus A380 superjumbo program would have a severe financial impact on EADS.
In May 2008, it was reported that Forgeard, had been detained by French police on suspicion of insider trading.
Following a three-year AMF regulatory probe which had named 17 EADS and Airbus executives as suspects, in July 2009 the chief investigator narrowed the list down to seven people suspected of selling shares illegally in the period 8 to 21 March 2006:
Noël Forgeard, former joint CEO of EADS;
Jean-Paul Gut, a former Deputy CEO who oversaw strategy;
John Leahy, Chief Airbus salesman;
Andreas Sperl, Director of the EADS site in Dresden;
Olivier Andries, a former EADS Vice-President;
Erik Pillet, HR director; and
Alain Flourens, in charge of training centers.
Heavy fines were recommended against the seven executives and against EADS its corporate shareholders, Lagardère SCA and Daimler AG.
After a hearing in November 2009, the AMF formally cleared the accused executives as well as EADS, Daimler and Lagardère.
Colette Neuville, head of minority shareholder association ADAM, called the AMF decision a "veritable scandal". She told the press: "This will have a catastrophic effect on public opinion. Keep moving, there is nothing to see here – that is what we are being told".
In the meantime, the parallel criminal investigation continued and in December 2013 a Paris court ordered the opening of criminal proceedings against the seven executives suspected of insider trading, along with Daimler and Lagardère.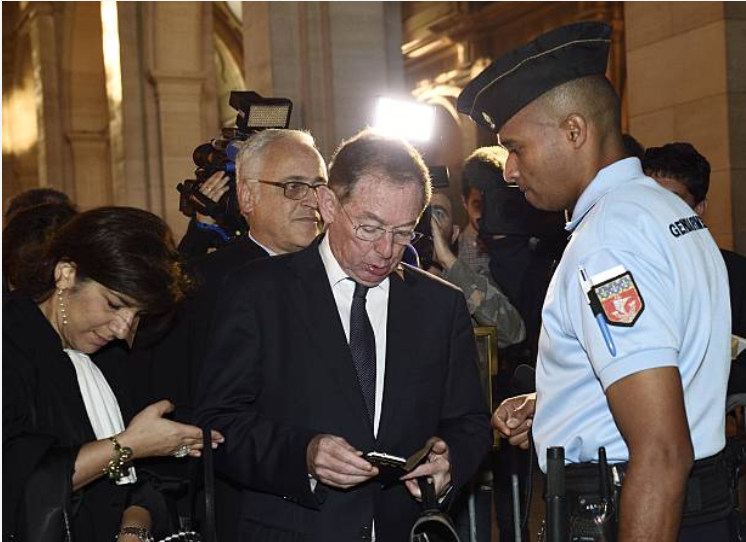 Noël Forgeard, at the Palace of Justice in Paris (December 2013)
In May 2015, the case was dismissed following a decision by France's Constitutional Court which found that because the defendants had been cleared by the AMF in 2009 they could not be tried again as this would breach the double jeopardy rule.
The dismissal of the criminal prosecution drew a line under a turbulent period at EADS/Airbus which had been marred by acrimonious management disputes, multi-billion-euro cost overruns and political tensions between the French and German governments, both of which held stakes in the aerospace group.
Not only did the disgraced former co-CEO Forgeard fail get to grips with the company's production problems in a timely fashion, his aggressive attempts to wrest control from German management exacerbated national tensions.
Much later, in March 2011, an analysis of the Wikileaks cables revealed that Forgeard was regarded by his German colleagues as an "over-ambitious maniac".
Questioned by an investigative Committee of the French Senate in October 2007, Thierry Breton – who had been Minister for the Economy at the time – declared that the government was "beyond reproach" in the affair. He claimed to be "shocked" by insinuations that the government could come under suspicion of having a hand in the alleged irregularities.
Breton stated that in January 2006, he read a note by the public Agency for State Shareholdings, recommending that the French state reduce its own stake in EADS as the company would soon enter "a zone of turbulence". However, for "strategic reasons", he decided not to follow its advice. He also insisted that this note contained no new information about the delays to the A380, but was based on an independent evaluation of the situation. The government, he added, played no part in subsequently getting the state-owned CDC to buy part of the Lagardère shareholding in early April 2006. The state itself, Breton recalled, never sold any of its own shares in EADS.
Philippe Marini, the Senate finance committee rapporteur, said that he found Breton "transparent" and "honest" but "not convincing" about the role of the state. François Chérèque, Secretary-General of the French Democratic Confederation of Labour (CFDT), was less charitable: "either he's lying, or he's incompetent".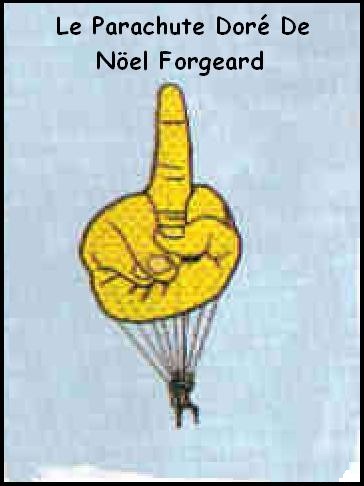 Noël Forgeard's "golden parachute" caused public outrage.
Although Breton was not directly implicated in the insider trading scandal itself he did come under fire in 2007 for the role he played in a side-show to the main story, namely the payment of a generous € 8.5m severance package to Noël Forgeard when the EADS co-CEO was compelled to resign in June 2006.
We will look at the "golden parachute" affair in the next part. █
Permalink

Send this to a friend