11.28.19
Gemini version available ♊︎
With or without courts getting involved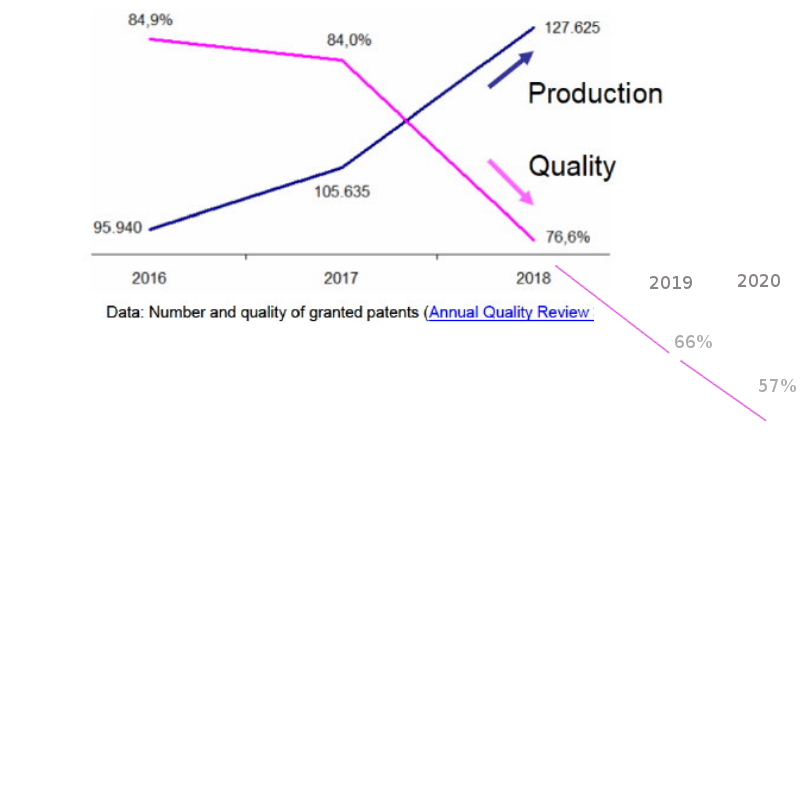 What good are patents granted in error?
Summary: The European Patent Office (EPO), confronted or challenged by courts that the EPO does not control, sees many of its newly-minted patents thrown out, reducing confidence in the whole system
EACH time an Invalid Patent (IP) gets granted there's an opportunity for a law firm to make a buck (or euro), if not from application/renewal fees (shared with the patent office) then from frivolous litigation as well. But each such IP (we intentionally twisted this acronym) also harms the image of the office and the law firm. What kind of legal advice are they giving clients/applicants? This is a crisis in the making (early signs of which are nowadays seen and are increasingly visible in the United States).
"It is inevitable, as we've warned for a number of years, that many European Patents (EPs) will become IPs."We're not against patents; we're for patent quality. We insist that patents should exist only in domains where their contribution to science/economics are undeniably provable. Yes, it's about progression and advancement of human knowledge — something that monopolists have long opposed (as it is a form of disruption to the status quo they strive to perpetually exploit).
It is inevitable, as we've warned for a number of years, that many European Patents (EPs) will become IPs. If the largest patent-granting authority in Europe strives to just fake 'production' by granting loads of IPs, not only will support for this second-largest European institution diminish; it harms the EU's reputation/credibility as well. It thus becomes a threat to peace, too.
Sara Moran has just commented on the British Court of Appeal looking into an IP:
Therefore the Court of Appeal was entitled to interfere with the trial judge's assessment of obviousness and to hold that the 181 patent was invalid for lack of inventive step because the skilled team, during routine testing, would have been very likely to have come upon the dosage regime which is the subject matter of the patent.
Why was this patent granted in the first place? Appealing cases to the Court of Appeal (or higher) is unbelievably expensive. Many would have given up before that or never bother with a court battle, instead settling over IPs (patents of no real legitimacy).
"Why was this patent granted in the first place?"But the above case is sadly enough becoming the norm. Earlier this year we covered similar outcomes, even at higher level (the highest possible level). Will EPOnia heed the warning? Of course not! That would be bad for 'production'…
The following new article/press release from FreshPlaza says that the "Boards of Appeal for the European Patent Office (EPO)" (since it's besieged and terrorised by Office management, by its very own admission, can it overrule Office management?) has just restored a likely bogus/fake/invalid patent in defiance of the Opposition Division's findings. To quote:
On November 13, 2019, the Boards of Appeal for the European Patent Office (EPO) reinstated Houweling's European patent directed to its Ultra-Clima Semi-Closed Greenhouse. The Ultra-Clima European Patent was opposed by eleven greenhouse manufacturers, who combined efforts to challenge the patent. The Opposition Division of the EPO originally proposed revocation of Houweling's European patent. Houweling disagreed with this finding and appealed the decision to the Boards of Appeal for the EPO. The Boards of Appeal reversed the proposed revocation and finally upheld Houweling's patent. The Boards of Appeal found that Houweling's patent meets all formal requirements of the EPO, and claims subject matter that is both novel and involves an inventive step. Houweling's European patent covers most major countries in Europe.
What's also noteworthy here is that the patent is a monopoly that decreases (limits/bans) access to something that's needed to save humanity from catastrophe. Are such patents even desirable (irrespective of whether they're valid or not)?
We've also just seen this new report from pv magazine International about fake patents granted by the EPO in the area of solar energy:
The European Patent Office has revoked SolarEdge's inverter multi-level topology patent and the Israeli company said it intends to challenge both decisions.

[...]

On November 19, Mannheim Regional Court ruled Huawei had not committed patent infringement in relation to one of the two claims, and a court representative has told pv magazine the second case will be heard by January 7. "The judge declared that Huawei did not infringe on the patent relating to optimizer and inverter architecture and dismissed SolarEdge's lawsuit directly," announced Huawei in a statement this morning.

The European Patent Office (EPO) on Thursday responded to a patent opposition case lodged by Huawei against SolarEdge in relation to inverter multi-level topology. "The EPO decided that the SolarEdge patent did not involve an inventive step and the grant of the patent is revoked," the Chinese manufacturer said.
So much for "green tech" patents, eh? PV-Tech's report has said that "German court rules against SolarEdge in Huawei patent infringement case"
So the EPO granted fake patents (monopolies on climate change mitigation techniques) and only lawyers benefited from pointless wars that courts deem fruitless and baseless:
Inverter manufacturer SolarEdge has been dealt a double blow after patent infringement proceedings brought against rival Huawei were thrown out and a European patent held by the firm was revoked.

However, in a statement released today, SolarEdge has confirmed its intent to appeal against the decision.

Last week, Mannheim Regional Court in Germany heard two particular cases brought forward by SolarEdge against Huawei, claiming that the Chinese tech giant infringed on its patents relating to its multi-level inverter topology technology, dubbed HD Wave.

It stems from an original complaint filed with the court last summer, vigorously denied by Huawei at the time, that called for a recall of products infringing on that patent.

But following proceedings heard on 19 November 2019, one infringement claim was dismissed and another deferred.
Imagine how much financial damage (to the firms involved) was caused. No, not the law firms; they always profit from disputes.
"Notice how they're speaking only to patent and litigation firms in articles about patents (or citing EPO management). That is like speaking only to oil companies in articles about climate."Who does this EPO policy really benefit? Not SMEs, that's for sure; they're harmed the most, but the EPO won't let such 'pesky' facts get in the way. Yesterday a site called Bdaily repeated lies of the EPO, manufactured and paid for by EPO management to mislead the European public. To quote one bit (it's mostly copy-pasted stuff from lawyers' mouths): "The report acknowledges that European SMEs have been responsible for some important inventions in diverse fields such as pharmaceuticals, medical technology, clean energy, electronics and computing. Due to their lack of resources however, many SMEs opt to exploit their inventions through collaborations with partners."
Notice how they're speaking only to patent and litigation firms in articles about patents (or citing EPO management). That is like speaking only to oil companies in articles about climate. The EPO's sheer disdain for truth was mentioned here yesterday. It's a threat to sustained human existence, not just to "business" (which isn't the same thing; without humans there's no "business" and no "economy"). █
Permalink

Send this to a friend