01.01.20
Gemini version available ♊︎
Big mother (or Big Brother) is watching… everything you say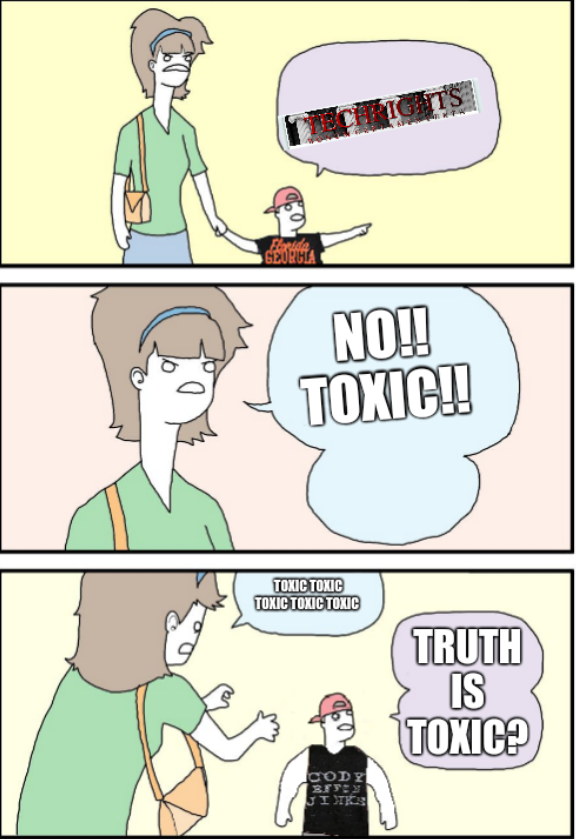 Summary: We're back to the same old conundrum: what is more toxic? Oppressive censorship (of truth)? Or the expression of 'unwanted' speech?
LWN has just (about 2 hours ago) removed the paywall from this article entitled "A year-end wrap-up from LWN". I couldn't help but notice this rather disturbing paragraph from the editor himself (Jonathan Corbet). About the Linux Foundation's code of conduct (CoC) it says this: "Did somebody try to test out the kernel's code-of-conduct as predicted? As of November 30, there had been no code-of-conduct events in the last three months, and only minor events before. That prediction, happily, has not worked out. Thus far, it seems that the code of conduct may actually have succeeded in making the kernel community a nicer place without the need for any serious enforcement efforts."
Putting aside the recent ban of a "MAGA" hat-wearing person (banned from Kubecon), let's examine closely what the above actually means. We're supposed to count the CoC as an achievement not because it's actually being used but because people are afraid of it — they're afraid to speak out. Those are the classic hallmarks of authoritarian regimes. Hardly an accomplishment!
An anonymous Debian community site wrote this yesterday (it's already in our Daily Links by the way). We'll reproduce a portion below again, for those who aren't keeping abreast of Daily Links:
Over the past twelve months, concerned developers have spoken out publicly about blackmail in Debian. It has been referred to as analogous to Thought Reform, the brainwashing programs of the totalitarian Chinese communist state and many former eastern European communist dictatorships.

The regime operating this program are the Debian Account Managers, comprising Enrico Zini, Joerg Jaspert and Jonathan Wiltshire.

Using the public complaints about the process, let's break it down into easy steps. Like Zini, Jaspert and Wiltshire did at Christmas 2018, you could make this into a holiday project and start your own regime during a long weekend.

Begin with the conclusion

Normally, an expulsion or imprisonment comes at the end of an inquiry or investigation. In a blackmail program, the process is reversed.

In Debian's case, this involves removing somebody from the Debian keyring. This is something that is relatively easy for Zini, Joerg and Wiltshire to do using their position in the project.

Add something menacing

For some developers, simply removing them from the keyring can cause immediate problems with their employment as they can no longer upload packages to Debian if they are not included in the Debian keyring. Without saying any more, Zini, Joerg and Jaspert now have the victim's full attention.
This is about Debian, where there seems to be a(n anti) "free speech" cabal that gags people for questionable reasons; it's to do with Google money, politics and social justice causes. In the case of the Linux Foundation it's somewhat worse because the speech policing is done by people who do not use Linux. Sure, they run "Linux Foundation" and "Linux dot com" and so on. But they don't even use GNU/Linux; they don't understand the users and the community, only corporate agenda (of corporate sponsors). So they're in effect like a Ford CEO who drives a Japanese car around, insisting even in public that it is superior. They tell us free speech is dangerous and are adamant — even eager — to suppress any views that don't suit their career goals. This is a recipe for total chaos; we already saw what that did to the FSF. Watch closely the LWN comment (on the above article) which says: "Recently I received issue 35 of the FSF Bulletin. (Not yet available at https://www.fsf.org/bulletin .) My copy has already been recycled but it struck me Stallman wasn't mentioned even once. Surreal."
If FSF did this consciously, what does that say about today's FSF? As we said months ago, several times in fact, there cannot be software freedom without freedom of speech; those two principles are closely intertwined. It has been reported and proven that the FSF even censors its mailing lists (e.g. messages in support of Stallman!). █
Permalink

Send this to a friend