01.23.20
Gemini version available ♊︎
The greenwashing efforts (as seen earlier this month in shallow 'media' that's nowadays more like a glorified PR apparatus) are a cynical ploy at best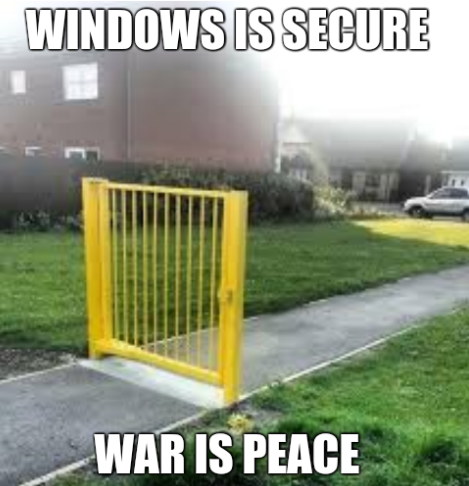 Summary: Microsoft (connected to oil companies) wants us to think of it as a "green" company; not only does it contribute to climate denial but it also evades tax, which is a serious crime that costs tens of billions of dollars (the public pays this money instead)
WE have been covering Microsoft here since 2006 (I had written a lot more about it since the 1990s). It's no secret that Microsoft lies a lot about a lot of things, including its stance on the environment (we recently published "Microsoft is a Market Leader in Lying and Corruption"). Remember that both Microsoft and Bill Gates financially backed ALEC, as we noted here a long time ago. Microsoft subsidises big polluters and Bill Gates is best friends with them.
Over a decade ago we wrote about ALEC, about BP, and a lot about other environmental concerns. Microsoft very often shows up as a major facilitator. Recently there was whistleblowing at Microsoft about its close relationship with oil companies that drill the seas and cause unbelievable environmental damage.
"The people at Microsoft sometimes believe these lies! They're not too bright, it's like a cult to them."Wouldn't Microsoft want and even need a distraction from all this?
Notice how the media is nowadays painting Microsoft as "fighting patent trolls" (Microsoft passes to them lots of USPTO- and EPO-granted patents in order to attack Linux by proxy), painting Microsoft as protective of children (because Gates is closely connected to pedophilia on several levels), and saying that Microsoft is infatuated with minorities and women (the opposite is true, based on the track record and lawsuits). They keep telling us that Microsoft is "in love" with what it's constantly attacking in a variety of ways, e.g. GNU/Linux. The people at Microsoft sometimes believe these lies! They're not too bright, it's like a cult to them. This cult gives them salaries. Microsoft management or the company as a whole keeps calling itself 'Open Source company' while it is actively attacking Open Source, e.g. through GitHub, which is proprietary (Microsoft is then bribing the critics at GitHub, based on admissions they publicly make in Twitter).
As one GNU/Linux developer put it this week: "I'll believe "Microsoft loves Linux" when I see them support desktop Linux. For now it's very self-serving and entirely when is convenient. It doesn't count as an investment. It looks like just PR so it doesn't show that they're being dragged by the market, kicking and screaming."
This is to be expected from a company of criminals such as Microsoft. The crimes are harder to perpetrate when people are aware and forewarned.
For over a decade we wrote about Microsoft's long history of tax evasion worldwide; even whistleblowing from Microsoft itself explained all the pertinent details over the years. It's not a secret anymore. Almost a decade ago the IRS belatedly took on this issue, tackling Microsoft (connected to oil companies) and this new report reveals Microsoft's strategy. [via Benjamin Henrion]
"It's the biggest audit in IRS history," one person explained. "Of what has been the largest company in the world. It's taken over a decade. And it's still not done. And it's not going well for the gutted IRS."
They just try to make it too expensive for the IRS or to 'run the clock'…
Bill Gates bribed a lot of publications to focus on tax evasion of all companies other than Microsoft as well as his own tax evasion using a sham, bogus 'charity'.
Here are some of the details from this new article:
Eight years ago, the IRS, tired of seeing the country's largest corporations fearlessly stash billions in tax havens, decided to take a stand. The agency challenged what it saw as an epic case of tax dodging by one of the largest companies in the world, Microsoft. It was the biggest audit by dollar amount in the history of the agency.

Microsoft had shifted at least $39 billion in U.S. profits to Puerto Rico, where the company's tax consultants, KPMG, had persuaded the territory's government to give Microsoft a tax rate of nearly 0%. Microsoft had justified this transfer with a ludicrous-sounding deal: It had sold its most valuable possession — its intellectual property — to an 85-person factory it owned in a small Puerto Rican city.

Over years of work, the IRS uncovered evidence that it believed laid the scheme bare. In one document, a Microsoft senior executive celebrated the company's "pure tax play." In another, KPMG plotted how to make the company Microsoft created to own the Puerto Rico factory — and a portion of Microsoft's profits — seem "real."

[...]

It seems likely, given the size of Microsoft's Puerto Rico transaction, that the IRS in May 2011 had hit the company with a tax bill in the billions. But Maruca and Hoory thought the agency was thinking small.

Maruca told Microsoft the IRS needed more time, and in early 2012, the IRS withdrew its findings. By then, Hoory had taken leadership of the audit. He began sending new document requests to Microsoft, asking for more interviews and considering what other experts the IRS needed to round out its case. Over the next three years, he and his team amassed tens of thousands of pages and conducted dozens of interviews with Microsoft personnel. (Hoory, who still works at the IRS, declined to comment.)

The evidence they assembled told a story. It revealed how Microsoft had built a massive Rube Goldberg machine that channeled at least $39 billion in profits to Puerto Rico. It revealed a workshop of outside consultants, economists and attorneys who, as they had with other corporate clients, meticulously planned a structure that seemed to have a basis in the law, even if it violated common sense.

The documents showed that Microsoft had been caught red-handed, Hoory believed. Despite all their care in preparing for an eventual audit, the deal's architects had left damning evidence that, he thought, made it possible for the IRS to expose the sham.
So those who are rich and have prestigious lawyers (or external law firms) can just exhaust the resources of the IRS and get away with it, leaving the IRS to pick on poor and defenseless people instead. This is maladministration and a hallmark of corruption becoming the 'norm'. We recently mentioned how lots of Microsoft crimes all around the world resulted in only a tiny settlement. Nobody was arrested. This is the kind of atmosphere which encourages Microsoft to carry on with crime.
In order to keep people 'off its back' Microsoft kicked off a shameless greenwashing campaign. It started about a week ago and boiled down to nothing more than a blog post and some future (fictional) date with no commitments. Associates of ours thought it was intended to perpetuate the illusion of Microsoft existing for many years to come.
Media which Gates and Microsoft have bribes blindly parroted the talking points from Microsoft. This is why many people no longer trust the media.
CounterPunch wrote this rebuttal to it and published it on Tuesday. To quote some portions:
"This is a bold bet – a moonshot – for Microsoft."  So claimed Brad Smith, Microsoft President, in a Thursday announcement painting a picture of a company that intends to be carbon negative by 2030.  "And," Smith continued, "it will need to be a moonshot for the world."  That vision entails the removal of more carbon dioxide from the atmosphere than it emits.  By 2050, the company intends removing from the environment all carbon the company has emitted since its founding in 1975.

[...]

But much of this should not detract from the obvious point: Microsoft is happy to have a bit each way when it comes to how it finances its green image. The waters it bathes in are not always ecologically sound. While the company positions itself high on the soapbox of environmental purity, it is still a corporation governed by that traditional mix of predatory instinct and innate opportunism. In this, it shares a streak with Facebook and Google, two other entities who exude self-confidence in the illusion that they are principled, morals at the ready.

This point was made last year when it was revealed that all three companies sponsored LibertyCon, the annual conference for the Students for Liberty, a libertarian group. Both Microsoft and Facebook forked out $10,000 each as gold sponsors; Google went a grade better with $25,000, making the platinum grade.

This clutch of sponsors was not, in of itself, odd. But the three companies found themselves sharing a crowded platform with outfits distinctly against the science of climate change, showing how vast open tents can get rather muddy on the inside. One of those present was the CO2 Coalition, a group celebrating the virtues of carbon, and feels that it has been unduly demonised. Carbon, it lauds, "is essential for life." Available at the conference was a brochure from its good offices extolling the merits of greater quantities of carbon dioxide, explaining how that would improve "our lives and our planet Earth".

One of its members, retired statistics professor Caleb Rossiter, spoke at the gathering by insisting that, "There has been no increase in storms, in intensity or frequency. The data don't show a worrisome trend."
In short, Microsoft is the very opposite of what it claims to be.
ZDNet has also just published "Microsoft to forcibly install Bing search extension in Chrome for Office 365 ProPlus users," so anyone who still believes in the fictional 'new' Microsoft needs to wake up and follow the money. One might end up in some offshore tax evasion haven. █
Permalink

Send this to a friend