01.31.20
Gemini version available ♊︎
"Nice Linux you got there…"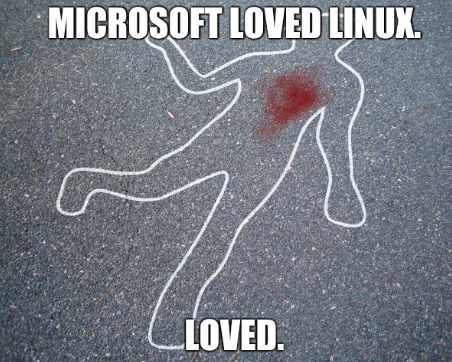 Summary: Microsoft's decades-long modus operandi has been forgotten by far too many (possibly unknown to the younger generation); it's worth reminding ourselves how it works
"The 'a b c' of Microsoft Innovation," a reader told us in relation to this story about Paul Stovell, has changed little or not at all.
"Paul Stovell still doesn't get it," the reader asserted. "This is precisely how the Microsoft playbook gets executed. These people have no moral compass; if they see the source, they'll just go ahead and steal it. Going way back, you'll find similar examples."
The reader outlines the 'a b c' as follows:
a. Partner with a company ("we'll pay you for every version sold").
"Sure, Microsoft has not formally partnered with every distribution, but it already has the Linux Foundation and the OSI in its back pocket. Canonical even hired staff to work for Microsoft."b. Get a close look at their original work.
c. Then bring out a 'free' version with Windows ("oh, we were just working on something similar").
Recall Alacritech's story. The Alacritech case is described as follows: "Alacritech alleges it provided Microsoft details about its offload technology under a nondisclosure agreement in September 1998…"
Then there's Avary v Microsoft: "Avary [...] claims he had a series of meetings with Microsoft in late 2002 and 2003 [...] Avary outlined his idea for a yoga game to them…"
Then, referencing Groklaw's Microsoft Litigation page, the reader emphasised that "we haven't even got past the 'A's :]" (Alacritech starts with an 'A', just like many others; more here from past years along with recent years)
WSL should strike a nerve too; similar strategy [1, 2, 3]. Sure, Microsoft has not formally partnered with every distribution, but it already has the Linux Foundation and the OSI in its back pocket. Canonical even hired staff to work for Microsoft. Novell did the same thing. █
Permalink

Send this to a friend