04.08.21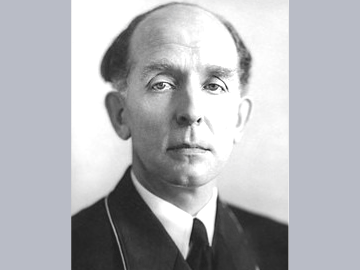 Summary: To suit a recurring theme at the EPO we hereby present Roland Lutz, a self-styled judge
Series index:
You are here ☞ A Faithful Lapdog Despised and Reviled by EPO Staff
Summary: "In any event, the "Nazi" jibes directed against Lutz seem to have triggered Battistelli who decided to take revenge on his perceived enemies inside the EPO by smearing them as "Nazis"."
Raimund Lutz was often regarded with awe and reverence by the more impressionable delegates of the Administrative Council.
However, within the European Patent Office itself he was almost universally despised and reviled among the rank and file of staff because of his perceived intellectual duplicity and moral vacuity.
"Raimund Lutz was often regarded with awe and reverence by the more impressionable delegates of the Administrative Council."He was frequently at the receiving end of anonymous letters from disgruntled EPO staff.
As reported by Techrights back in August 2017, in one such letter he was depicted in unflattering terms as a "Nazi Officer" allegedly in charge of the EPO's "Nazi Department".
This kind of vituperation seems misplaced because Lutz probably had more in common with the kind of morally compromised socialist apparatchik who flourished in the former East German Democratic Republic than with the jackbooted "Nazi Officers" of the Third Reich.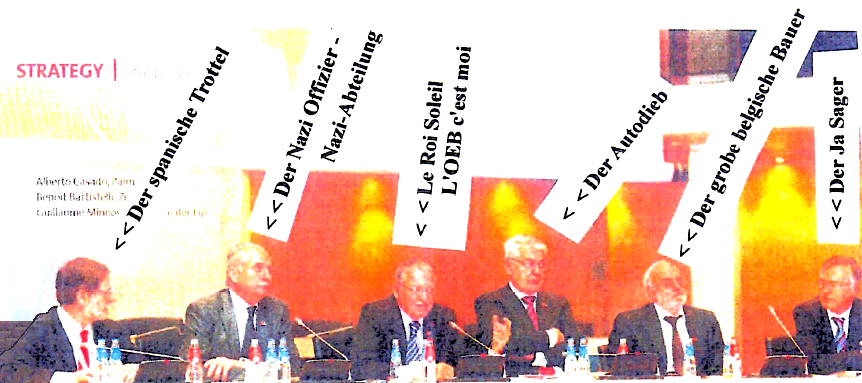 Sun-King Battistelli and his senior management team as seen through the eyes of disgruntled EPO staff
In any event, the "Nazi" jibes directed against Lutz seem to have triggered Battistelli who decided to take revenge on his perceived enemies inside the EPO by smearing them as "Nazis".
"In any event, the "Nazi" jibes directed against Lutz seem to have triggered Battistelli who decided to take revenge on his perceived enemies inside the EPO by smearing them as "Nazis"."What does not appear to be widely known about Battistelli is that he suffered from what has been called the "Vichy Syndrome".
Benoît Battistelli's father, Michel, spent the duration of the Second World War safely cocooned in his grandparent's house in Pradines (Department of Lot) in the territory of the Vichy State where he attended school at the prestigious Lycée Gambetta in Cahors.
Although several members of Battistelli's family in the paternal line, including his grandfather Georges Henri Léon Battistelli, served in the French military during the First World War, there is no record that any family member served in the French Resistance or in De Gaulle's Free French Forces.
As a matter of fact, it is known that Battistelli's grand-uncle Charles Robert Battistelli, a cavalry officer who died in 1937, was closely associated with the ultra-nationalist, pro-monarchist and anti-Semitic group Action française.
Action française was at its most prominent during the 1899-1914 period but it still enjoyed some prestige and support among conservative elites in the inter-war period. During the Second World War, Action française sided with the Vichy Regime of Marshal Philippe Pétain. This gives some idea of the political milieu in which Battistelli's family was embedded.
A full exposé of Battistelli's "Vichy Syndrome" would go beyond the scope of the present series but we hope to cover it in more detail at a later date. It is mentioned here en passant because it may help to explain the absurd theatrics which he indulged in by playing the role of the EPO's "Nazi-hunter-in-chief" in defence of Lutz.
Battistelli's actions in this regard seem to have been some kind of clumsy and deranged attempt to compensate in public for the private shame of his own Vichyist family background.
At any rate, it is clear that during Lutz's tenure as Vice-President of DG5 he enjoyed Battistelli's protection and favour as one of his master's most loyal and subservient chamberlains.
In addition to regular excursions to Saint-Germain-en-Laye to attend Annual Trilateral Conferences and other junkets hosted there by deputy mayor Battistelli, Lutz was also able to indulge in frequent foreign travel on "duty missions" to IP extravaganzas around the globe from Berlin to Beijing and beyond.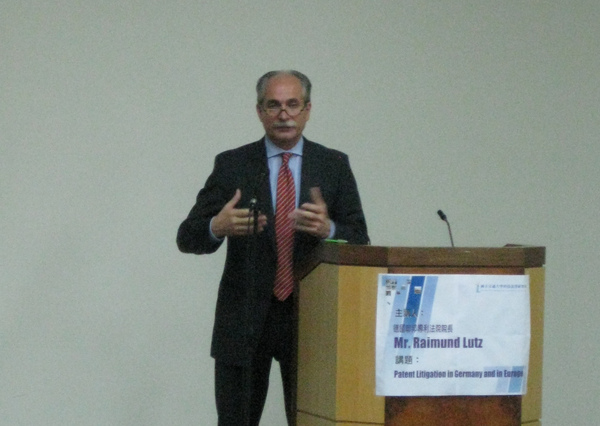 During his time as EPO Vice-President, Lutz was regular attendee at IP extravaganzas around the globe from Berlin to Beijing and beyond
Although Lutz had reached the statutory retirement age of 65 in 2015, Battistelli nevertheless prevailed upon the Administrative Council to grant him an extension (warning: epo.org link) to his original five-year appointment in order to allow him to remain at the EPO until the end of 2018.
"As Lutz departed from the EPO, staff were heard to emit an audible collective sigh of relief."And so it came to pass that at the end of 2018 Lutz sailed off into the sunset with a well-padded retirement package: a juicy public sector pension from the German state for previous service in the Justice Ministry and Federal Patent Court, supplemented by a generous "top-up" courtesy of the EPO's managerial compensation fund, in recognition of his seven-year stint as Vice-President of DG5.
As Lutz departed from the EPO, staff were heard to emit an audible collective sigh of relief.
However, their joy was tempered by the realisation that things were unlikely to change for the better as his successor entered the EPO premises via the organisation's notorious revolving door.
"In the next part we shall turn our attention to this second member of the Tweedledum-Tweedledee duo responsible for derailing the Federal Data Protection Commissioner's efforts to reform the EPO's data protection framework in 2015."That successor was none other than Dr Christoph Ernst who – by a curious coincidence – had previously succeeded Lutz as the head of the German delegation to the EPO's Administrative Council almost a decade earlier. Ernst soon became a lapdog of António Campinos, whom he had failed to oversee at the Administrative Council. A reward?
In the next part we shall turn our attention to this second member of the Tweedledum-Tweedledee duo responsible for derailing the Federal Data Protection Commissioner's efforts to reform the EPO's data protection framework in 2015. █
In the soft light of what looks like early morning or the fleeting minutes before sunset, a woman stumbles out of a brick-walled, vine-covered house and struggles to find her footing. Her friend, sitting on the front steps, catches her and ushers her into a cab. It's a familiar image of female camaraderie, but in Jacques Rivette's Céline and Julie Go Boating, from 1974, familiar feelings emerge from otherworldly contexts.

The stumbling woman is Céline (Juliet Berto); her friend, Julie (Dominique Labourier). This moment comes at the halfway mark of the sprawling 193-minute film, where, in the previous scenes, we've followed the daily lives of these Parisian women: Céline, a magician, and Julie, a librarian, meet, move in together, and frolic around the city and fool men. But then suddenly, their story is interrupted, depositing them into a possibly haunted mansion located at 7 bis, rue du Nadir-aux-Pommes, to which the two inexplicably keep returning. Here, cinematic hallucinations unfold, and afterward they are spit out from the house with bloody handprints on their bodies and a drug-like candy in their mouths, their memories foggy, left to piece together the happenings inside. In Proustian fashion, they ingest more of the candy to go deeper, not just into the mysterious house but into the corners of their shared dreams and memories. The closer Céline and Julie become, the more they "go boating" down their stream of collective consciousness. (The French title, Céline et Julie vont en bateau, is a pun; the phrase can also mean getting caught up in a story.) We also immediately get caught up in the women's relationship.

Arlo Parks's lyrics achieve what so many earnest, self-conscious adolescents aim for when they scribble solemnly in a journal, hoping to arrive at profundity by documenting the familiar confusions of youth. But while some teen diaries are heavy with self-indulgent melodrama, Parks is a quiet writer, and her observations tend to be plainspoken and disarming. "Let's go to the corner store and buy some fruit," she sings on "Black Dog."

The song, from her debut album Collapsed in Sunbeams, is a sincere message to a friend battling depression. "I would do anything to get you out your room / Just take your medicine and eat some food." Her work has a private tenderness to it, as if it weren't meant for our ears.

Leanne Betasamosake Simpson is an acclaimed novelist, poet, scholar, and singer. She is also a member of the Michi Saagiig Nishnaabeg people, native to southern Ontario, Canada. She recently released her stunning new album "Theory Of Ice."

One of the issues heavily dealt with on the album is climate change. For example, the opening track "Break Up" poignantly declares, "There is euphotic rising and falling / Orbits of dispossession and reattachment / Achieving maximum density: 39 degrees Fahrenheit." Another example is the tragically gorgeous "Failure Of Melting," where she sings, "The caribou sit measuring emptiness/The fish study giving up."

But on the other hand, as digital preservationist David Rosenthal has pointed out, in the grand scheme, preservation is not really all that expensive. The Internet Archive has a budget—soup to nuts—of around $20 million or less per year, around half of which goes to pay for the salaries of the staff. And while they don't get all of it (in part because they can't!), they cover a significant portion of the entire internet, literally millions of websites. They have a fairly complex infrastructure, with some of its 750 servers online for as long as nine years and petabyte capacity in the hundreds, but given that they are trying to store decades worth of digitized content—including entire websites that were long-ago forgotten—it's pretty impressive!

So the case that it costs too much to continue to simply publicly host a site that contains years of historically relevant user-generated content is bunk to me. It feels like a way of saying "we don't want to shoulder the maintenance costs of this old machine," as if content generated by users can be upgraded in the same way as a decade-old computer.

Science

In a paper in Scientometrics, researchers from Australia and France explain how they contacted 13 separate journals to report concerns over 31 published articles on genetics, all of which had relied on a control reagent from the same supplier that had been wrongly identified.

According to the paper's authors, the inadvertent use of the wrong chemical substance would "almost certainly invalidate any experiment that uses such reagents", with the faulty results likely to be "incorporated into future studies, potentially leading to failed experiments".

While the identified error was deemed serious enough for 14 of the 31 papers to be retracted, author corrections were sufficient for seven of the papers while five papers were made subject to expressions of concern. However, for six of the papers, it was stated no action should be taken.

Education

His sombre words were recorded in The Age:  "If we are serious about tackling climate change with technology, if we are serious about preventing more pandemics, then research and the study of science of technology need to be right up there as a national priority and properly funded."  Australia risked "becoming the bogans of the Pacific."

A touch harsh, perhaps, given that "bogan" is a word defined in the Australian National Dictionary as "an uncultured and unsophisticated person", "boorish" and "uncouth".  But both meaning and consequence are clear enough. Australian teaching and research institutions are being ravaged by the razor ready commissars of administration who cite one alibi for their hazardous conduct: the pandemic.  Little time is spent on focusing on why the Australian university sector, bloated as it is, began to cannibalise funding and focus on single markets, such as that of China, sacrificing, along the way, standards.

Health/Nutrition

Integrity/Availability

Proprietary

Cybersecurity experts at the European Union are investigating an "IT security incident" involving multiple institutions, though "no major information breach" has been detected, EU officials said Tuesday.

The scope and nature of the incident were not immediately clear, but a spokesperson for the European Commission, the EU's executive branch, said the commission had set up a "24/7 monitoring service" in response to the incident.

Security

Defence/Aggression

Environment

Now, a small but growing number of world leaders including Pope Francis and French President Emmanuel Macron have begun citing an offense they say poses a similar threat to humanity and remains beyond the reach of international criminal law: ecocide, or widespread destruction of the environment.

DeSmog's investigation found that at least 65% of directors from 39 global banks had 940 connections to "climate-conflicted" industries.

"The boardrooms of the world's largest banks are polluted to the core… How are we ever meant to stop the climate crisis if the world's most powerful decision-makers are in bed with the companies behind the wheel!?"

"The Covid-19 pandemic has taught us that health must be part and parcel of every government policy—and as recovery plans are drawn up this must apply to climate policy."

Faced with "a world in disarray," from over 2.87 million global Covid-19 cases and 556,500 deaths to rising atmospheric carbon and inadequate emissions reduction plans, an international coalition on Wednesday urged world leaders to learn from the coronavirus pandemic and "make health a central focus of national climate policies."

We're ramping up the campaign demanding this insurance giant cut ties with destructive fossil fuel companies.

Every new dirty energy project needs insurance. With Liberty Mutual's support, fossil fuel companies are digging new coal mines, building tar sands pipelines, and expanding oil and gas drilling in some of the most sensitive ecosystems in the world, often without the consent of impacted communities.

Most UK buyers of off-road cars designed for rural use are urban motorists, worsening city congestion and air pollution.

The  Sun bathes the Earth with life-giving light and energy. In addition, in the past billions of years, these solar blessings have been giving rise to temperature, winds, storms, oceans, seas, rivers, lakes, drinking water, forests, deserts, animals, plants and flowers.

We also use weather to understand the phenomena of rain, cold, hot and other changes in the atmosphere (sphere of steam).  NASA defines weather and climate in terms of time: "Weather is what conditions of the atmosphere are over a short period of time, and climate is how the atmosphere "behaves" over relatively long periods of time."

Energy

Wildlife/Nature

The Targhee Prescribed Fire project was stuffed through in the closing days of the Trump administration and would undoubtedly have been ruled illegal since the agency attempted to use a Categorical Exclusion to avoid environmental analysis on the project, which would have burned a million acres of the Targhee portion of the Caribou-Targhee National Forest. It is indicative of the total disregard for the law that Trump and his political appointees would even propose a project that included recommended wilderness, the Palisades Wilderness Study Area, and Inventoried Roadless Areas on the western side of Yellowstone National Park.

To put it in perspective, one million acres is 1,562.5 square miles,  nearly the size of the entire Bob Marshall Wilderness Complex – which is the fifth largest in the Lower 48 states. That's a million acres of carbon-absorbing forests with functioning ecosystems that are home to grizzly bears, lynx, and wolverines and which the Trump administration wanted to destroy.

Finance

AstroTurf/Lobbying/Politics

Chicago—Loss is the story of the pandemic. For me, over the past year, that has meant losing a relative to Covid, losing a job, an apartment, health insurance, and a romantic relationship. But there was another loss, a common love lost on the American left, that we haven't fully grieved. I am reminded of that now because April 8 marks the anniversary of the end of Bernie Sanders's 2020 campaign.

Around the time that the first Covid case appeared in Seattle, some friends and I packed a car and drove four hours to Muscatine, Iowa, to campaign for Bernie in the Democratic caucuses. It was January. At a makeshift field office—a detached garage warmed by space heaters—three women volunteers arranged piles of yard signs, canvassing scripts, and clipboards on a plastic folding table. As her mom trained us, a toddler waddled across the cement floor in a blue Bernie onesie and stretched her arms out to us, total strangers. Hours later when, exhausted and frozen, we returned from door-knocking, it was dark. The women were still there, the mom and her baby, too.

If both Theresa May and Boris Johnson had not refused formal requests for a S30 agreement for an Independence referendum, Scotland would already be independent. Alex Salmond was absolutely right yesterday to insist that other paths of democratic legitimacy are open to Scotland, as a referendum is being unreasonably refused. The start of such alternative pathways is this very election and the chance to vote for Alba and demonstrate commitment to this view.

Indeed, the tactical stupidity of the SNP, in accepting in terms that Westminster has a veto, cannot be overstated. To accept a Westminster veto is logically incompatible with the claim to be a people with the right of self-determination under the UN charter. It thus undermines the argument we need to make to the international community to be recognised as a state. The notion that the Tories will give way and grant an S30, for a referendum they know they will lose, is entirely fanciful. I find it remarkable that some people purport to believe that London will relinquish Scotland's resources without a tremendous struggle and in the spirit of fair play.

Here is Alex Salmond's speech yesterday, on the anniversary of the Declaration of Arbroath, setting out alternative routes to Independence. You will see no fair reflection of this in mainstream media, so I am unapologetic about hosting it on my blog. Alex starts talking about seven minutes in.

The first televised debate among the five Virginia Democrats running to be the party's gubernatorial nominee should have been more exciting. It featured a Democratic Socialist (Delegate Lee Carter), a popular, well-funded, fairly centrist former governor (Terry McAuliffe), two Black women (liberal state Senator Jennifer McClellan and progressive Delegate Jennifer Carroll Foy), and finally, the state's Black Lieutenant Governor, Justin Fairfax, who might have been the front-runner but for two allegations of sexual assault that came out two years ago.

Polling is scarce, but McAuliffe is leading in every survey anyone knows about. His rivals needed to put him back on his heels—and mostly, they did not. Carroll Foy, the progressive favorite (despite Carter's DSA credentials), did a lot with stories of her rough childhood, helping her grandmother decide "between paying our mortgage, and medication keeping her alive." The contrast with the wealthy former governor went unspoken but came out clearly. McClellan, with almost two decades in the legislature, touted her many years of experience and called herself "Harry Byrd's worst nightmare," a reference to the racist Democratic boss who ran Virginia politics for decades. McAuliffe bragged about having the most Black support in his race against three Black candidates. Carter talked about his gigs as a Lyft driver, to make the case that he's the only candidate who knows how tough this Covid economy is.

From the state house to Congress, the GOP is in a tailspin of horrific disarray, supporting and passing laws to curtail voting rights, discriminate against virtually everyone who doesn't fit their image of "us" and promoting unfounded hatred and violence against "them." In the meantime, what's left of their shattered post-Trump ideology seems incapable of grasping just how deep they are in the whirlpool of rampant hypocrisy.

Not a single Republican member of Congress voted for the massive COVID relief bill – not one. Why they wouldn't want to help their own constituents in one of the most difficult periods in the history of the nation remains unknown, although they did blather something about liberal giveaways.

Following Ukraine reiterating its desire to take the next step toward joining NATO this week, the Kremlin has warned that this would only exacerbate the conflict in Donbas. Nevertheless, on Wednesday, April 7, Lithuania announced that it will call on its NATO allies to support a Membership Action Plan for Ukraine. This comes amid a growing escalation of the conflict in Donbas, and rising concerns as Russia amasses troops near Ukraine's border. Though Ukraine doesn't meet NATO's membership standards as of yet, the United States has expressed its support for Kyiv's ongoing efforts to carry out the necessary reforms.

The build-up of Russian troops near the border with Ukraine is the largest concentration seen since 2015, according to a report from the Conflict Intelligence Team (CIT) published by The Insider. Using open source data, CIT's analysts tracked the movements of Russian troops and determined that they're headed towards the Crimean Peninsula and the vicinity of Voronezh. According to CIT, these transfers are indicative of strategic military exercises, not local ones. However, the analysts also underscored that these aren't signs that a Russian invasion of Ukraine is imminent.

Meanwhile, Secretary of Defense Lloyd Austin called his counterpart in Kyiv. According to the Pentagon readout, "Secretary Austin reaffirmed unwavering US support for Ukraine's sovereignty, territorial integrity, and Euro-Atlantic aspirations."

(See for reference Victoria Nuland's description of the U.S.' $ 5 billion investment in regime change in Ukraine as of 2014 as one in its "European aspirations." The talking point term remains "aspirations." But no reference to Pentagon aspirations to throttle Russia.)

A second set of questions concerns the government's designs for the firms' most valuable resource—data. Its objective is to pool data and impose more state ownership and control, which could eventually amount to a kind of nationalisation. The digital firms have built some of the world's largest and most advanced databases, which assess everything from users' loan repayments to their friend networks, travel histories and spending habits. Ant alone is said to hold data on more than a billion people, on a par with Facebook and Google, and because of the breadth of services that many Chinese "super-apps" encompass they have a richer picture of users.

Credit-scoring is the front line of the battle with the government over who controls data. Over the years the People's Bank of China (PBOC) has made feeble attempts to create a centralised scoring system. Now the central bank appears to have decided to grab more control over those of the tech firms. It has approved two personal-credit companies, most recently in December, in which the technology groups and state-controlled entities hold stakes. The state has so far refrained from explicitly commanding the companies to share data. In China personal data belong to the individual, not companies, so laws would need to change in order for such data to be shared with the government. But that is hardly an insurmountable obstacle for an authoritarian regime.

China's affinity for coal, the biggest source of greenhouse gases, may be surprising given the country's recent pledge to cut emissions to net-zero by 2060. There are, however, other mitigating factors. Local government officials, whose performance is often measured against targets for economic growth, have long used infrastructure projects—especially coal plants—to inflate their GDP figures. In 2020, when China was one of the few countries in the world to register any growth, three-quarters of the coal-fired capacity approved for construction was sponsored by local governments and firms. Regulators did not get in their way. China's National Energy Administration gave several provinces the nod to approve new coal power plants.

As more Confucius Institutes are shuttered at university campuses across the U.S. due to concerns over Chinese influence, scholars and politicians are advocating getting Taiwan to fill the Mandarin-teaching vacuum. American Institute in Taiwan Director Brent Christensen has said the shift would allow Taiwanese Mandarin instructors to share democratic narratives with American students.

In a letter addressed to U.S. Education Secretary Miguel Cardona in March, 21 members of Congress suggested having Taiwanese teach Mandarin lessons at universities as a "censorship-free alternative" to Chinese cultural centers. Led by Senator Marsha Blackburn and Representative Michelle Steel, the signatories urged Washington to expand the U.S.-Taiwan Education Initiative and develop more educational programs with Taiwan to meet the demand for Mandarin studies in the U.S.

Howie has been involved in organizing for RCV since the election and has been working a lot with the organization Rank the Vote.

Misinformation/Disinformation

In response, Beijing has tried to take greater control of what is said about its role in the pandemic – sometimes with questionable tactics.

The 2021 Rules, ostensibly created to combat misinformation and illegal content, substantially revise India's intermediary liability scheme. They were notified as rules under the Information Technology Act 2000, replacing the 2011 Intermediary Rules .

The 2021 Rules create two new subsets of intermediaries: "social media intermediaries" and "significant social media intermediaries," the latter of which are subject to more onerous regulations. The due diligence requirements for these companies include having proactive speech monitoring, compliance personnel who reside in India, and the ability to trace and identify the originator of a post or message.

"Social media intermediaries" are defined broadly, as entities which primarily or solely "enable online interaction between two or more users and allow them to create, upload, share, disseminate, modify or access information using its services." Obvious examples include Facebook, Twitter, and YouTube, but the definition could also include search engines and cloud service providers, which are not social media in a strict sense.

Censorship/Free Speech

Freedom of Information/Freedom of the Press

The independent Russian newspaper Novaya Gazeta has determined that the substance sprayed near the entrance of their editorial office last month was mainly composed of 4-ethylphenol and 3-methylindole (otherwise known as skatole).

Reporters Without Borders (RSF) condemns what it regards as a dangerous manipulation of the judicial system in Morocco, where three distinct criminal cases are to be heard against four prominent journalists in the space of less than ten days.

Civil Rights/Policing

Internet Policy/Net Neutrality

Economists repeatedly warned that the biggest downside of the $26 billion Sprint T-Mobile merger was the fact that the deal would dramatically reduce overall competition in the U.S. wireless industry. Data from around the globe clearly shows that the elimination of one of just four major competitors sooner or later results in layoffs and higher prices due to less competition. It's not debatable. Given U.S. consumers already pay some of the highest prices for mobile data in the developed world, most objective experts recommended that the deal be blocked.

The future Digital Services Act (DSA), dealing with intermediary liability in the EU, is likely to be one of the region's most important new laws for the online world. At the moment, the DSA exists only as a proposal from the European Commission. In due course, the European Parliament and the EU's Member States will come up with their own texts, and the three versions will ultimately be reconciled to produce legislation that will apply across the whole of the EU. As Techdirt reported last month, the Commission's ideas are something of a mess, and the hope has to be that the text will improve as the various arms of the EU start to work on it over the coming months.

Monopolies

The suit initiated last year under the Trump administration makes a valid claim that Facebook holds monopoly power over personal social networking in the U.S. and maintains it by "acquiring competitive threats and deterring or hindering the emergence of rivals," the FTC said in a filing late Wednesday in Washington federal court.

The FTC's request is the latest exchange at the start of a high-stakes battle over Facebook's future — its attempt to hold onto Instagram and WhatsApp and to defeat the government's attempt to force a breakup. The filing is a response to Facebook's argument last month that the FTC is attempting a "do-over" by trying to unwind acquisitions that won regulatory approval years ago.

Malls that buckled due to e-commerce or suffered during the pandemic are being given new life by the very entity that precipitated their decline — Amazon.

Over the last several months, the retail giant has gone on a shopping spree of its own, buying up disused malls across the country and turning them into distribution centers.

A right-to-repair bill died in the Colorado state legislature on March 25, 2021. After almost three hours of testimony from business leaders, disabled advocates, and a 9-year-old activist, legislators said there were too many unanswered questions and that the proposed law was too broad.

Half the country is now considering right-to-repair laws. As electronics have become a more important part of people's lives, tech companies have attempted to tighten the control over how we use their devices.

We're only three weeks and a half away from the kickoff of the Epic Games v. Apple App Store antitrust trial in Oakland (Northern District of California). The parties just filed their proposed findings of fact and conclusions of law around midnight Pacific Time. Knowing that many of my readers in many different time zones may be interested in taking a look at these documents, I'm making them available now. It will, of course, take me some time to digest and comment on them, and I can't even predict how many blog posts (whether just one follow-up post or a whole bunch) will be needed as it depends on how interesting the information I discover in those "books" turns out to be.

Sooner than I would have thought when I publshed the latest Epic Games v. Apple filings (688 pages in total), I already feel an irresistible urge to comment on something because it is just intellectually dishonest.

There's nothing wrong per se with Apple comparing the iOS app distribution situation to the old days of software publishing: I, too, remember the "shrink-wrapped software" business. You can find some game credits from the mid to late 1990s that list me in sales & marketing and localization functions (Warcraft II: Tides of Darkness, Starcraft, Diablo). In 1996, I served on the board of the Software Publishers Association (SPA) Europe, and even though the World Wide Web existed at the time, we were all still selling software in boxes. Apple accurately notes that consumers "had to drive to the store, find it on the shelf, buy it in the shrink-wrapped box, and load it up onto their device." It's also plausible that, according to Apple pointing to his testimony, Epic CEO Tim Sweeney "found it difficult to sell games through traditional retail channels in the early 1990s." At the same time, I also dealt with publishers, distributors, and retailers. I had to negotiate discounts, cooperative advertising allowances, or grant early-payment discounts when payments would actually arrive only months later, making mockery of the term. It wasn't a land of milk and honey for sure (though at least you had multiple retailers and not just one per platform)–and Apple has every right to point that fact out.

But there's everything wrong with Apple's reality distortion field. Let's have this debate. Let's talk honestly about how software distribution changed over the course of time. But if we want to have an honest conversation, then we must face the facts, including those facts that don't support Apple's App Store feudalism.

Earlier today I published the findings of fact and conclusions of law that Epic Games and Apple propose. Also, I had just read a few dozen pages when I already found something so outrageously misleading in Apple's filing that I just had to comment on it.

By now I've read both documents cursorily (to my own surprise, not feeling dizzy yet), and I've shared a number of observations and tidbits on Twitter. All in all, I'm favorably impressed–and not just because I am myself at loggerheads with Apple over its App Store terms and policies–by how compelling Epic's case is. I'd like to draw a comparison to the FTC's case against Qualcomm in 2019. The FTC's strength was all that testimony from smartphone and chipset makers–but the FTC's lawyers hardly elicited any major concessions from Qualcomm's current and former employees, all of whom stayed very much on message and denied everything but the absolutely undeniable. Relatively speaking, the most useful statements by Qualcomm executives that the FTC found were in a transcript of an IRS interview with Qualcomm. Epic's lawyers, however, have managed to get Apple players to confirm key facts. Also, from what I can see so far, Epic is in far better shape than the FTC was with respect to economic expert testimony.

It's a euphemism to label Apple's security and privacy arguments as "pretextual."

Patents

Valuation and Licensing of Standard Essential Patents in a British Context [Ed: A worrying parade of patent trolls (or trolling proxies) across Europe and the UK in particular. We know who profits from this mess -- firms like this author's]

In the aftermath of the landmark decision 'Unwired Planet vs Huawei', a series of other FRAND litigations have followed suit. Cases such as Conversant vs ZTE/Huawei, Philips vs TCL, TQ Delta v ZyXel or Optis v Apple pertain equally to the licensing of standard essential patents.

From an economic perspective this raises the question as to how the British Courts may want to continue addressing the valuation of standard essential patents. To shed further light on this question, this article offers a short overview of key valuation and principles. These reflect the state of play of English law and also found their application in the Unwired Planet vs Huawei Court.

In Unwired Planet vs Huawei two principal methods were applied to determine the FRAND royalty rate. The Top Down Approach and the Comparable licenses approach served as the toolkits to come to grips with the FRAND value of standard essential patents. The Top Down Approach seeks to determine the aggregate royalty rate for patents that read on a given standard. As such, the method lends itself well to understand the value of given standard essential patents (SEPs) in relation to the entire standard. The advantage of the method is that it helps mitigate the peril of royalty stacking. Royalty stacking describes the risks associated with a potential cumulative royalty rate a licensee may have to bear if it were to pay respective licensing rates also to all other holders of patents that read on a given standard. In Unwired Planet vs Huawei the Court recognized that even the hypothetical risk of a royalty stack can jeopardize the FRAND-ness of a licensing rate.

To get investors, they need patents. To get patents, they need money.

Last December, Junior Party University of California/Berkeley, the University of Vienna, and Emmanuelle Charpentier (hereinafter, "CVC") filed its Substantive Motion No. 3 under 37 C.F.R. § 41.121(a)(1) asking for judgment of unpatentability for all claims in interference under 35 U.S.C. § 102(f) or (if post-AIA) 35 U.S.C. § 115(a) for "failure to name all inventors of the alleged invention" against Senior Party The Broad Institute, Massachusetts Institute of Technology, and Harvard University (hereinafter, "Broad") in Interference No. 106,115. In support of its motion, CVC argued that Broad deliberately misidentified the inventors on its involved patents and applications in the interference. These allegations were based on differences between the named inventors in the patents- and applications-in-interference and the inventors named in a declaration by the Broad's patent attorney during a European opposition (EP 277146); it may be recalled that such irregularities involving a Rockefeller University inventor (Dr. Luciano Marraffini) not named in the European application were the basis for that patent to be invalidated (see "The CRISPR Chronicles — Broad Institute Wins One and Loses One"). Proper inventorship is important in the interference, inter alia, because the Board needs to know whose testimony can corroborate and whose needs to be corroborated under interference practice, where the uncorroborated testimony of an inventor is given no weight; see, Kolcraft Enters. v. Graco Children's Prods., Nos. 2018-1259, 2018-1260, 2019 U.S. App. LEXIS 19751 (Fed. Cir. July 2, 2019).

[...]

Another deficiency Broad alleges in CVC's motion is that CVC did not perform any ("zero") inventorship analysis; Broad argues that "the appropriate legal test for inventorship barely makes a cameo appearance in CVC's motion—if you blink you'd miss it" before setting forth its objections to CVC's inventorship arguments with particularity. These include not construing the claims and not providing factual support for why certain individuals were not named as inventors in a "claim-by-claim, element-by-element comparison." Rather, CVC improperly relied on Mr. Kowalski's declaration in the European Opposition which was not directed at the issues CVC used it to support, according to the brief. Broad uses Mr. Bailey's complaint that performing this analysis would have been a "mammoth task" to argue that the remedy CVC requests — invalidating all of the involved claims in all of the involved patents — requires performance of this task no matter how "mammoth' it may be in scope. Of course, Broad further argues that such a proper analysis assessment would have found no error (thus providing a reason why CVC didn't make the argument).

The brief also notes that CVC "both relies upon and rejects Kowalski's inventorship analysis," calling this treatment "inconsistent" and providing specific examples. The brief also argues that CVC does not provide support for its allegations that Mr. Kowalski's declaration should be considered conclusive, other than treating the declaration as a "judicial admission." Which it is not, Broad argues, because it fails the definition that a judicial admission is a "formal statement[] of fact made in judicial proceedings that have the effect of deeming facts conclusively established, eliminating the need for proof," citing Barnes v. Owens-Corning Fiberglas Corp., 201 F.3d 815, 829 (6th Cir. 2000), as well as failing the definitional evidentiary tests used to establish a judicial admission.

The year 2020—and now 2021—has been a busy year for the European Patent Office (EPO) as it works through several oppositions and appeals involving a number of CRISPR patents belonging to The Broad Institute, Inc., Harvard College, and the Massachusetts Institute of Technology (hereinafter "Patentee"). The EPO Boards of Appeal has already revoked a patent applied for by the Patentee for failing to list all of the inventors from a priority application. See author's previous blog post here. However, there is a pending opposition case with the EPO (application EP 2825654) which involves a potential priority issue that applicants should be aware of in cases where an employment contract or agreement has included a generalized provision requiring the assignment of all future rights stemming from an inventor's inventions to the employer.

Allowance by Entity Size [Ed: Large corporations and monopolists with the USPTO in their back pockets (and sometimes their own staff in charge) dominate the system]

The chart above is an update on yesterday's data that also includes patent applicant entity size status (Large, Small, Micro). Large entities substantially outperform their counterparts in terms of allowance rates.

Software Patents

Here is a different look at the USPTO grant rate that looks at two numbers for each quarterly period: how many patents issued, and how many applications were abandoned. These can be added together as a total number of applications disposed-of during the period. The percentage reported in the chart below is the percent of patents out of that total disposal.

[...]

One caveat on this data. I only used published applications because those records are open. Unpublished applications tend to have a somewhat lower allowance rate.

Fintech trends and tribulations [Ed: Push for bad old software patents using buzzwords like "Fintech"]

Trademarks

Updated EUIPO examination guidelines could pose problems for brands seeking to prove distinctiveness, say counsel

Copyrights
Summary: The FSF is more closely aligned with its founder's vision, his antagonists have left or are leaving, and that old hate letter turned out to be a loud minority (made to appear louder by biased media) emboldened by a gish gallop of lies
THE corporations and the corporate media that told us FSF was doomed, FSF must shun its founder, and that this founder is some sort of abhorrent individual (like a leper!) — so abhorrent he must never again show his face in public, ever again! — are suddenly quiet. They didn't quite expect it to end up this way. The petition in support of the FSF's decision so far massively exceeds the hate letter (still growing steadily, without any signs of plateauing, so it can massively exceed the hate letter, maybe 3-4 times over!), which was largely fueled by the media that rallied irrational decisions (some people who signed already express remorse; there's work underway to make more such remorse).
"They didn't quite expect it to end up this way."Today, more than a fortnight later, I look back at what happened and what can be expected when starting a campaign based on lies, outright libel in fact. It backfires spectacularly and helps reaffirm the views long held by Techrights (about the OSI, the GNOME Foundation, IBM and so on). Much damage or self-harm has been done over the past 2.5 weeks, both for organisations and for individual signers. We will be able to refer back to that infamous letter and point out what certain organisations and individuals really stand for. █
---
IPFS Mirrors
CID
Description
Object type
QmRBR9bWA93Bfg1ScR5tqKjGu1Uk4QB5u2NQwk5SRr7Wjg
IRC log for #boycottnovell
(full IRC log as HTML)
QmW8vMzNfYfckgxPcyuFaNGf2VJQSKdrwmdu2wRmyAZ1BN
IRC log for #boycottnovell
(full IRC log as plain/ASCII text)
QmYxCZ7AeypFH1xyELG4TtkkSZtjTfH575MUWg5Fyqp5YE
IRC log for #boycottnovell-social
(full IRC log as HTML)
QmQrvfPXAxp8YC1M76sk9XYoJ8cM1LVFkaJQbMTv8utPy9
IRC log for #boycottnovell-social
(full IRC log as plain/ASCII text)
QmXEXP8gTx5PLRDXLnbLhJUhXBH4bpstZw4Cifx9Qc36GK
IRC log for #techbytes
(full IRC log as HTML)
QmQiLkSGfcW7qxdSYHDhZKz46vqUk1AqtA1qBpZwZ8HF5X
IRC log for #techbytes
(full IRC log as plain/ASCII text)
QmZTT395CGnhXSuqNfJSKcDJ2mL8vG7wvgyKP8btVSPF3E
IRC log for #techrights
(full IRC log as HTML)
QmUXUTeEPRButEWouCo9b43ybt1FnmxAQin3wPtiXJ2ofQ
IRC log for #techrights
(full IRC log as plain/ASCII text)

Bulletin for Yesterday
Local copy | CID (IPFS): QmRECAKDtPGBk59mTWG5tjDDQMbPncttn2YvJhZgkBoihH