08.04.21
Gemini version available ♊︎
Video download link | md5sum d9454d6683def04335771df0b30595a9
Summary: Corporate media, funded by companies that nonchalantly oppress people, would have us believe there's something wrong with people who reject corporate masters in their computing; reality, however, suggests that it is a wholly false narrative induced or cemented by endless repetition, so this framing ought to be rejected outright
THE potential power of projection tactics is often underestimated at peril or risk to ourselves; yesterday we showed how scammers claim to be the victims of "scammers", and in the context of GNU/Linux we habitually see accusations against its users (or developers) that shamelessly distract from the accusers' own behaviour. To give just one example, which is probably recent enough to remember, IBM claims to be saving lives when IBM is in fact partly responsible for history's worst genocides and racism against blacks. Where does IBM summon this audacity to accuse anybody of racism???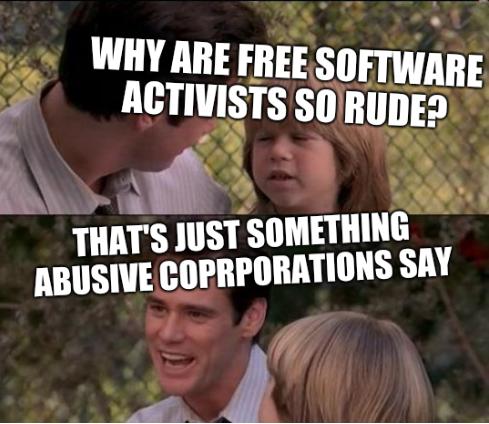 In the previous post ("The Free Software Community Needs Solidarity and Stronger Resistance Against Corporate Oligopolies With Their Overlapping Interests"), which is discussed in the video above, we show the extent/lengths to which this sort of spin can go; they have money and they dominate the media (using the media's thirst for cash), so they get to control some 'coin-operated' liars in 'journalist' clothing. They shame grassroots communities while hailing racist corporations. When they're confronted over their lies they proceed to claim to have been "trolled" by some "rude" people. Who provoked who?
"Their goal is to scuttle anything that's not serving their sponsors."This is a very common strategy of narrative inversion; the abuser, which is well rewarded financially for the abuse, claims to be the victim of "abuse"; we oughtn't fall for it. Because if we do, then they will split us apart and spit into our well. Their goal is to scuttle anything that's not serving their sponsors.
We could go on and name some of the culprits (publishers, authors, etc.) but keeping the description generic enough is probably beneficial as it averts unneeded controversy and sidesteps accusations of ad hominem attacks (which is actually what those culprits themselves are doing). Spotting the projection tactics is always worthwhile because it makes responses/rebuttals a lot easier. In due course, if liars walk away because they're rebutted effectively, they may refrain from doing more of the same, as guilt and shame tend to accompany dishonesty.
I've been doing advocacy for Free software since my early twenties and I've seen plenty of these liars (or corporate spinners) walking away, vanishing abruptly or gradually. We hardly hear the name "Enderle" anymore and publication volume in sites like ZDNet is decreasing. The thing about chronic lying is, overdoing it diminishes the impact and over time the incentive to do that just isn't there anymore.
Our hope is that the likes of IBM will quit trolling the community and defaming people; we see what proxies (if not employees then media that they pay) engage in defamation, and the financial harm caused by retaliation from communities may beget cessation. In Microsoft's case, they've become more clever in the way they attack or belittle GNU/Linux because they've come to realise that FUD is detrimental to sales (many of their customers also use GNU/Linux). Vigilance certainly goes a long way and pointing out errors discourages repetition of these errors (or intentional lies).
One way to help the Free software cause is to respond and correct; if claims are being made of all sorts of "isms", then we need to examine the underlying evidence and if there's insufficient evidence we can talk about it. A lot of the time we may find hypocrisy and double standards from the accusers (projection) and talking about it publicly can certainly discourage repetition. It really does work!
Remember that 15 years ago we focused on responding to lies told by Microsoft and Novell. Over time they shifted the targets, moved the goalposts, and changed their story. At the end Novell simply collapsed and Microsoft's dream of universal "Linux tax" didn't work out. It only temporarily worked to a certain extent and now they're incapable of suing companies over patents in relation to "Linux" because it would cause a massive backlash and customer exodus. Microsoft still hates Linux, but it cannot say so publicly. Microsoft still fights against the GPL (see Copilot), but it is paying the SFC to infiltrate events about copyleft and hijack keynote slots. There is an extensive campaign of deception and we should be too wise to fall for it. The better we prepare to confront the deception, the less likely this deception is to recur. At some point it goes away completely. Then we win… the argument. █
Permalink

Send this to a friend