08.22.21
Video download link | md5sum 4981d21c1b9feff1b98bfeaba7d885fe
Summary: Gemini is very simple to set up, very easy to navigate, simple for any person to edit (miles simpler than HTML), and a breeze to maintain as there's no database; we encourage people to adopt gemini:// and we showcase some of the latest changes
TODAY'S video with today's lovely bird/wallpaper (chosen by Wikipedia Picture of the Day, toally outside my control!) brings with it some lovely news about Gemini. Techrights Wiki pages inside the Gemini capsule are ready; that wiki is leaving 'alpha' status and is now being incorporated into the rest of the capsule. Along the way we've been making many more fine/r changes, backed everything up, tidied up the code and so on. More details in the video above.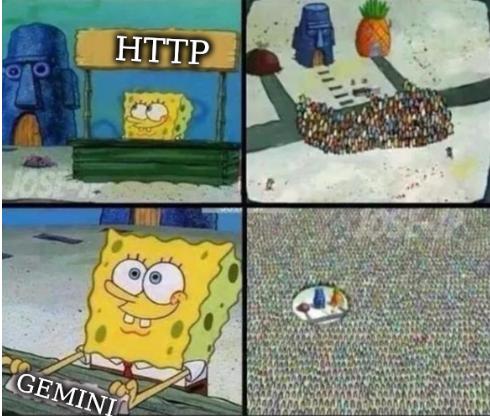 When we started it all back in winter we didn't envision it would take off to the extent that it did and quite so fast, reaching thousands of unique people per month. We didn't even know there were that many gemini:// users/enthusiasts. Ubuntu's officials repositories finally have at least one Gemini client/browser in them:

$ apt-cache search gemini | grep client
elpa-elpher - friendly gopher and gemini client

This means that using apt or apt-get, for instance, one can already install it securely and easily. But it is a client for GNU Emacs (Debian's repositories have that too). That's for geeks.
In the video I basically showed Lagrange, which is a neat GUI that is Free software (2-Clause BSD License) and cross-platform. Jaakko Keränen is self-hosting the Lagrange Git repository with Gitea as the Web front end. He seems to know exactly what he's doing.
"Ubuntu's officials repositories finally have at least one Gemini client/browser in them…"The video above shows a number of different things of interest, notable the gemini:// wiki version added to the discover-able space (e.g. can be discovered by spiders and visitors) along with a list of all videos — about 1,000 of them in total. We hope to have monthly indexes of bulletins factorised into a single page, we'll add the occasional Unicode symbols, and as we're approaching a total of 40,000 pages in Gemini we'll probably have spent many more hours — even whole days — embellishing things over there in gemini://. We've got stale wiki-like indexes (static) linking to the complete and up-to-date wiki pages now — pages that will self-update over time. We've also set up a backup over rsync (just static files, no databases or anything too fancy). If you've never tried gemini:// before, do a little bit of research because it's a lot easier than people are led to think. It's definitely far easier than the World Wide Web. It's a lot safer, too. █