12.15.21
Gemini version available ♊︎
Last week: [Teaser] Meet Microsoft's Chief Architect of GitHub Copilot, Balabhadra (Alex) Graveley (Updated) | Microsoft Corporation is Still Protecting a Violent Criminal Who Assaults Women (Employing Him as Manager, Protecting Him From Arrest, Paying Him a Salary) | Microsoft GitHub Exposé — Part IX — Microsoft's Chief Architect of GitHub Copilot Sought to be Arrested One Day After Techrights Article About Him
This week: Arrest/Police Report for Microsoft's Chief Architect of GitHub Copilot, Balabhadra Alex Graveley | Up Next: Arrest and Police Report for Microsoft's Chief Architect of GitHub Copilot
Summary: Microsoft assists perpetrators of domestic violence, according to its own policy (the mugshot above is a serial abuser, whom Microsoft is protecting)
Direct quote of Microsoft HR's official policy:
Microsoft is committed to working with employees who are victims of domestic violence to prevent abuse from occurring in the workplace. Employees who are concerned about violence occurring in the workplace should immediately discuss their concerns with the Human Resources (HR) manager assigned to their group. The Microsoft Global Security group can provide guidelines and suggestions for increasing your safety in the workplace.

Employees who are experiencing domestic violence outside of work are encouraged to seek assistance from Microsoft Cares. Microsoft Cares provides information regarding counseling and treatment resources. Perpetrators of domestic violence are also encouraged to seek assistance from Microsoft Cares.

In some situations, employees may be eligible for time off work or other accommodation to manage medical issues and other negative consequences arising from domestic violence. Contact Benefits for more information.
Yes, that's going to go down very well…
"…par for the course regarding those who seek to work at Microsoft."
–Techrights associate"Microsoft literally offers benefits for domestic violence perpetrators," a reader informed us. "Including time off from "other negative consequences" and free counseling…"
"Tragic," a Techrights associate called it, "but par for the course regarding those who seek to work at Microsoft."
A Microsoft whistleblower, Mitchel, also had some thoughts on the subject [1, 2]. A couple of screenshots below. █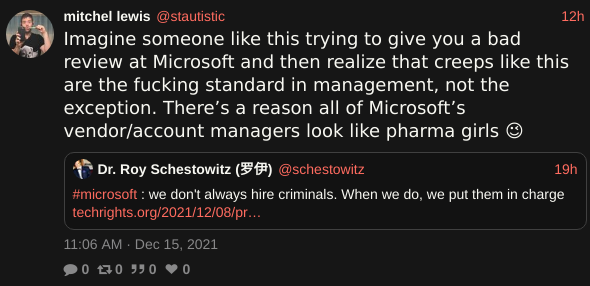 Permalink

Send this to a friend