06.15.22
Gemini version available ♊︎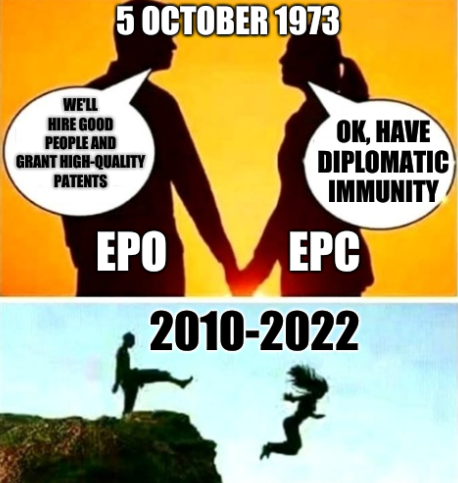 When you give a de facto "above-the-law" status to people and institutions…
Summary: The European Patent Convention turns 50 next year, but it has been gradually abolished for over a decade* by corrupt EPO officials like Benoît Battistelli, António Campinos, and other members of that same undemocratic cabal**
____
* See some of the most recent examples [1, 2]. There are dozens more. Breaking the law is the "new normal"; one certainly feels like the EPC has actually been abolished as it is casually treated as though it's no longer applicable (formally, however, the managers of the EPO just break the law and promise to "amend" the law some time in the unspecified future).
** An associate of ours moreover notes that "the EPC is not a simple recommendation or guideline but an international treaty with the full weight of that kind of agreement," which ought to be repeatedly stressed (Team UPC does the same thing by the way — violating laws, constitutions and conventions). It's important to remind this to people, if only "to rub in the contempt the current EPO management has for international law." Kangaroo courts have become complicit in the assault on the EPC.
Permalink

Send this to a friend