05.27.11
Using software patents, Microsoft turns Linux into its own cash cow whilst also making it more expensive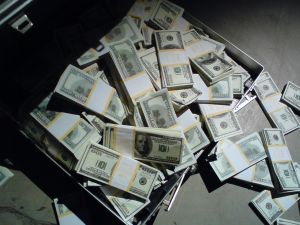 Summary: Techrights' fight against 'Linux tax' from Microsoft is getting a lot more attention this Friday
"BOYCOTT NOVELL" was all about stopping Microsoft tax on GNU/Linux. More people are beginning to wake us and realise that our cause was all along on target, as several distributions of GNU/Linux which paid Microsoft for this 'privilege' simply went extinct (Xandros' price was $50 for Microsoft patents). Our goal was to ensure that people/companies do not become dependent on Microsoft-taxed distributions, as that would simply serve Microsoft's goal of making GNU/Linux its own cash cow. SUSE, Turbolinux, and Linspire were also part of this problem and all those companies went into the ashtray of history. There are more such companies, but they sell hardware, not purely software.
Everyone appears to have just 'discovered' that "HTC Pays Microsoft $5 Per Android Phone" and there is already a lot of coverage about it. Quoting The Register:
Buy an HTC smartphone and $5 of what you spent on it goes to Microsoft – even if you've just bought an Android device.

So says Citi analyst Walter Pritchard in a note sent out to investors today, according to Business Insider.

Microsoft announced the royalty payment deal – the result of a legal settlement – last year, but the amount the software giant receives was not made public. MS has alleged Android infringes its intellectual property, and has other smartphone vendors in its sights.

Pritchard reckons Microsoft is pursuing other Android handset makers for a royalty of $7.50-12.50 per device. HTC clearly got of relatively lightly by settling Microsoft's claims out of court.

[...]

Microsoft can't be too forceful. If can't afford to overly annoy those vendors who're also selling phones based on its Windows Phone OS – they might just drop it, in a huff. Or they may trade lower royalties for a stronger commitment to WinPho – something Microsoft needs far more than even a few hundreds of millions of dollars in royalty payments.
Saumsung, LG, and Kyocera Mita also pay Microsoft for Android. There might be more such companies, perhaps not prominent ones though. Faced with a price tag, people act surprised about it even though our site has highlighted this issue since 2007 when Samsung signed the first such deal and in order to discourage similar deals we called for a boycott. The bottom line is, we do have a problem here, but it is not a new problem. We even found one anti-Linux propagandist writing: "This is just fraud. I really like HTC phones with their Sense interface but I have a Galaxy S II on order and I will not buy any HTC phone again while they give in to Microsoft's blackmail."
According to other news from today, Lodsys wants to go after Android developers. "Patent holding company Lodsys caused a stir recently when it demanded money from iOS developers using in-app payments," says this report, "something it holds a patent for. Now it appears that Android developers could be next in line for a stern email from the firm.
"Android Community has spotted one developer who is claiming to have received a request for payment in relation to integrating in-app payments into an Android app. If true, it could stir up another hornet's nest of anger in the development community."
"Saumsung, LG, and Kyocera Mita also pay Microsoft for Android."This is actually not news and we alluded to it before. Apple, unlike Google, is a patent aggressor, so it is not the same situation for Android and Apple's hypeOS. Interestingly enough, Microsoft's ally Nokia is also giving a hard time to Apple. How long before Microsoft uses Nokia to sue Android distributors too? Nokia has given hints about it. Microsoft's strategy is to tax Linux from as many directions as possible. It's blackmail [1, 2, 3, 4, 5, 6, 7], so regulators should step in to intervene. █
"That's extortion and we should call it what it is. To say, as Ballmer did, that there is undisclosed balance sheet liability, that's just extortion and we should refuse to get drawn into that game."
–Mark Shuttleworth